Roundabout closure will make travel slower for all modes
APPRAISAL
03 April 2018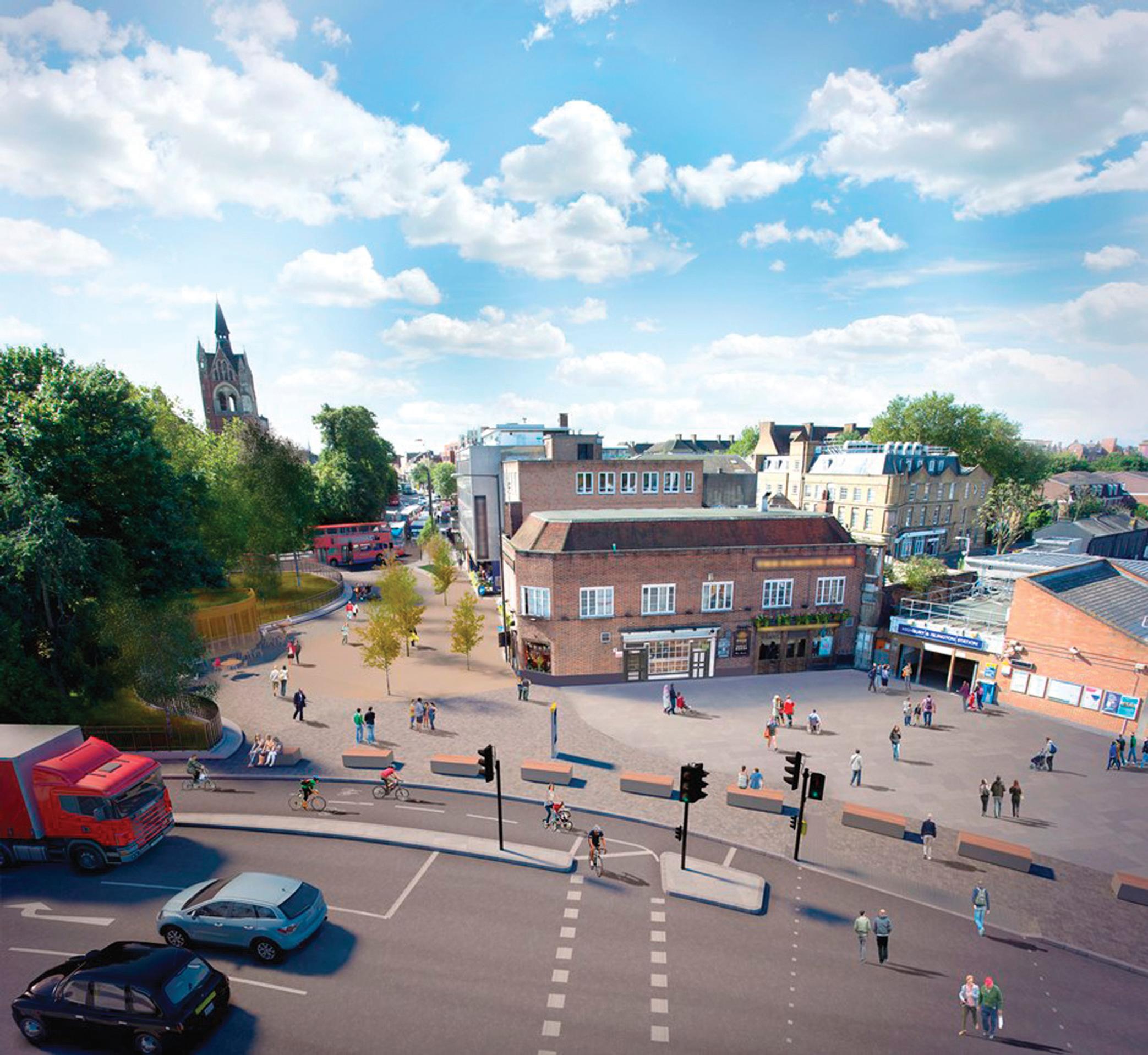 A public realm and road safety project involving the closure of one side of a roundabout in North London will make journey times slower for almost all road users, traffic modelling by Transport for London suggests.
The Highbury Corner scheme will see the western arm of the roundabout closed to create a public space of about 2,600 square metres extending to the Highbury & Islington station forecourt.
Two-way traffic flow and segregated cycle lanes will be introduced on the remaining three sides of the roundabout and four cyclist-only crossings will be installed.
The proposals have been developed by the London Borough of Islington and TfL. TfL confirmed earlier this month that the scheme would go ahead, with work commencing this summer (LTT 16 Mar).
Traffic modelling has assessed the impact of the changes in the morning and evening peaks, assuming fixed signal timings. Islington says this is a worst case scenario because SCOOT will make real-time changes to traffic signal timings to reduce delays.
Claudia Webbe, Islington's executive member for environment and transport, told colleagues: "General traffic on most journeys modelled is expected to be delayed by up to three minutes, though a small number of journeys are predicted to get shorter by up to one minute or stay the same."
Most bus journeys are expected to get longer, with the 271 service taking six to seven minutes to pass through the area in the morning peak, rather than the current three to four.
Webbe said that, while the scheme would create a much safer environment for cyclists, the segregated cycle lanes with cyclist-only crossings would impact on their wait times and journey times. "Most morning and evening peak journeys modelled are predicted to take longer by varying amounts and up to two minutes in the case of cyclists travelling northbound to Holloway Road from Canonbury Road in both the morning and evening peak, and from Upper Street in the evening peak."
The new public space will benefit pedestrians, as will new and widened pedestrian crossings that will replace staggered two-stage crossings.
But pedestrians crossing the southern section of Highbury Corner will see their maximum wait times at signalised crossings increase in the morning and evening peak by up to 86 seconds (from 27 to 113 seconds) at Canonbury Road, and by 50 seconds, from 27 to 77 seconds, at the junction with Upper Street.
At the junction of St Paul's Road/Corsica Street, the maximum pedestrian wait time in the evening peak will increase by 63 seconds, from 34 to 97.
Travel time savings are usually the main driver for a strong benefit:cost ratio (BCR) in transport scheme appraisal, so LTTasked TfL whether a BCRhad been calculated for this scheme and what it showed.
Said a spokeswoman: "A cost-benefit analysis was undertaken as part of the business case for the Highbury Corner project. Unfortunately we can't release this information as it is still draft from the last project stage."
The spokeswoman said the scheme's business case included a traditional cost benefit analysis and a multi-criteria analysis, the latter showing that the scheme aligned with the Healthy Streets agenda, supporting active travel, and improving safety for cyclists.
"Under the current methodology, traditional DfT business case appraisals do not allow representation of the full benefits package for projects that support regeneration, growth and place-making for people," she added.
" As Highbury Corner is one of these projects, other non-transport benefits are considered in the wider decision-making beyond just the transport economic appraisal. Other metrics, therefore, need to be brought in to illustrate the impacts and benefits. Inevitably they are more subjective and more complex but a balanced decision can be made when looking at these to inform the value for money and option selection decisions."