Cycle parking towers feature in plans to transform Old Street roundabout
13 February 2018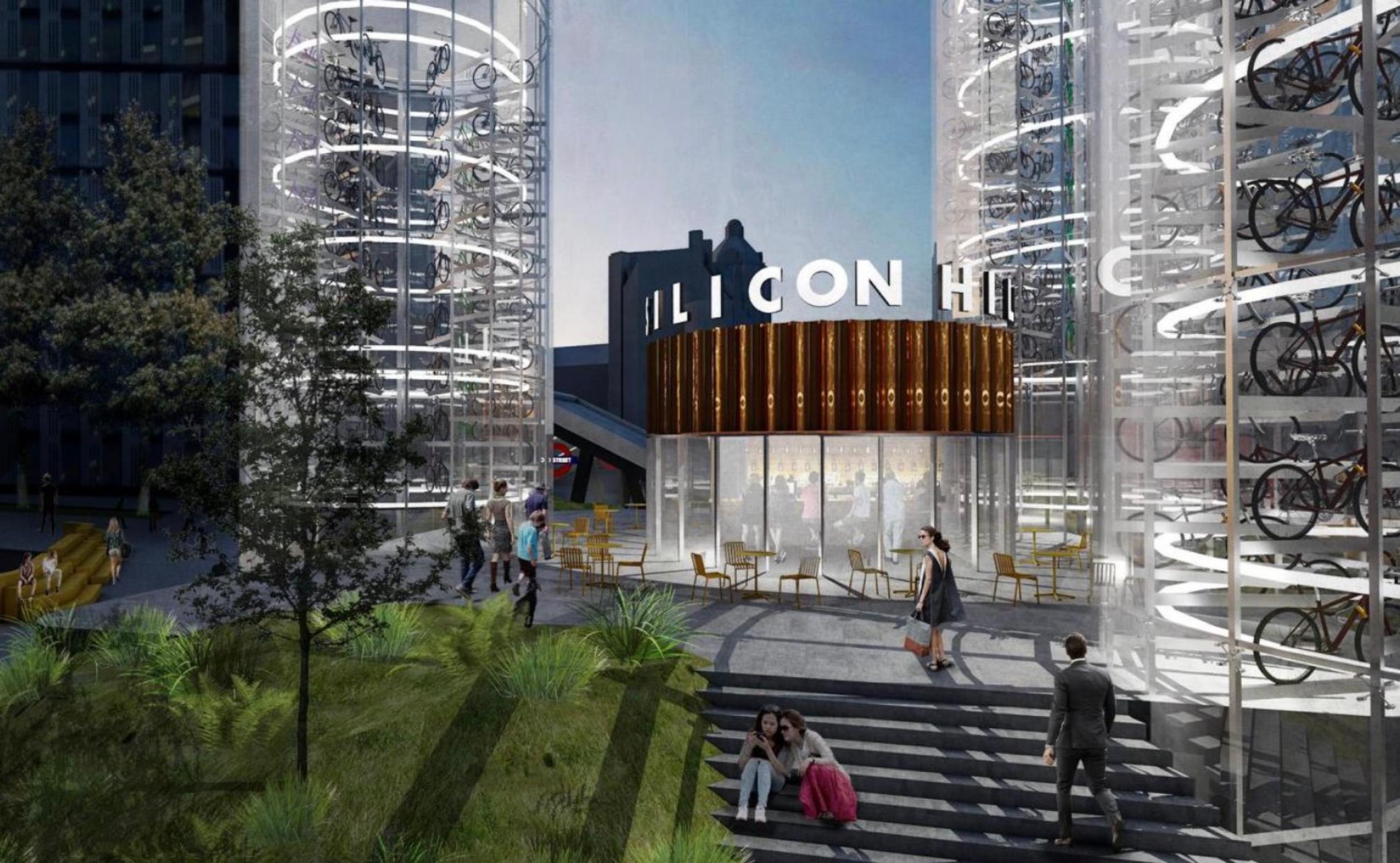 Islington Council has invited public comment on the redesign of the Old Street roundabout as part of the £1m competition to transform the gateway to London's 'tech city'. Thirty-nine proposals have been selected for discussion from the 120 submitted.
One proposal, called Silicon Hill, from architects Cove Burgess and Eco Cycle storage envisages three cylindrical glass towers with safe storage for more than 600 bicycles, which would surround a 'pocket park' and café space.
Transport for London (TfL) is to begin work on replacing the "outdated and intimidating" roundabout with a two-way road by the end of the year.
The cycle towers proposal is part of a long list of ideas to redesign Old Street roundabout. The changes, first consulted on in 2015, involve closing the roundabout's north-western arm up to City Road. This will create a pedestrian area that joins up with the currently inaccessible centre of the Sixties roundabout. Changes also include segregated cycle lanes and traffic lights for cyclists.
A judging panel will compile a shortlist after the consultation closes on 2 March. Islington's executive member for environment and transport, Claudia Webbe, said: "The transformation of Old Street will hugely improve the area for pedestrians, public transport users, cyclists and people who live and work nearby.
"Old Street is an iconic location known around the world, and a powerful symbol of what is also known as Tech City. This is a unique opportunity for an exciting, bold, iconic gateway - we are looking for innovative and inspiring ideas, which tap into the pioneering spirit of creativity for which Old Street is so famous"
Will Norman, London's walking and cycling commissioner, said: "This work is going to make a real difference to Old Street, making it a more pleasant and safer place for pedestrians and cyclists. It's exactly the type of improvements that we want to see happening right across the capital as we encourage Londoners to travel actively for the good of their health and our air quality."
Other proposals, including a public common, a public square, a tech forest, an urban oasis, illuminated arches, various amphitheatre type structures, park space, numerous tower proposals, a raised deck with a display screen, a pier and even a public library.