Regular news: Issue 641 21 Feb 2014

Share this article:
UK lags behind in EU bike stats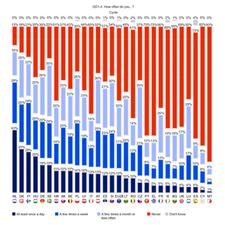 EU figures show that very small proportions of respondents in Luxembourg (4%), the UK (4%), Spain (4%) and Cyprus (2%) cycle daily. Source Special Eurobarometer 406 Attitudes Of Europeans Towards Urban Mobility
The UK's level of daily cycling is falling further behind neighbouring countries, according to new data from the European Union. The UK is near the bottom of the EU league table, joining Malta and Cyprus which historically created their transport infrastructure under British guidance.
In a special mobility edition of its opinion service, the EU asked how much Europeans cycle. The Dutch topped the table, with 43% cycling daily and only 13% never cycling. By contrast, the UK was in 24th place out of the EU28, with 4% cycling daily and 50% never cycling.
Kevin Mayne, development director of the European Cyclists' Federation, said: "In 2010 Eurobarometer asked a similar question about mode of transport and the UK was 21st in the cycling table, so these latest figures can be interpreted as a relative drop."
He added: "EU data shows that strengths in sport and leisure cycling do not translate to daily cycling anywhere in the EU but the lack of growth in UK daily cycling is especially noticeable."
At Cycle City Kevin Mayne will run a workshop on the state of UK cycling shown by these international indicators for transport, tourism, road safety, bike sales and sport.
Mayne will show the impact of these results on the 1,400 delegates who attended Velo-city Vienna 2013, the world's largest international cycling conference.