Regular news: Issue 592 16 Mar 2012

Share this article:
PTEs keen to establish Northern Rail Executive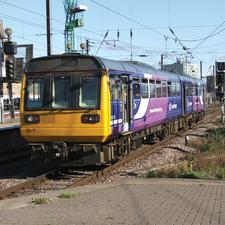 Pacers: "rubbish"
Passenger Transport Executive and Integrated Transport Authority chiefs this week voiced their desire to create a Northern Rail Executive to manage local rail services across the North of England.
At the pteg Parliamentary reception this week, PTE officcers expressed optimism that the most radical decentralisation model presented by the DfT – of completely devolving the management and funding of a franchise – could be made to work.
Under the plans, a Northern Rail Executive would be established to manage the next Northern Rail franchise, which is due to begin in April 2014 and also, possibly, the next TransPennine franchise, which could also be re-let at the same time.
Membership of the executive could be open to PTEs and local authorities outside PTE areas who are willing to bear the financial risks associated with devolution.
PTEs and local politicians are still waiting to see details of the financial deal that would accompany devolution. The proportion of Northern's costs in 2010/11 covered by fares was just 22% with the remaining 78% (£429m) covered by Government subsidy.
Transport for Greater Manchester's chairman, councillor Andrew Fender, emphasised to LTT that TfGM and the Integrated Transport Authorities all had aspirations to enhance local rail services.
The PTEs' current presumption is that any cost savings that can be driven through the re-franchising process should be used to improve local rail services.
Many local services in the north of England are operated by the unpopular railbuses built in the 1980s.
"We've got to get the deal right from Government," West Yorkshire Integrated Transport Authority chairman James Lewis told LTT. "If you're just running the same old rubbish round overcrowded at peak times I can't see the benefits of devolution."
Primary legislation would be needed to make the executive plans work because the 1968 Transport Act prevents PTEs specifying services more than 25 miles beyond their boundary.
The DfT has said it would prefer to avoid the need for primary legislation "as far as possible". PTEs and ITAs do not, however, regard this as a showstopper.
Fender said it may be possible to have interim arrangements in place in advance of changes being made to the primary legislation.
Thought is also being given to how local authorities and MPs outside PTE areas can have a say on rail services if their areas are not members of the executive.
Some councils may seek to take on responsibility for their own local lines, as Cumbria County Council is considering doing for the Cumbrian Coast Line (LTT 17 Feb).
Consultants Grant Thornton and Steer Davies Gleave are assisting the Northern PTEs and Transport for Greater Manchester in the devolution work. PTE officers this week met with Transport for London officials to discuss the lessons from rail devolution in London.
Centro is interested in becoming the franchise manager for local rail services in the West Midlands area but discussions are less advanced. The new London Midland franchise is not due to begin until 2015.
Discuss this and more at LTT Devolving Rail to the Regions conference on the 17th May