Redirect HS2 to Nottingham, says Greengauge in eastern arm rethink
The eastern arm of HS2 from Birmingham to Leeds may be at risk of being dropped, high-speed rail group Greengauge 21 believes. So it's time to rethink the line's purpose and redesign the route. Andrew Forster reports
07 August 2020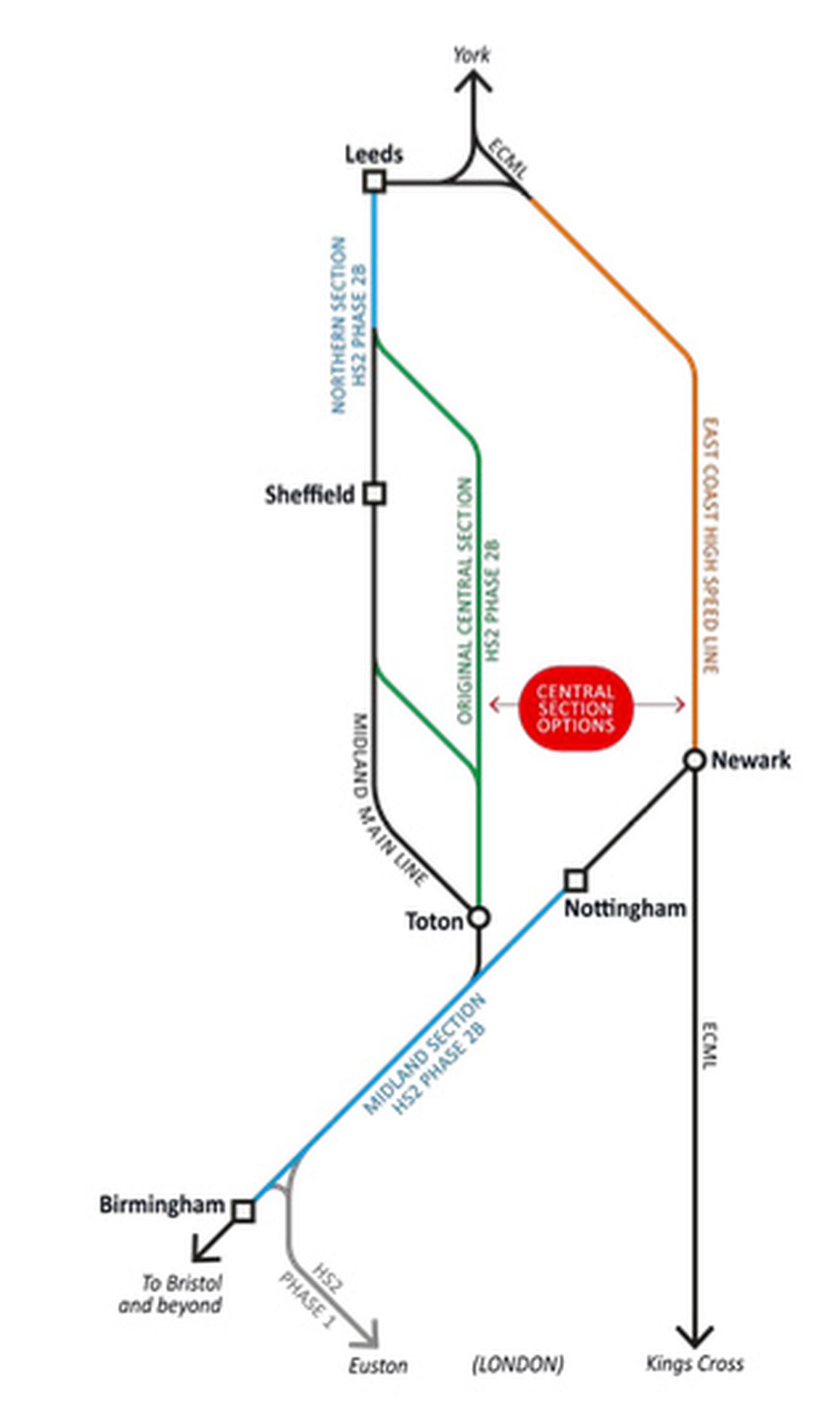 A new vision for the eastern arm of HS2 has been published by Greengauge 21, the organisation that helped put high-speed rail on the political map. Greengauge thinks the 123-mile eastern arm, from Birmingham to Leeds, is vulnerable to being chopped when ministers realise that the rail improvement projects being touted for the Midlands and North of England – HS2, Northern Powerhouse Rail, Transpennine Upgrade, and the Midlands rail hub to name but four – are collectively unaffordable. The National Infrastructure Commission pointed this out in its interim report on the rail needs of the Midlands and the North last month (LTT 24 Jul).
Rather than consigning the eastern arm to the dustbin, Greengauge founder Jim Steer believes the project can be saved by some major surgery. That includes re-routing the line via Nottingham city centre; scrapping the central section in favour of a new high-speed line to relieve the East Coast Main Line; and rethinking HS2 stations in Leeds and Birmingham to support through running to other destinations. If you're wondering what all this means for HS2 serving Sheffield and Toton, read on...
Greengauge says the Government's decision to concentrate on building HS2 from London to Crewe and then to Manchester risks creating an west-east regional imbalance, with the eastern arm to Leeds currently unlikely to be delivered before the 2040s.
But Greengauge says the eastern arm has design weaknesses. "The original design focus for the eastern arm, centred on creating a very fast London-Leeds (non-stop) journey time, was too narrow. The current eastern arm design doesn't allow trains to operate both into and beyond dead-end stations in either Leeds or Birmingham."
Ministers may be attracted to cheaper ways of connecting Leeds into HS2. One way would be to redraw the HS2 network as an 'S' rather than a 'Y', with Leeds-London trains running via a new high-speed line between Leeds and Manchester. Greengauge says the DfT previously estimated that such a line could save 15 per cent of the costs of the Y-shaped network. This will "no doubt have continuing appeal to budget managers," Greengauge suggests.
Rather than accepting this proposition, Greengauge says the purpose of the eastern arm should be re-imagined. The key change is to see the eastern arm as providing better cross-country links on an SW-NE axis, it says, with trains connecting Edinburgh and northeast England with Bristol, Cardiff, and the far South West. This idea would turn HS2 into an X-shaped network. The basic concept was put forward by Greengauge in its Beyond HS2 report published in May 2018. The new report explains the plan in more detail and puts forward some important new thinking.
Changing the eastern arm's purpose will require changes to how HS2 trains serve Leeds and Birmingham. Rather than running into a terminal station in Leeds, HS2 trains should operate into the existing (but upgraded) Leeds station, enabling them to continue to/from York and points further north. The currently proposed HS2 dead-end station in Leeds, which will adjoin the existing station to form a T-shape, is still worth building, says Greengauge, but it should be used for local services. HS2 services would take over the classic lines into the city through Hunslet, with classic line services (from Barnsley, Wakefield and the 'five towns') switched into the new dead-end station.
Changes will also be necessary in Birmingham. Services from the eastern arm are currently planned to run in to the HS2 terminus station at Curzon Street. Greengauge suggests that SW-NE high-speed services should instead run into an enlarged Moor Street station, which is close to Curzon Street. There, trains would reverse to continue their journey over the classic rail network. Enlarging Moor Street is one of the projects in Midlands Connect's Midlands rail hub package, although it does not envisage the extra capacity being used by high-speed trains.
Redesigning the route
Greengauge says the eastern arm will have to be delivered in phases and the sections at the north and southern ends should have higher priority than the bit in the middle.
Top priority should be a new line from Leeds to Sheffield. It could be served by crosscountry services, Midland Main Line services extended from Sheffield to Leeds, and the Nottingham to Leeds service. Bradford could be added via a new junction at Hare Park.
The next priority should be the section of line from Birmingham to the East Midlands. Here, Greengauge proposes an important change. The current proposals for HS2 envisage an HS2 station for the East Midlands being built at Toton, midway between Derby and Nottingham, a location earmarked for major development. But Greengauge thinks leaving Nottingham off the HS2 network is a big mistake. It proposes that the high-speed line should run into Nottingham city centre. Trains would then continue onwards from Nottingham with a new connection to the East Coast Main Line (ECML) at Newark creating a faster, NE-SW long-distance route and complementing the existing classic route via Sheffield and Derby.
Would this spell the end for Toton? Not necessarily. Greengauge recognises the local development aspirations for the area and suggests building a spur off the Birmingham-Nottingham high-speed line to serve Toton. This could be used by HS2 services between London and Chesterfield /Sheffield, with trains reaching Sheffield via an electrified Midland Main Line.
"Under these plans, the planned development around a new station at Toton can be accelerated. With a spur from the proposed accelerated Birmingham-
Nottingham high-speed line, HS2 London services could be introduced earlier to Sheffield."
If, however, HS2 were to be routed into Nottingham, Greengauge says a question mark arises over whether it is worth building the 50-mile central section of the HS2's eastern arm between Toton and Clayton Junction (between Sheffield and Leeds).
"The Toton-Clayton section of the eastern arm broadly follows the line of the M1 motorway, interactions with which are a source of some concern to Highways England because of the risk of significant disruption during construction. With no intermediate stations, the central section offers substantial end-to-end time savings (Leeds-London and Leeds-Birmingham) – achieved because it bypasses both Sheffield and Nottingham. But this seriously limits gains in city-city connectivity."
Greengauge thinks politicians would get more bang for their buck by dropping the central section in favour of building a new line to relieve capacity on the East Coast Main Line. "If regional city-to-city connectivity matters more than the fastest possible end-to-end journey times for a single city (Leeds), then an East Coast Main Line corridor high-speed line would offer a better approach."
It suggests a study of building a similar length of high-speed line in the ECML corridor. This could "speed up all of its longer distance services, add valuable network capacity and resilience, and serve northeast England better than the current HS2 plan". The line would "certainly be busier than the central section of the current eastern arm plan, with all ECML long-distance trains that don't need to call at Doncaster switched to the faster route and enjoying time savings accordingly".
The line would run between Newark and Temple Hirst junction, between Doncaster and Selby. It would pass to the east of Doncaster, passing Finningley (Doncaster/Sheffield Airport, which has aspirations for a rail station), over generally level and less populated terrain.
Scrapping the central section of the eastern arm would mean the loss of the spur onto the Midland Main Line south of Chesterfield for trains to/from Sheffield. But Steer told LTT that this would not harm Sheffield's rail connectivity. "It would still get an HS2 service and the journey time to London would be about the same." He pointed out that HS2 Ltd currently envisages London-Sheffield trains joining/splitting from London-Leeds trains at Toton, which will add to journey times. The Midland Main Line from Toton to Sheffield is also a good direct route.
If the central section of the eastern arm does goes ahead, Greenguage believes the Sheffield spur should be rethought. It proposes a shorter spur onto the Retford to Sheffield line, with trains entering Sheffield station from the north rather than the south, and missing out Chesterfield. "This would allow fuller use of the central section of the eastern arm of HS2, and faster London-Sheffield journey times."