Sunak promises £36bn for transport schemes as HS2 axed
Prime minister kills Birmingham to Manchester rail link in Conservative Party Conference speech
04 October 2023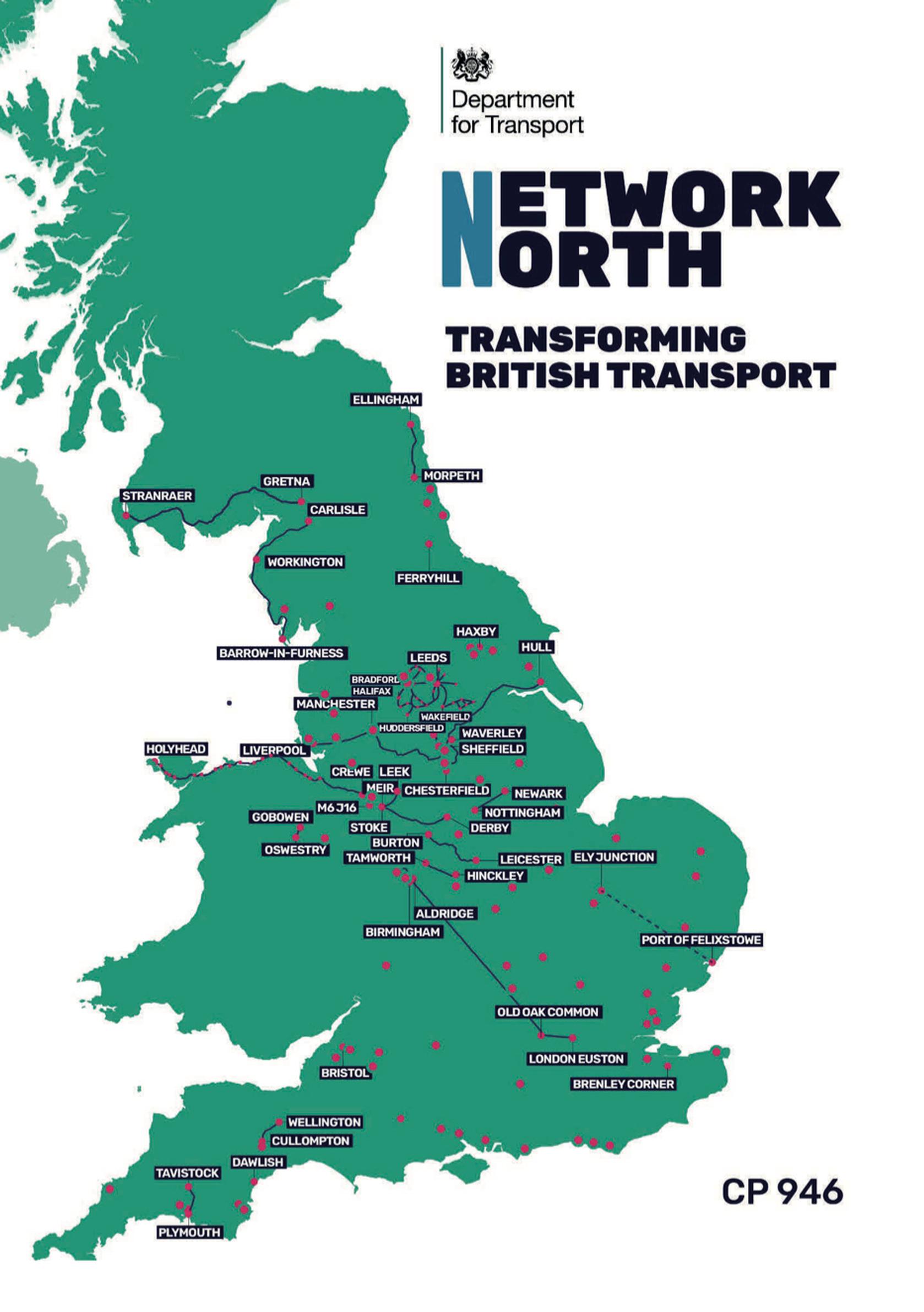 Announcing the cancellation of the northern section of HS2 to Manchester, the prime minister has promised that all the £36bn saved would be allocated to other transport projects.
He said: "The facts have changed and the economic case has massively weakened," for the Birmingham to Manchester section of HS2. "In its place we will reinvest every single penny - £36bn - in hundreds of new transport projects in the North, the Midlands and across the country."
Giving his Leader's Address at the Conservative party conference, Rishi Sunak said that a new 'Network North' strategy would result in improved east-west rail connections. "You will be able to get from Manchester to the new station in Bradford in 30 minutes, to Sheffield in 42 minutes and to Hull in 84 minutes on a fully electrified line."
As part of the Network North approach, £3bn would pay for upgraded and electrified lines linking Manchester and Sheffield, Leeds, and Hull.
Also pledged is nearly £4bn more funding for local transport in the North's six city regions, and nearly £2.5bn for local transport across all areas in the North outside of them – smaller cities, counties, towns and countryside.
A new £2.5bn mass transit system will be delivered in West Yorkshire. There will also be £1.75bn for the Midlands Rail Hub, connecting 50 stations, doubling capacity and frequency.
A further £12bn on top of the £36bn will be set aside for faster connectivity between Liverpool and Manchester, said the prime minister.
Sunak pledged 70 road schemes could also now be built from the money saved on HS2.
The capped £2 bus fare for all single journeys has been extended to the end of December 2024 instead of rising to £2.50 at the end of this month as planned.
"If we are to create change and drive growth across our country then we must get our infrastructure right," said Sunak. "A false consensus has taken root that all that matters are links between our big conurbations. This consensus said our national economic regeneration should be driven by cities at the exclusion of everything else. It said the most important connection was to London and only lines that were north to south and not east to west."
HS2 was the ultimate example of the "old consensus", he said. "The result is a project whose costs have more than doubled which has been repeatedly delayed and not scheduled to reach Manchester for almost two decades!"
He said the economic case for HS2 had been "massively weakened" due to changes to business travel post-Covid.
The London to Birmingham high-speed line would be completed "given how far along construction is", with work to continue on expanding Euston station, said the prime minister.
He said that the HS2 management team would no longer be responsible for the Euston site, stating that, "there must be some accountability for the mistakes made for the mismanagement of this project".
A new "Euston Development Zone" is planned for the site, "building thousands of new homes for the next generation of home owners, new business opportunities and a station that deliver the capacity we need," said Sunak.
The £6.5bn in savings "will be taken from the Euston site and given to the rest of the country".
Sunak insisted that his decision to scrap HS2 would result in every region receiving more investment than they would have done.
"There will be people I respect in my own party who will oppose my decision but there is nothing ambitious about simply pouring more and more money into the wrong project," he said.
"There is nothing long-term about ignoring your real infrastructure needs so you can spend an ever larger amount on one grand project. They will say we have already spent so much on it would embarrassing to stop. That though would be absurd reason to continue and abdication of leadership!"
Immediately following the prime minister's speech, the DfT published a document outlining the new 'Network North' strategy with a list of more than 100 schemes across the country that would benefit from the £36bn re-investment of HS2 money, including £19.8bn in the north of England.