Blind group questions legality of Enfield's bus stop boarders
07 June 2019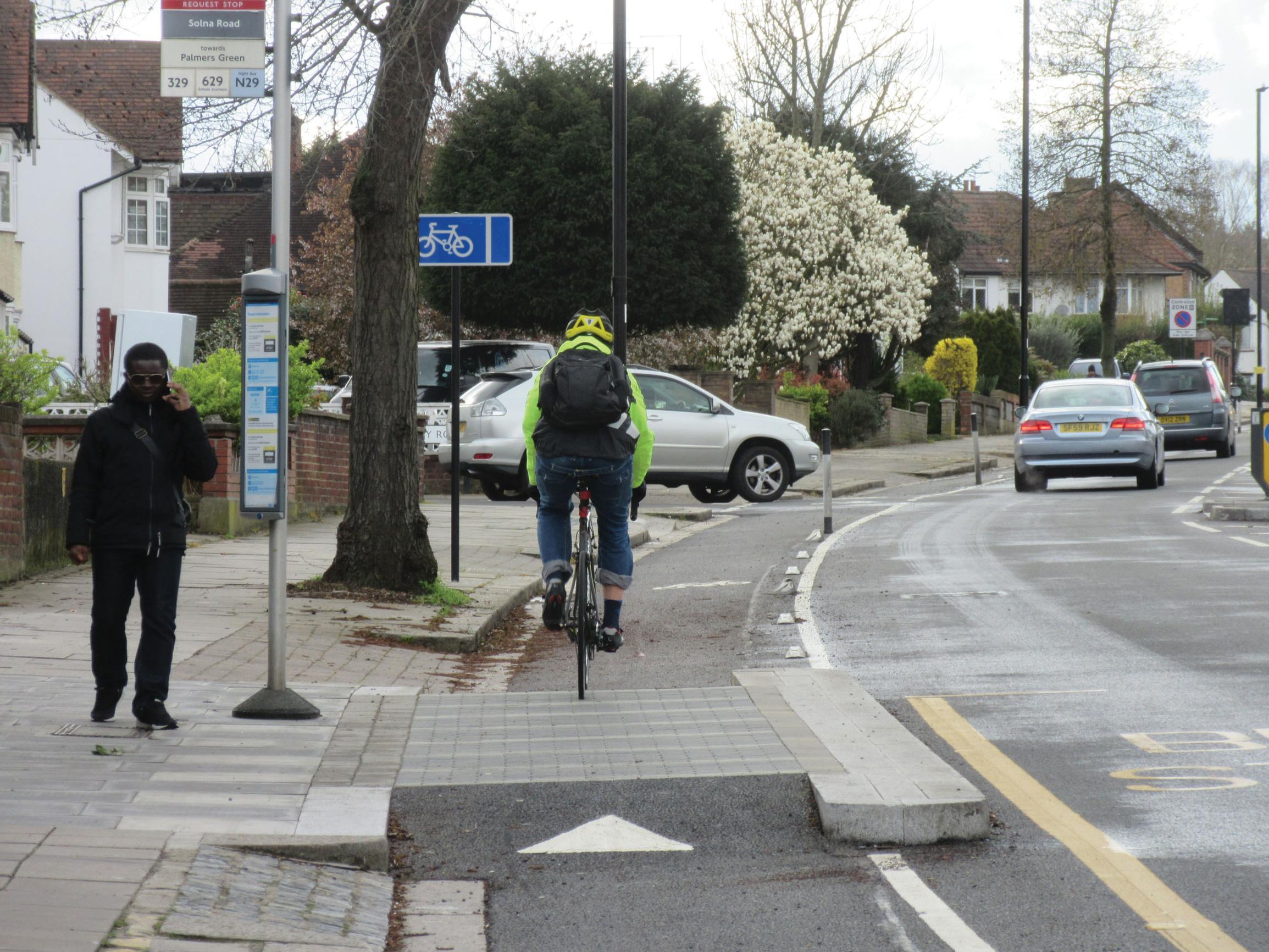 The London Borough of Enfield's programme of bus stop boarders for cyclists is making streets more inaccessible and dangerous for blind and partially sighted people, according to the National Federation of the Blind of the UK (NFBUK).
Enfield has installed boarders that see the cycle track pass in front of the bus stop (see picture). Bus passengers cross the cycle track to board and alight from the bus, creating the potential for conflict with cyclists.
The campaign group describes Enfield's bus boarders as dangerous. "They do not provide a safe, accessible method to board or exit a bus for blind, partially sighted, disabled, vulnerable or indeed for any passenger," said Andrew Hodgson, NFBUK's president.
"It should be noted that these designs have been imported from other countries, with claims being made for their safety but without there being evidence to support those claims of safety; nor has there been any recognition of the legislative context prevailing in those countries."
Enfield was awarded £30m from the Mayor of London's Mini-Hollands programme in 2014 to encourage more people to cycle by making routes safer while also providing better streets for pedestrians.
The first major project was the A105, with separate cycle lanes along much of the route from Palmers Green to Enfield Town. Work on a further route along the A1010 from Edmonton to Ponders end is due for completion in July.
According to Hodgson, the boarders installed on Enfield's segregated cycle lanes are unlawful under Section 21 of the Equality Act 2010 "because they serve to exclude disabled people from use of streets, crossings and public spaces or by putting disabled people at a disadvantage in comparison to people who are not disabled".
Hodgson said Enfield's bus stop boarders failed to make it clear that pedestrians have the right of way. "There is no signage, nor road markings, currently in place to indicate that cyclists should actually give way."
The council has installed buffer strips, ramps, signage and distinctive paving, but these were designed to slow cyclists rather than indicate priority, he said.
"NFBUK understands that Denmark has now started to remove these designs because of the conflict and collisions they create between cyclists and pedestrians," said Hodgson. "This action is required in Enfield if barrier-free access to public transport for disabled and vulnerable passengers is to be restored."
NFBUK has called for urgent talks with Enfield Council.
Responding to Hodgson's comments, Enfield said it was committed to improving the safety of streets for all road users.
A council spokesman told LTT: "As part of the implementation of continuous cycle lanes in the borough, Enfield has adopted the use of bus stop boarders. These create an area of shared use between people using the bus and people cycling, with the existing separate footway area retained where passengers are able to wait for buses."
Bus stop boarders were already in use elsewhere across London and Europe, the spokesman pointed out. "Enfield has carefully considered the design and introduced a number of elements to reinforce the fact that people cycling do not have priority through this space. For example, ramps are provided to slow people cycling as they enter this space, and a shared use sign is in place. The surface materials change completely from those used on the cycle lane as a further visual reminder that people cycling are now in a different type of space."
The borough is involved in a London-wide review, led by TfL, to research how bus stop boarders are operating. "Insights generated from this work can then help inform designs for both existing bus stop boarders and for future ones that the borough installs," said the spokesman.
Transport for London completed the installation of zebra crossings at 43 bus stop bypasses on its Cycleways in March. Bypasses see the cycle lane go behind the back of the bus stop.