Opponents prompt Brighton to cut back 20mph limit proposals
18 December 2013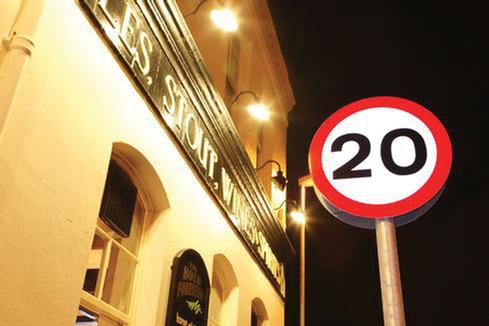 Brighton and Hove City Council has scaled back a planned roll-out of 20mph speed limits because a majority of the public opposed the lower limits in some areas.
In April the Green administration implemented the first phase of its 20mph limit plan, introducing the lower limit on most streets within central Brighton and Hove. Phase two, on which consultation was held this summer, covered nine further areas of the city.
Emma Sheridan, the council's principal transport planner, told councillors last week that the phase two consultation had generated nearly 15,000 responses. "A majority (51%) of people responded that they supported 20mph on their own street," she said. Support across the nine areas ranged from a low of 40% to a high of 63%.
Councillors last week approved the implementation of 20mph limits to many parts of the city but 30mph limits will be retained in residential areas where support for lower limits was lowest.
Sheridan told councillors that, under the revised proposals, 59% of people living in the phase two area would have the speed limit they want for the street on which they lived.
The police raised no objections to the lower limits but Brighton and Hove Bus Company objected to 20mph limits on some bus routes. The proposals have also been unpopular with taxi firms. The GMB trade union representing taxi workers refused to discuss the plans with the council but in written correspondence suggested the council concentrate its road safety efforts on "actual danger spots".
Sheridan said the council had supplied taxi firms with "Where it's the limit it's the law" stickers for drivers to display in their vehicles so that passengers would understand why they were being driven slowly. "Whilst a number of independent taxi drivers accepted the stickers, the trade representatives from the taxi unions and taxi companies in the city refused to accept the resources," she said.
Councillors last week responded to concerns of bus operators and others by overruling officer advice that a 20mph should be introduced on Portland Road. But lower speed limits will be implemented on some roads in East Brighton despite bus operator criticism. The council says bus priority measures funded from the DfT's Better Bus Areas programme should "more than compensate for any small amount of time lost by the lower speed limit in this area".
Discuss this at LTT's 'Time for 20mph' conference