Cargo bikes boom, and a wake-up call for Government
In the UK, the private sector is steaming ahead with developing the cargo bike ecosystem. But where is the Government support?
27 March 2023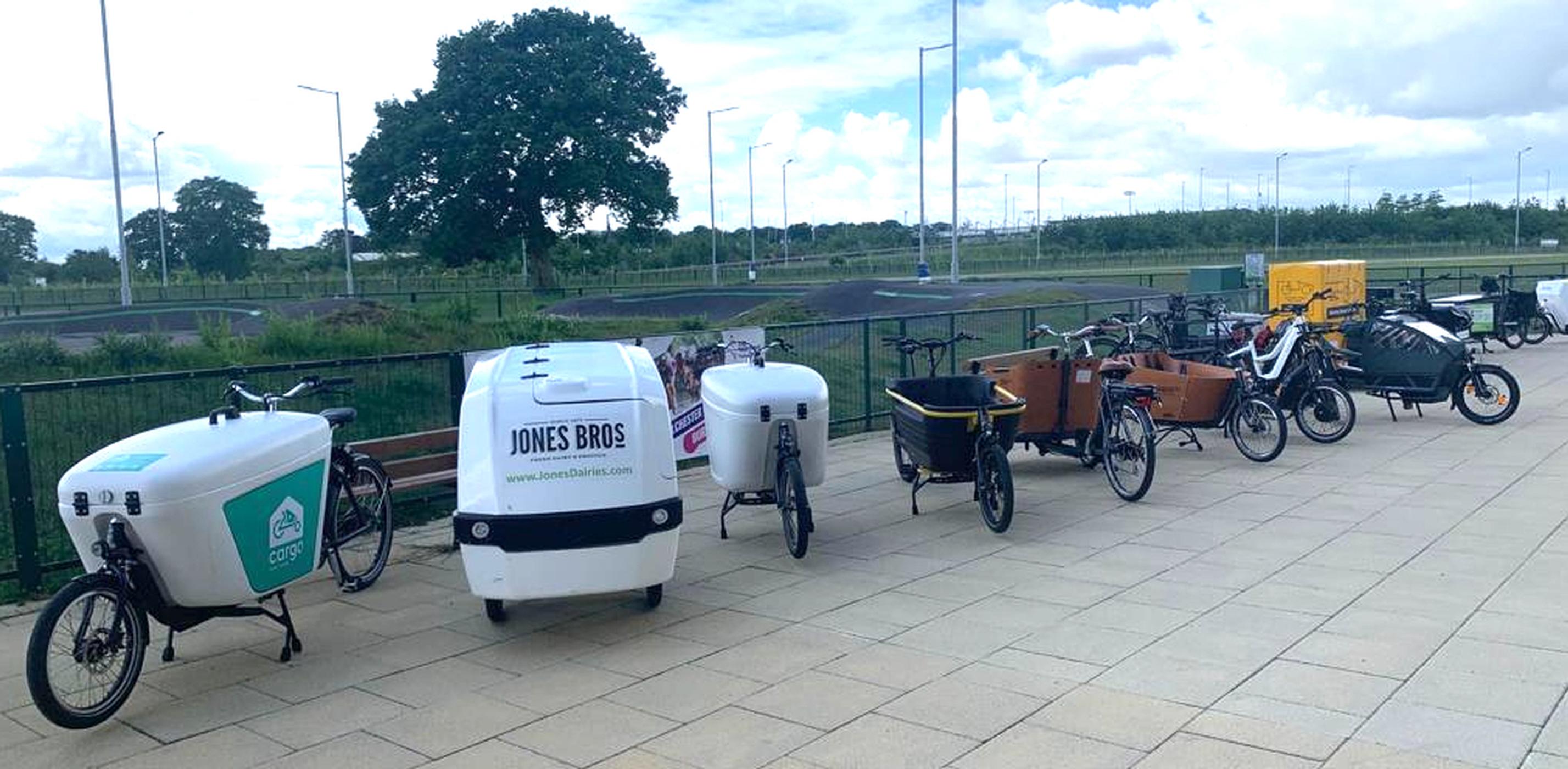 A lot has happened in the cargo bike world this month, and it's all positive.
Bicycle repairs and servicing business fettle has paired up with Kwik-Fit to help ensure that the UK has the right servicing infrastructure to support changing modes of transport. The partnership will be open to serve all cyclists, but the initial focus will be on supporting fleets using e-bikes and cargo bikes for the last mile.
Also this month, Barclays has invested £5m to roll out Zedify's e-cargo bike delivery network. Zedify seeks to normalise hyper-local micro hubs and zero emission delivery vehicles within UK cities.
Last year, British electric cargo bike manufacturer Electric Assisted Vehicles (EAV) appointed Halfords as its key UK fleet service, maintenance, and repair partner, ensuring EAV's Fleet customers have access to qualified Halfords Mobile Expert technicians anywhere in the UK.
And, unveiled as part of a five-year £300 million investment in the electrification and decarbonisation of the company's UK transportation network, Amazon announced that e-cargo bikes and walkers are now expected to make more than two million deliveries a year.
The private sector push
In the UK, the private sector is steaming ahead with developing the cargo bike ecosystem. The merger of two UK industry bodies, the Bicycle Association and the UK Cycle Logistics Federation, strengthens the industry's voice at a key moment for cycle logistics, a clean technology with huge potential to decarbonise urban transport.
But where is the Government support? We know only too well that without enabling local authorities to engage with innovation and change in their areas, it can be challenging to ensure that people (and safety and accessibility) remain more important than profits.
As International magazine The Verge notes about cargo bikes: "As more brands pile into the space, the knock-on effects for prices and the secondary market increase. Bikes get cheaper, more used bikes go on sale, and, in general, cargo e-bikes are more available and get more exposure, which in turn has positive implications for infrastructure and the overall reduction of car trips."
According to stats quoted by The Verge, bike makers are waking up to several salient points about cargo e-bikes; most notably, they're ridden a lot more than other types of e-bikes. Used cargo bikes clock an average mileage of 766.5 miles, almost double that of commuter, sport, or, performance e-bikes.
Another interesting point worth noting, it adds, is that this surge of interest in cargo e-bikes isn't being led by the legacy bike companies, but rather the direct-to-consumer brands, who, from the beginning, have crafted a marketing strategy that targets non-cyclists and seeks to convert them to the world of two-wheels with a wide swath of utility and cargo-influenced models.
The Bicycle Association of Great Britain (BA), which describes it self as "the national trade association for the UK cycle industry", says it "strives always to represent the best interests of the UK cycle industry to government, stakeholders and the general public".
The BA is currently working on standards and driver training schemes for the UK.
The BA focus includes the key Facilities Management sector. The Bicycle Association's Andrew Brown says: "Commercial usage of cargo bikes and bikes is on the rise. It is vital that all parts of the facilities management and commercial real estate sector are educated about cargo bikes. What they are; where they can go; what they can carry; who can use them; how to use them safely.
"Then they will see what we argue: that cargo bikes can play a fundamental role in decarbonising and improving the movement of goods, services and operations for the FM and CRE community."
Researchers are consolidating evidence on cargo bike use – as is the The Bicycle Association – but just observing streets across the UK it's possible to see how the network is growing.
The funding
There has been a small amount of funding for cargo bikes provided by the Department for Transport, and more from Defra through schemes such as its Clean Air Villages programme. Locally-led schemes in the capital such as those funded by Impact on Urban Health have also made real differences across London.
So far, however, despite promises from the Department for Transport to include specific interventions to address freight carbon emissions within the broader UK Transport Decarbonisation Plan – including consolidation centres and the use of cargo and e-cargo bikes – no further funds are planned.
Transport for London is on the verge of launcjing its new cargo bike strategy and next steps, and the Mayor of London Sadiq Khan has launched a scrappage scheme worth £110m – the announcement follows the mayor's decision to expand London's Ultra Low Emission Zone (ULEZ) London-wide in August this year. The fund will support Londoners on lower incomes, disabled residents, charities, sole traders and business with 10 or fewer employees to replace or retrofit their old, polluting vehicles.
To accompany the scrappage scheme, the mayor and Transport for London have announced a set of ULEZ support offers from businesses, including additional exclusive offers for successful applicants of the scrappage scheme. These offers will enable Londoners to benefit from discounts on subscriptions, rentals and purchases of bicycles, e-bikes, cargo bikes, cars and vans from companies including Brompton, Enterprise and Santander Cycles.
Other countries are doing more: Ireland is supporting cargo bikes with a purchase tax incentive scheme in the hope that cargo bikes can replace more family cars as it increases the Bike to Work limit to €3,000. And in terms of infrastructure, European cities are expanding cycling infrastrcuture so that it accommodates cargo bikes too, as in Berlin's parking fee exemption for e-scooters, bicycles, cargo bikes, light motorcycles and motorcycles.
All in all, pioneers from across the cargo bike sector are working together to drive development of the ecosystem forward. With a little more help from the Government, local authorities can ensure they keep up with these advances and make sure that cargo bike access is safe, fair and equitable as the industry grows.