LTNs bring major traffic falls on London streets, says study
25 January 2023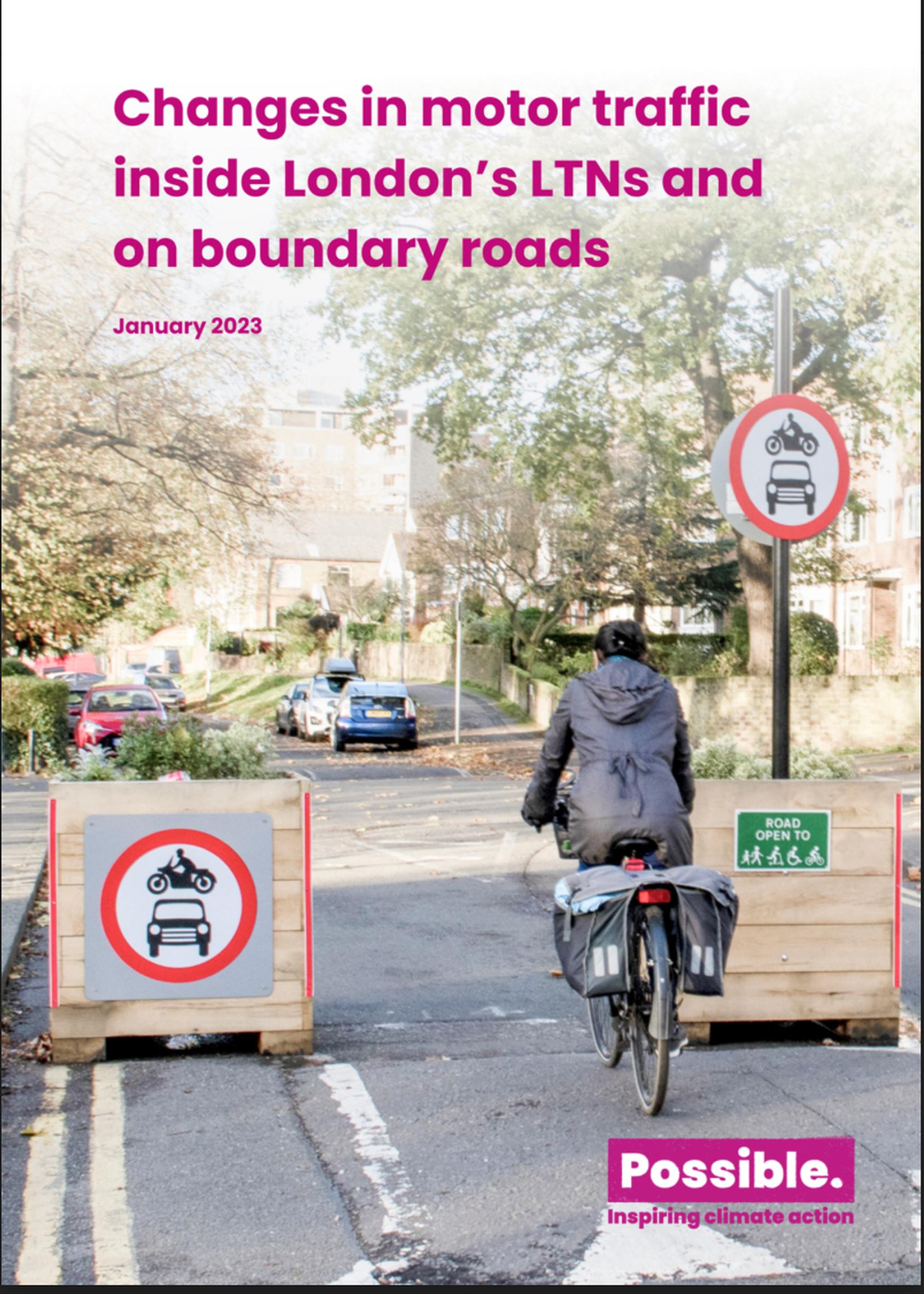 There have been significant falls in traffic on streets with Low Traffic Neighbourhoods (LTNs) across London, with sign of displacement to boundary roads, says a study by climate charity Possible and the University of Westminster's Active Travel Academy.
LTNs in London introduced between May 2020 and May 2021 have "typically resulted in a sub- stantial relative reduction in motor traffic inside the scheme area, with particularly strong reduc-tions in Inner London", the study says.
The mean average decrease in motor traffic on roads within LTNs (a reduction of 815 motor ve-hicles) was almost ten times higher than average increases in motor traffic on boundary roads (an increase of 82 motor vehicles), suggesting that LTNs are creating a substantial overall re-duction in traffic, according to the study.
LTNs has resulted in many more streets experiencing under 1,000 motor vehicles passing through them a day, "implying that there may be a qualitative change in the local environment that has meant an increase in walking and cycling", says the study.
Analysis found that 47% of boundary roads saw a decrease in traffic and 53% saw an increase. Average motor traffic counts showed that on boundary roads, traffic changed "relatively little" - with a mean average increase of just 82 motor vehicles per day. This is less than 1% increase
on the mean average of 11,000 vehicles that pass through boundary roads on a typical day.
Data from 'pre' and 'post' monitoring sites on boundary roads were similar - around 11,000 motor vehicles per day, the study found. "The picture of little change on average in motor vehicle numbers on boundary roads is good news for the potential for exemptions to limit journey length and hence time increases for key users, if this is judged necessary."
But there are "substantial variations" in both increases and decreases in traffic on boundary roads, between individual LTN schemes, the study found. These variations are not likely to be primarily caused by LTNs "but could, instead, be caused by other contextual factors such as major local works or wider background trends".
It cites the rise in motor traffic in Newham, which "may well be due to Olympic legacy-related de-velopment - particularly increasing motor traffic on boundary roads", it suggests.
Asa Thomas, PhD Researcher at the Active Travel Academy at the University of Westminster and lead author of the study, said: "This study finds that most streets within LTNs see reductions in most traffic, improving the experience of walking and cycling. Two-thirds of these now have vehicle flows below 1000 vehicles a day, a rough threshold for a quiet pedestrian friendly street, compared to only two-fifths before. What's more, there is little indication of systematic displace-ment of this traffic to boundary roads."
Prof Rachel Aldred, Director of the Active Travel Academy at the University of Westminster and co-author of the study, said: "The research indicates there has been overall 'traffic evaporation' as a result of these schemes, as the mean average reduction in motor traffic on internal roads is around ten times higher than the mean average increase on boundary roads, adjusting for back-ground trends. This suggests that not only do LTNs have substantial benefits inside their bound-aries, but they can also contribute to wider traffic reduction goals."
Asa Thomas will be speaking at School Streets. The event will take place at Lambeth Town Hall, Brixton, on 21 February.