Queueing theory tested to its limits during Queen's lying-in-state
21 September 2022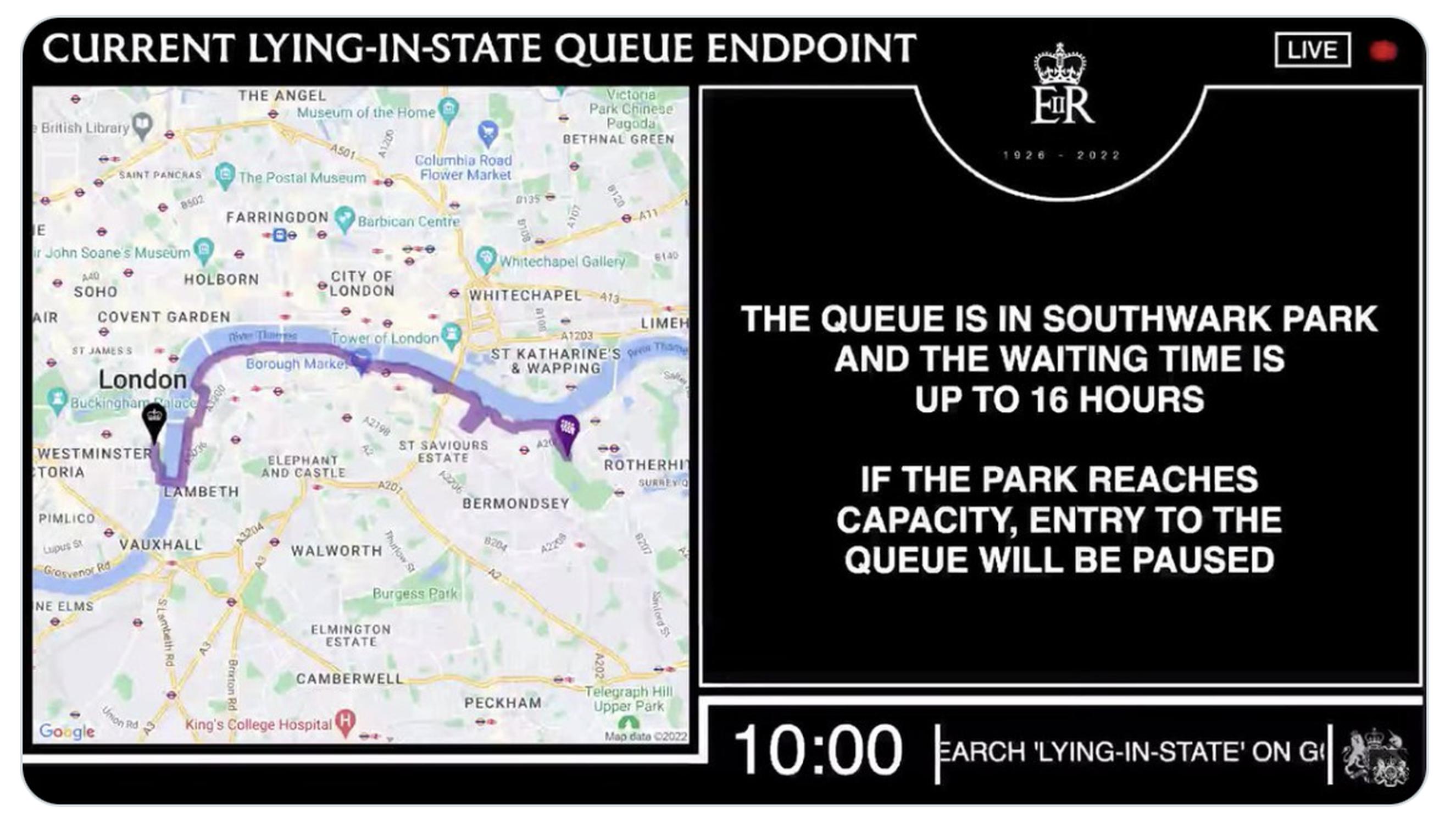 Arrangements for thousands of people queueing to view the Queen's lying-in-state have offered a fascinating challenge and case study in pedestrian management and behaviour.
They formed part of the funeral plan for the death of the monarch, known as Operation London Bridge, that dates back several decades and has been continually revised, including implementing road closures and setting up security cordons during the ceremonials to be attended by many heads of government and watched by thousands of people lining the streets of central London.
The five-mile queue waiting to pay their respects to the Queen as she lay in Westminster Hall has become a particular talking point around the world, and arguably one of the longest queues ever.
Its organisation and behavioural patterns have been of considerable professional interest, particularly, the discipline with which an estimated 300,000 people have been willing to slowly move or between nine and 24 hours, sometimes queuing overnight.
Preparations were put in the hands of a team of experts led by Professor Keith Still, who has been teaching and advising on crowd science for 30 years and lectured at the Cabinet Office Emergency Planning College (EPC).
He has contributed to a wide range of crowd safety related courses around the world. Among his modelling tools are Legion, Paramics UAF, Myriad, Dwell Analysis, Progressive Crowd Collapse and Tawaf models, used for the analysis of crowds in complex and built spaces for over two decades. Masters students from Manchester Metropolitan University have been part of the team planning and managing Still's concepts.
Some have wondered if it is just idiosyncratically British to be prepared to stand in a queue that lasts longer than the average working day. But the success of the arrangements is not just put down to the individuals' behaviou but reflects an ecosystem created for the overall management, including a live online queue tracker with map of where to join and on-route facilities, plus a system of coloured wristbands denoting progress through a number of successive zones.
to reach Westminster Hall, the queue ran across Lambeth Bridge, along the Albert Embankment, on Belvedere Road behind the London Eye, continuing along the South Bank past the National Theatre, the Tate Modern and HMS Belfast past London Bridge and through to a joining area at Southwark Park. To actually enter Westminster Hall, everyone had to go through airport-style security.
Within hours of the lying-in starting the queue was more than two miles long and at its height extended to five miles with a 20 hour wait.
Professor Still provided analysis and advice for not only The Queue, but also the Queen's journey from Balmoral through Aberdeen, where he was born. Asked by the BBC if he ever anticipated The Queue could reach five miles long, he replied swiftly. "Yes." "You always plan for what might arrive and then five times that, and 10 times that," he says.
There have been few reports of queue jumping or other problems.
As Prof Still puts it, "The crowd itself is looking after people within it." As well as being a particularly sombre occasion, human nature and the psychology of queuing behaviour were also at work, he says. He stressed the importance of people needing to know what is happeningin advance, to have their expectations set and to be kept constantly informed and updated.
Perceived fairness was also important, with VIP lanes visually separate so it did not appear someone has just turned up and walked straight through. "So long as people know what's happening, what's expected of them, how long it's going to take, they no longer face the uncertainty," he says. "And it keeps the crowd very much on your side."
"It's as soon as that information flow stops that you get a degree of uncertainty and people start behaving as individuals rather than as a collective," he says.
At the times of extreme pressure of numbers, a contingency plan provided for an extension of the start point further into south east London. Professor Still was particularly interested in the lengths of time people were prepared to accept.
"Eight hours might be acceptable for most people but 10, 12 - where's the limit of human endurance when standing for that length of time?"