RBKC scraps cycle lane trial on Kensington High Street
Cycle Lanes
16 December 2020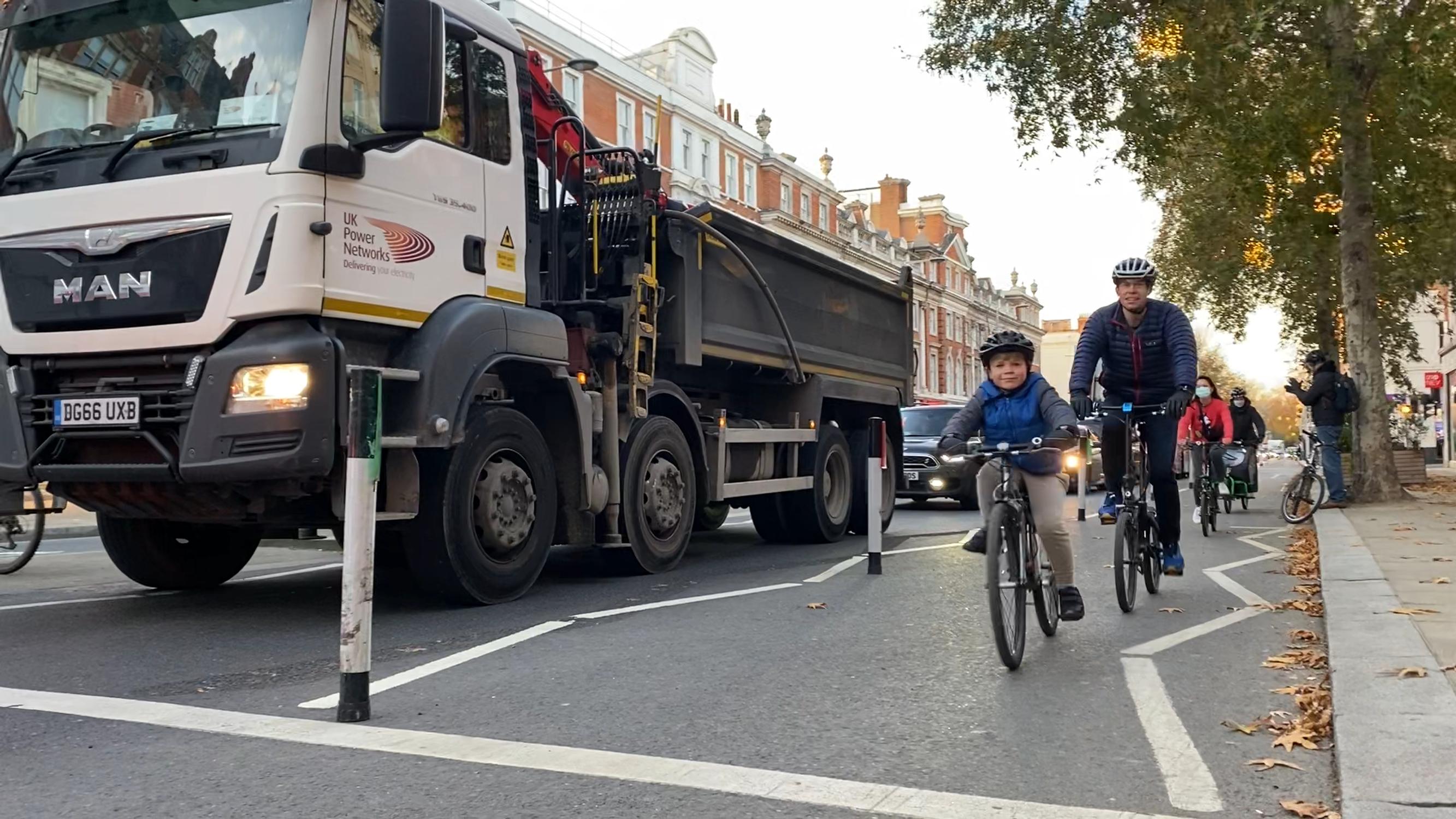 Temporary cycle lanes on Kensington High Street have been removed after protests from residents and local businesses. The light segregation scheme was introduced by the Royal Borough of Kensington & Chelsea (RBKC) in September to encourage more cycling and walking in response to Government guidance on post-lockdown travel.
The council said it hoped that the cycle lane would support local businesses by making it easier for their customers and employees to travel to Kensington High Street while public transport capacity was reduced due to Covid-19. But the scheme sparked complaints about congestion, bus journey times and loading.
"Many residents have reported seeing emergency services vehicles being delayed in traffic," said RBKC. It added that The London Ambulance Service (LAS) and the London Fire Brigade told officers they would not instruct their drivers to use the cycle lane to move past slow-moving traffic. The LAS asked for the scheme to be reviewed while the local fire commander stated he did not support the cycle lanes, said the council.
The group Action Disability Kensington and Chelsea also raised concerns about taxis and cars being unable to drop passengers off safely at pavements
On 25 November MP for Kensington & Chelsea Felicity Buchan and London Assembly Member Tony Devenish published a joint statement urging the council to remove the cycle lanes when the second lockdown ended on 2 December.
A petition calling for the removal of the cycle had more than 3,000 names by the end of November, said RBKC. As a result the council decided to scrap the scheme, though the removal of the lanes was held up after a protest by environmental movement Extinction Rebellion. In an open letter, Cllr Johnny Thalassites, RBKC's lead member for transport, said: "At the last count, we had over 1,000 emails in our active travel email inbox, split 58 per cent for and 42 per cent against the cycle lanes. Of people who identified as residents of the borough, the split was 31 per cent for and 69 per cent against. Locally, three-quarters of businesses are against the scheme. On this basis we made our decision.
"We remain committed to school streets, expanding the schemes again in the coming months, and making the borough 20mph across the board – because these measures work, and they work for everyone."
Simon Munk infrastructure campaigner at the London Cycling Campaign said: "The case that Kensington & Chelsea's councillors, as well as local MP Felicity Buchan and above all else Assembly Member Tony Devenish, makes to remove the cycle tracks on Kensington High street after a few weeks, before the scheme was complete, looks increasingly threadbare.
"The business opposition is not as strong as stated at all, with key businesses and nearby institutions now coming out in favour of the tracks. And the resident opposition appears based on some bogus surveys and just over 300 emails against the scheme, which have already been likely eclipsed by resident emails in favour."
The council's own data showed the scheme did not cause congestion while cycling levels have risen significantly, argued Munk. "TfL says 4,000 people daily are cycling along the scheme, tripling usage. It is not acceptable for this borough to once more endanger its own residents and other Londoners because a few powerful people hate cycling."