Edinburgh Waverley masterplan revealed
Rail
22 August 2020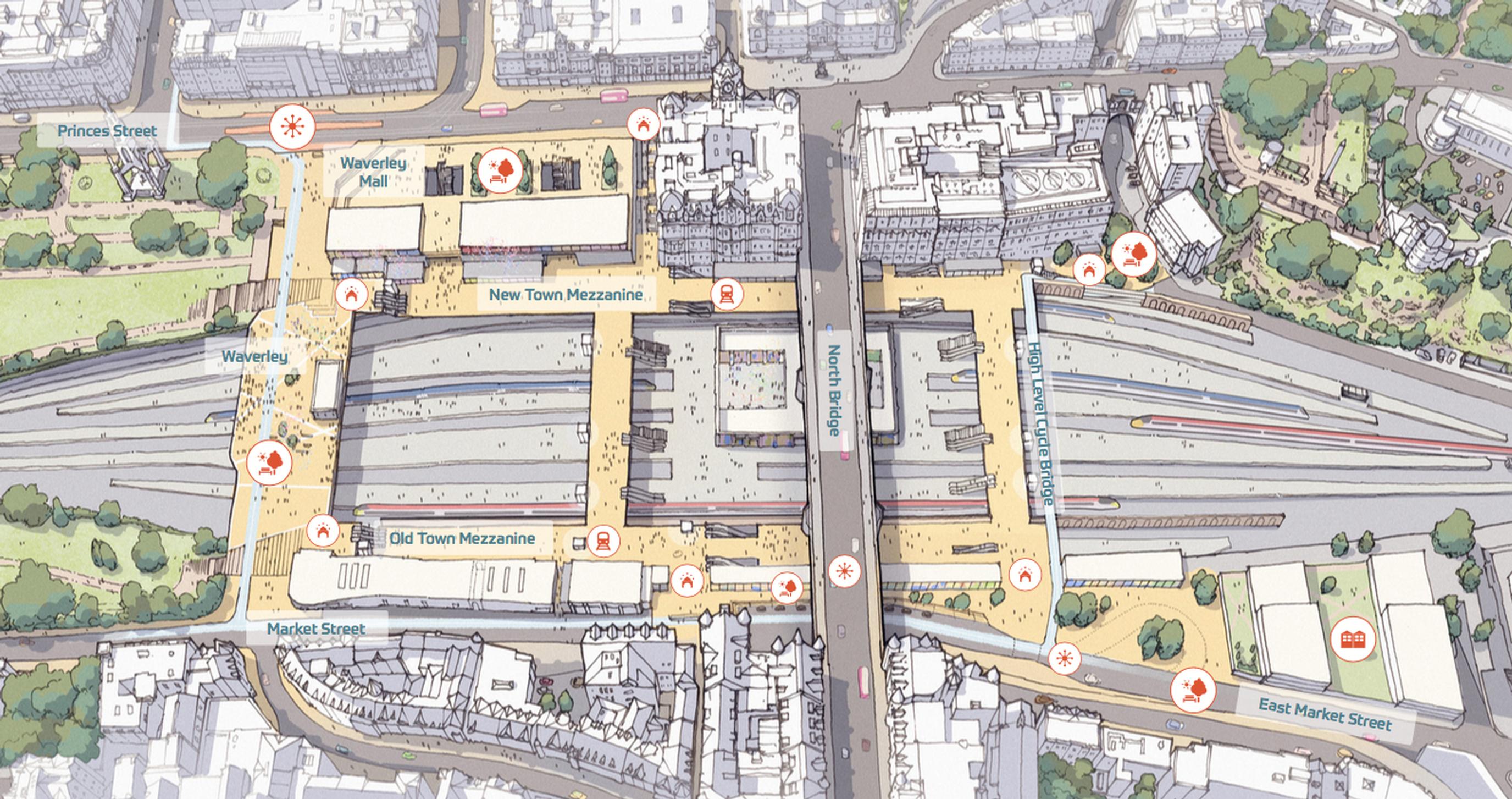 A plan for a major rebuild of Edinburgh Waverley railway station will see fundamental changes to pedestrian access from surrounding streets.
The concept masterplan envisages construction of a mezzanine floor above the platforms and the removal of the access ramps into the station from Waverley Bridge.
The vision has been prepared by a team comprising Arup, Allan Murray Architects, Gardiner & Theobald, Grimshaw, JLL, streets-uk, and Jura Consultants. The clients are Network Rail, Transport Scotland and the City of Edinburgh Council.
Rail industry forecasts suggest Waverley's annual passenger throughput could more than double from 23.3 million in 2018 to 49 million in 2048.
The access ramps into the station are currently used by pedestrians and servicing vehicles. Other vehicular traffic is not permitted in the station.
Removing the ramps will allow the platforms beneath to be extended.
Two new pedestrians entrances would be provided from Waverley Bridge. The bridge itself is expected to be pedestrianised. It is usually used as the starting point for the city's tour buses but has been closed as a through route since June as part of Covid-19 temporary traffic restrictions.
A new 'Old Town' mezzanine concourse on the south side of the station would be accessed from a "revitalised" Market Street. A 'New Town' mezzanine concourse would be build on the north side of the station.
The two concourses would be connected by bridges on a north-south axis, which will also allow non-rail passengers to walk through the station.
The centre of the station will be kept free of the mezzanine floor, allowing daylight to penetrate to the platforms and opening up the area around the Booking Hall building, which will be retained.
Provision for 1,800 bicycle parking spaces is proposed near station entrances.
Taxi facilities will be provided on a "reorganised" Market Street. Lifts will provide pedestrian access between Market Street and North Bridge above the station.
A drop-off point for private cars could be provided on Calton Road, on the north side of the station, "if this remains open to traffic". Drop-off and pick-up are allowed in Waverley Court multi-storey car park.
The project partners are considering the future of the station's glass roof. It is of historic value and forms part of the station's Category A listing.
The rebuilding project is of such as size and cost that it is likely to be delivered in several phases, aligned with other enhancements to the rail network in southeast Scotland. ?
More detailed technical studies will be progressed over the next year, with particular emphasis on determining the future of the station roof.