Sustrans prepares to reclassify 1,000 miles of NCN in Scotland
Cycling
15 May 2020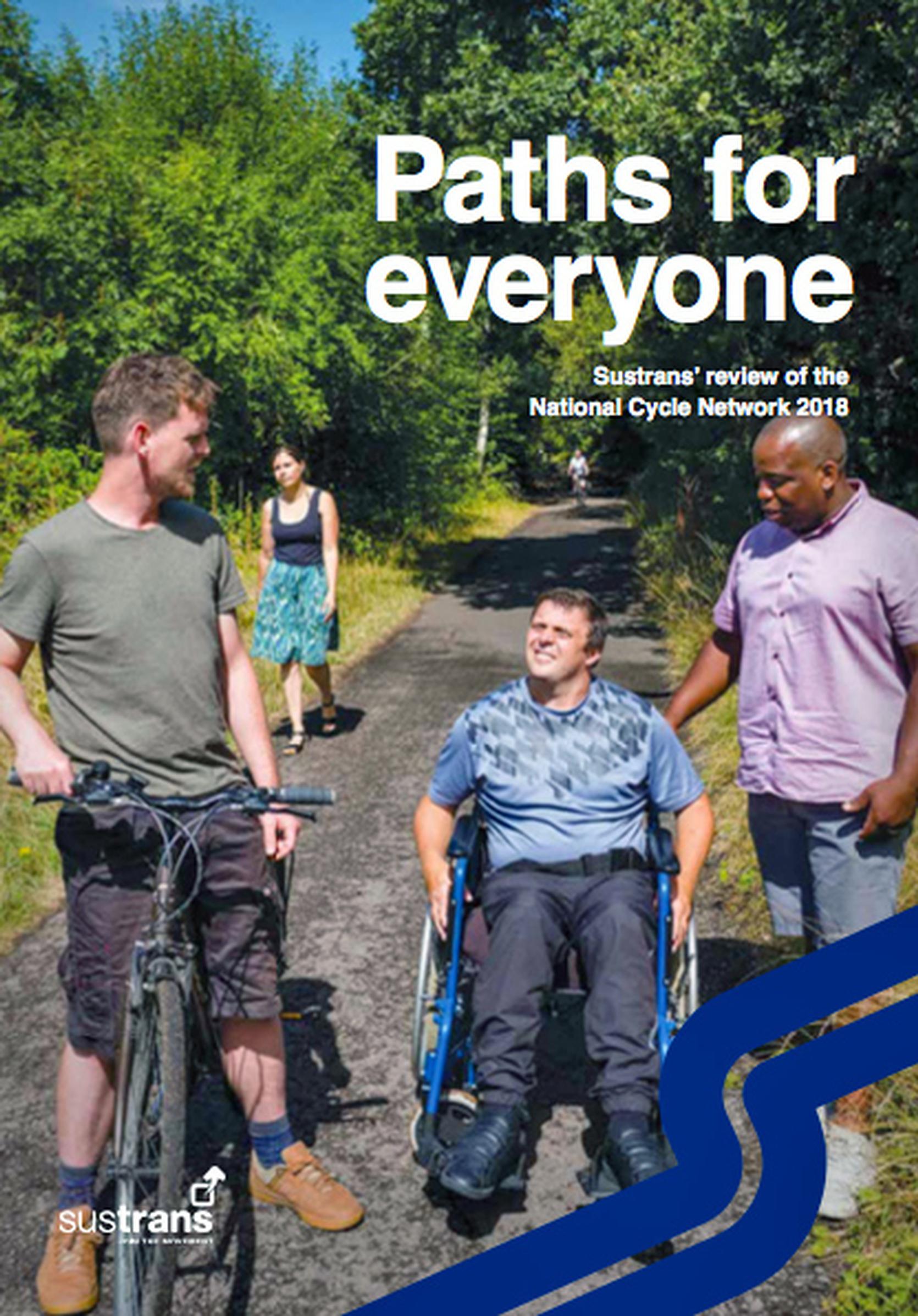 Sustrans is to reclassify about 1,000 miles of the National Cycle Network in Scotland, removing them from the NCN and marketing them for long distance cycle tourism.
The proposal stems from Sustrans' review of the NCN in 2018. At that time, the network comprised 16,575 miles across the UK, made up of 5,273 miles of traffic-free paths and 11,302 miles of on-road sections.
The review aimed to create a network capable of being used by a sensible 12-year old travelling alone. Routes were assessed using a scoring system that considered their surface, traffic flow, signage and safety.
Sustrans concluded that, for the UK as a whole, one per cent of the NCN was very good, 53 per cent was good, 4 per cent was poor, and 42 per cent very poor.
Of the on-road sections, 62 per cent – or 6,962 miles – were classified as very poor, and only 4,125 miles as good.
The main issues of concern were vehicle speeds and traffic volumes.
The final report of the review said: "Quality is more important than quantity. If parts of the network prove unfeasible to make safe or accessible then we will need a process to declassify them."
Sustrans' long-term aim is to make more of the NCN traffic-free, with an ambition to create a further 5,000 traffic-free miles of route by 2040, in effect doubling the traffic-free network to 10,000 miles. For the remaining on-road sections of the network, it wants local authorities to implement 40mph speed limits in rural areas and 20mph in urban areas.
Following the review, Sustrans conducted more in-depth research on the NCN and its quality. This has now resulting in the charity proposing that 38.4 per cent (996 miles) of the NCN in Scotland should be reclassified or removed. The vast majority – 976 miles – is proposed for reclassification, which will see it become part of 'named routes', which will continue to be promoted. Only 20 miles are proposed for complete withdrawal.
All the affected sections are understood to be on-road, with median traffic speeds of 40mph or above, or 35mph or above in the case of A roads or other high traffic roads.
Charlotte Otter, senior communications officer for Sustrans Scotland, told LTT this week that the changes were all about ensuring that routes met user expectations.
"It's all about getting a consistency of experience and user expectation, marrying up the right type of route with the user," she said.
The named routes will be long-distance routes that appeal to cycle tourism, a different audience to those who use the NCN for more local trips.
The named routes will not appear on maps of the NCN but Sustrans will continue to promote them via its website. It is also working with Visit Scotland on a project to promote the named routes, including to overseas visitors. Otter said there would be at least five named routes in Scotland. Sustrans is working with partners including local authorities, regional transport partnerships to discuss possible names.
The changes are due to take place this summer.
Board members of Hitrans, the Highlands and Islands Transport Partnership, were presented last month with a map showing the sections of the NCN across Scotland that are planned for reclassification.
"The full detail of which routes will be removed and which ones reclassified has not yet been shared by Sustrans," said a report authored by Hitrans partnership manager Neil Macrae and active travel officer Vikki Telfer.
"Hitrans recognises the need to ensure that the NCN offers a high quality, consistent and safer experience for users if we are to encourage active travel," they said. But they added there was "an urgent need to address the outcome of this review that will result in either the removal or reclassification of almost all the NCN within the Hitrans area".
All four numbered NCN routes in the Hitrans area will be affected: the NCN1, NCN7, NCN78 and NCN780.
"NCN1 will be disrupted by the removal or reclassification of the entire route from Tain to Scrabster, and all of Orkney. NCN7 will be disrupted by the removal or reclassification of on-road sections between Perth and Inverness.
"NCN78 (Caledonia Way) has significant on-road sections highlighted for removal or reclassification between Campbeltown and Oban, and from Fort Augustus to Inverness.
"Route 780 (Hebridean Way) will be entirely reclassified or removed from the NCN."
"Whilst these sections will no longer be part of the NCN or appear on NCN mapping, the entirety of the route will continue to be mapped by Ordinance Survey and appear on their publications and app," said Macrae and Telfer.
Macrae told LTT : "We support their aim of a consistent network. It's not a case of us being 'up in arms' [at the proposals] but we want to ensure they do enough to mitigate [any negative effects]. The NCN brings significant economic benefits to the Highlands and Islands through cycle tourism."
Long sections of the NCN in the Scottish Borders and Dumfries and Galloway will also be reclassified.