The psychology of change: How might the COVID-19 prompt different travel and transport behaviour?
Luis (Pilo) Willumsen and Cliff Edwards took part in the latest LTT online discussion. Juliana O'Rourke was listening in...
01 May 2020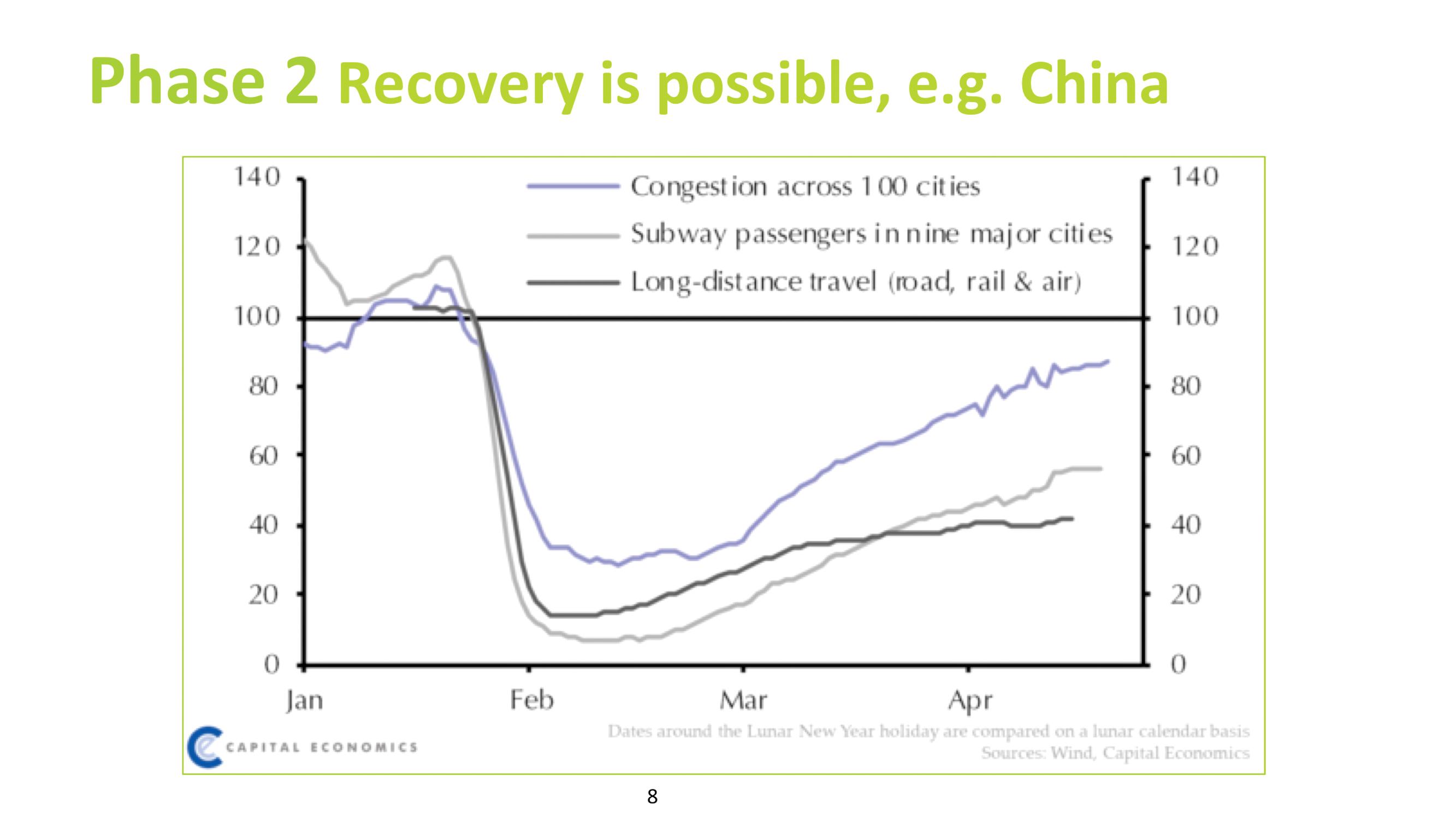 My business is forecasting, with the help of transport models,' said Pilo. 'I'm very interested in what may happen after the lockdown and how it will affect my own forecasting. In general terms, forecasting is not that difficult, because most people do not change their minds that often as it takes a lot of energy and effort.'
But this pandemic is affecting travel in unprecedented ways, he noted, setting out three main parameters impacting possible long-term change: Government interventions, the recession, and the way companies and citizens adapt to a 'new normal'.
"We've heard a lot about possible change: companies will adapt to allow more work from home, at least part-time, people will have acquired new skills and will continue to use them, internet shopping has become the norm. The need for business travel will be scrutinised more closely as businesses adapt to distance working. Covid-19 has increased, globally, awareness of the (negative) impact of travel on the environment, and it seems likely that virtual tourism will replace some physical visits in future.' It is, noted Pilo, important that there is a recognition that 'we're all in this together'.
He outlined six different influences on the pandemic's impact on travel. First, reducing transmission to save lives and avoid overwhelming the health system; second, relaxing restrictions to return, eventually, to the 'new normal'; third, the recession; fourth, Government changes in priorities and actions to recover the economy; fifth, business adaptations to gain resilience and productivity; and finally, possible changes in travel behaviour resulting from the first five.
Lockdown, he said, directly affects travel, with a negative impact on the economy, especially for tourism, hospitality and personal services: 'The longer it is imposed, the more negative the impact on GDP and the viability of transport business.' Government interventions will be needed to support transport operators. The careful process of removing some restrictions will mean that social distancing will be retained in most cases, some activities will recover faster than others, and these effects will probably last until a vaccine is available.
Trip generation will moderate
The recession will be deeper, he added, and perhaps even longer, than the 2008 global financial crisis. It will moderate trip generation, and the effects will last for years. Some companies will not survive, but there will be a recovery.
Government intervention will be key. Measures to support employment and a partial nationalisation of rail and public transport companies all increase public debt. Priorities now favour health and resilience, but sectors such as construction will provide employment and are 'good economic multipliers'. Inevitably, Government will play a greater role for a while, and we may accept more radical measures than in the past for the common good. 'The pandemic caught us with very long supply chains for some key elements and we should improve on that,' he said.
'We will have to adjust business models. Pure profit motive will be less acceptable, and there will be a need to consider all stakeholders (shareholders, employees, customers, and the environment). Tourism, hospitality and aviation will face long-term challenges, and all of this will affect how, and how much, we travel.'
People are also changing their priorities, paying more attention to health, family, work and resilience. They have accepted restrictions that would have been unthinkable in the past, and have a clear recognition of how key roles have changed and are valued: 'These are positive elements, as we have a new recognition of workers in the NHS, distribution and those involved in public transport.'
'Hopefully,' he adds, 'we also have greater awareness that these are global problems that require collaboration rather than competition. Government policies have changed our habits, we are now exploring new ways of organising our supply chains and our lives. Only 9% of people say they want life to return to how it was in 2019, with 63% of UK citizens wary of visiting pubs post-lockdown (YouGov April 2020). 'I'm skeptical about whether change will actually materialise in these percentages, but there are clear indications that some people intend to change their habits. We have new temporary habits in the increased use of bicycles and scooters.' So what will the new normal look like?
The session discussion included a lively debate on repurposing public space
Governments will need to increase taxes to pay for stimulus and protection; some may ask if this is the time for Clean Air Zones and Road User Charges? Cycling and walking have enjoyed boosts, but will public transport patronage recover? CAVs seem less glamorous, and automakers will have less cash to invest. In terms of sharing, says Pilo, would you be willing to share a ride in a small vehicle used by other members of the public?
'Ultimately, how much we really change depends on us and the new policies adopted; and we have an 18 month window for this,' he said.'This could be a good opportunity to speed up implementation of many socially beneficial policies that we have been thinking about, but have always been slow to implement. I have a lot of respect for Mark Carney (ex Bank of England Governor), who thinks that the big test will be whether we really give climate change – another risk multiplier – the high priority it deserves as we think about 'new normality'.
Necessity is the mother of invention
In the second talk of the session, behavioural psychologist Cliff Edwards began by talking about how people create models of their world so that it works for them. Chaos is not chaotic, it's just really complicated,' noted Cliff. Change can happen.' The way society works, travels and interacts will change to suit the environment, as with the Industrial Revolution and the cyber revolution. Now we have been forced to work remotely, some will have adjusted and prefer it.' But, he adds, there is also evidence to suggest that many of us commonly use 'scripts', or processes, that we expect to follow.
By starting a familiar process, for example brushing our teeth, it 'keys in the rest of the script'. If change is inescapable, inevitable, beneficial, and required, then we find a way to change. But when that change is established, practiced and routine, going back to the old order becomes the change. The key is in understanding how different groups of people (resister, adopter, experimenter, risker, adapter, etc) react to outside stimuli. Cliff also considered the rate of epidemics since the 1950s, which is, he said, accelerating. 'The driver is the density of population and the travel-ability of the population. We can't outrun this trend, the only response is for us to get smarter.' Read Cliff's own account here..
Question time
A lively discussion followed, kicked off by Chair Andrew Forster with a question for Pilo: What would be your advice to government, local authorities and consultancies on modelling and doing business cases now? Clearly, there are uncertainties going forward, so what would the base year be? Pilo responded: 'We can no longer have one single future scenario, we need to have several different scenarios depending on how long the situation lasts, and until we find a vaccine and so on. We should use scenario planning and look at different possible futures. And then research very carefully the schemes that we have in mind for those we know that will survive under all these different scenarios. Adaptability is key: a bus rapid transit scheme is more adaptable and flexible than a light rail network.'
Regarding trend change, it was noted by many participants that a lot of people 'can't' change their habits, as only office workers can really work from home. Builders, scientists and manufacturers can't work remotely, nor can everyone can make an individual choice. One local authority contributor replied that 'some of the barriers to change come from those who are reluctant to move away from the old working patterns', and added that 'we are engaging with them to break down those barriers'.
Many trips are not discretionary
Others wondered: are transport planners blinded by the fact they are office workers? It's only office workers who have the capability to telecommute. Are we, as a profession, in danger of assuming everyone can do what we are doing? Working from home also depends on yourcircumstances, said one participant. Young in a shared flat, not so easy, boss with a big house, not unpleasant. But it was also understood that many are thinking about working from home one or two days a week, which will still make a big difference in terms of travel and emissions. Plus, as many office workers begin to work differently, this will have implications for the levels of transport services required at different times of the day.
Regarding the evidence base, one academic participant said 'there have been studies indicating suppressed demand for telecommuting; people who have the preference, but not the options available. As employers' hands have been forced, it may be that this suppressed demand is released.'
There was a general consensus amongst participants that we are certainly seeing a change in attitude, with senior managers who were previously sceptical about home working now realising that it can increase efficiency. A reduced need for office space may become even more important once the economic impacts hit home. Several participants agreed that many public transport trips are not discretionary, for example commuting for those who cannot work from home (most people). This suggests that local bus, the tube, trams will bounce back, even if not to pre-Covid levels. But a lot of public transport trips are discretionary, long distance rail for example. These might take a lot longer to come back. It didn't go unnoticed that, as a country, we have just given HS2 Phase 1 and 2A the go ahead...
There are opportunities to 'reset' the bus and rail service networks and timetables as these have traditionally evolved over time, and not always provided the best fit with where people need to go. Much public transport focuses on access to the city centre, whereas major employment sites (manufacturing, distribution, hospitals) are located at the edge of the city and are not served by orbital services. It was also noted that the service patterns required by many women and carers, and those likely travelling from home, are different from the traditional 'home-city centre' commuter services.
One over-arching theme was: do we think that the psychology of the wider public will change? After some time of being instructed, might people be more willing to follow what they are being advised to do? And, will that advice be governed by politicians' thinking? Surely, it was suggested, they are going to be desperate to boost the economy. Are they not likely to be encouraging the public to travel, buy, and consume again in an unrestrained way, and so pick up on unsustainable lifestyles?
At the same time, taxes and charges will influence behaviour. Which policy objectives should be emphasised to motivate desirable behaviours and outcomes? Will health, clean air, local community, and nature motivate people more than wider issues of climate change, for example? In terms of tackling the climate change agenda, there was a clear agreement. 'I think, as other speakers have said, that climate change is not the agenda to push publicly or psychologically, as people will relate much more immediately to the health benefits of more walking, cycling and clean air.' Definitely food for thought.
---
Watch the full discussion – and join our next one
You can watch a recording of the full online discussion on TransportXtra bit.ly/35mDWXB
Our next discussion will take place at 2pm on Friday 7 May The topic will be: CV-19 and After:?Transport Appraisal and Planning in a Time of Imperatives, led by Professor Phil Goodwin