Climate change, sustainability and better places: winning hearts and minds
Last week's contributor, psychologist Cliff Edwards, was asked how the pandemic and action on climate change might be linked. Here he expands his thoughts on that subject
01 May 2020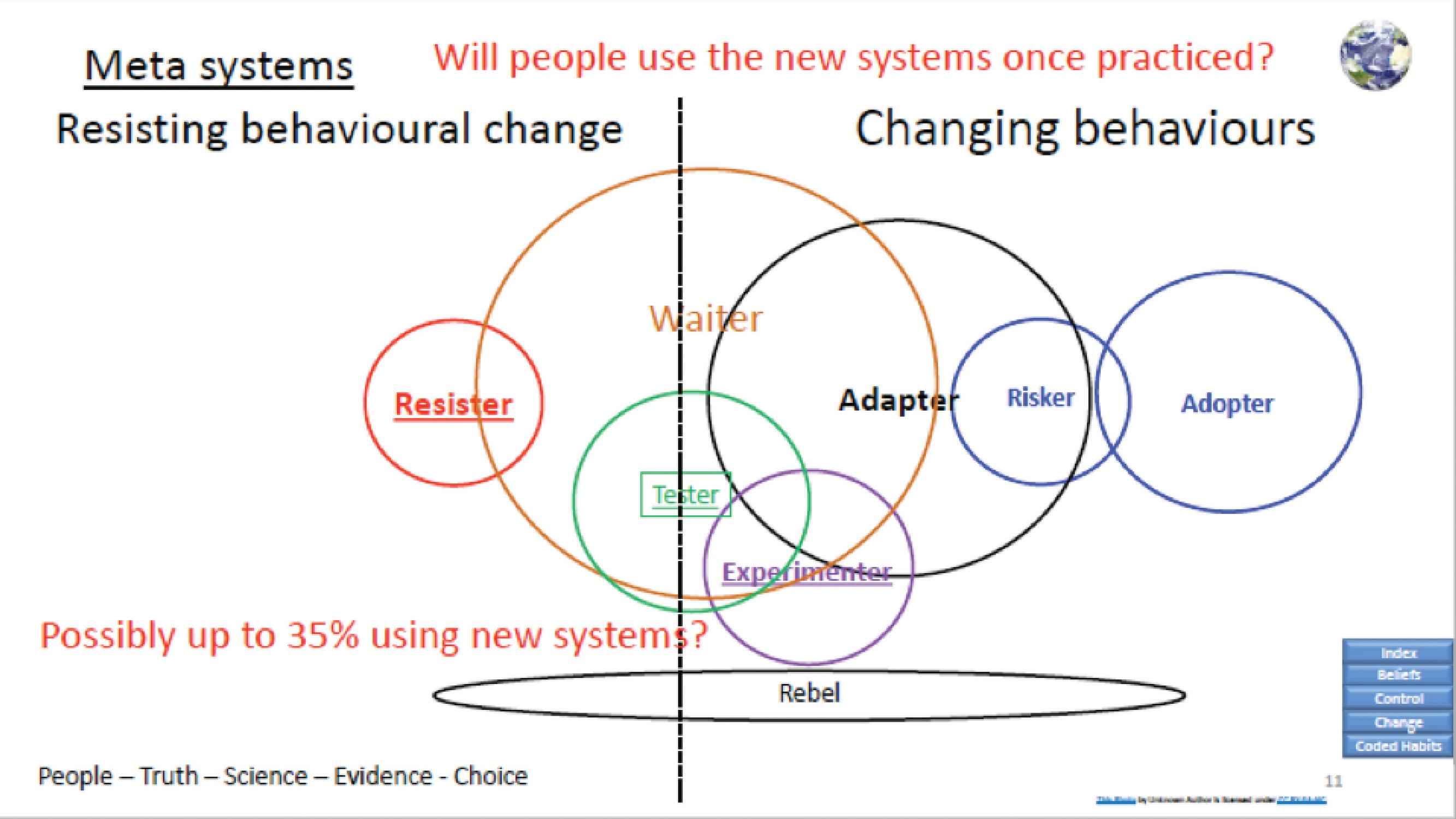 The LTT online discussion on the Psychology of Change raised two very interesting questions: Can the pandemic experience and the upheaval it has brought be linked to the issue of climate change? Also, what might shift public thinking and behaviour in that regard?
The answer is 'yes' to both, but there are some important concepts from the world of psychology (and associated areas such as sales, marketing and counselling) that need to be understood.
The territory is fertile, and the approach can be effective when used well. We know that even long term 'deep differences' between people can sometimes be overcome with a shift in approach. That often requires a move from for, instance,
'I will explain what you need to understand', to 'May I check what you need?"
In order to engage the target audience, we must first offer them a sense that their view is important and that we are eager to genuinely hear it. Not as thinking man's comedian Bob Monkhouse put it, 'The most important thing in life is sincerity. Once you can fake that, you have it made.' Always imagine how people will feel about us if we approach them with a 'musty' attitude: 'you must understand, you must do this or that…I am sure everyone knows that a person's inner psyche will likely react to someone asserting that they have a superior viewpoint by finding a reason that the 'superior' person is wrong!
Linked to this is an important truth that the most compelling context for engagement is based on a 'fear of loss': lost opportunity, lost standing, losing tribal position (rejection), or more general loss. So, what might be lost from not addressing the issue of climate change?
One example is the need to seize the moment and the opportunity for each individual to make a real difference, that would always be in some way attributable to them. This will give them membership of the 'Make a Difference' (MAD) group.
In the context of the current pandemic lockdown, people are incurring 'losses' due to personal isolation. But the value from these could be recovered by their making use of the lost time and feelings through support of a relevant cause/revolution. Carving your name in the 2020 register of 'agents of change', and offering support for future generations to talk about, is weighty and powerful.
Then there's a lesson from the world of sales. Never offer a choice with a 'yes' or 'no' option! Recent consumer research indicates that giving three options not only increases engagement, but also pushes up risk-taking behaviour. A research experiment showed that offered two phones, the cheaper was often most popular. Offer a third, even more expensive than the other two, and the middle option increased in sales. So in seeking to prompt support for our cause, we might ask, for example, which of these three options (and additional benefits) could rally support: 'climate change' alone, 'climate change and better cities', or 'climate change, better cities and quieter streets'.
It's also helpful to point out that this is too great an opportunity to waste. During the lockdown and the national emergency, people have seemed ready to address the dominance of wealth over sanity and sharing. The virus has exposed the neglect of some significant issues of public concern, and the ability for the system to ignore the needs of the many 'ordinary people'. So now is a good time to make historic shifts in the voice of citizens and get 'them' to take 'us' seriously.
A societal shift often requires someone who is respected for being down to earth and sensible, but not elitist, to express a general view and bring people together. Equally, getting the opposite view from someone not acceptable nor plausible, might drive people away from the opposite argument and towards your argument.
Finally, to prompt response, proposed action must have a falling 'imminence'. This means that the opportunity to be part of history (immortality) is passing. A technique called 'infrequent reward' encapsulates this, although I think a better name is 'reward schedule'. A reward schedule is a sequence of wins and losses that are designed to engage the subject/player, and to build their need to continue. It uses a combination of excitement, reward and insecurity; replacing insecurity with certainty in an addictive manner, and is used by video gaming, gambling, and some co-dependent relationships. Highlighting the steps that bring reward, and the need to seize them, can be done by interrupting the sequence so that the 'up' point becomes demonstrably important and urgent to act upon.
The methods described here are being used every minute of every day in business and politics to distract people from their better judgements. But they can be used ethically too, especially if the audience is aware that they are being used. In this case, the audience understands that they can benefit from encouragement and energy which supports their personal positive acts.
To summarise, here are the commitments to understanding, necessary to support change, that I believe its proponents need to make:
What do they need us to understand for them to join us?

What would they like to have as motivation?

What can make this dire time less of a loss to them?
Read the complete session coverage here
Watch the full discussion – and join our next one
You can watch a recording of the full online discussion on TransportXtra bit.ly/35mDWXB
Our next discussion will take place at 2pm on Friday 7 May The topic will be: CV-19 and After:?Transport Appraisal and Planning in a Time of Imperatives, led by Professor Phil Goodwin