Mayors condemn rail 'chaos' and call for greater devolution
26 October 2018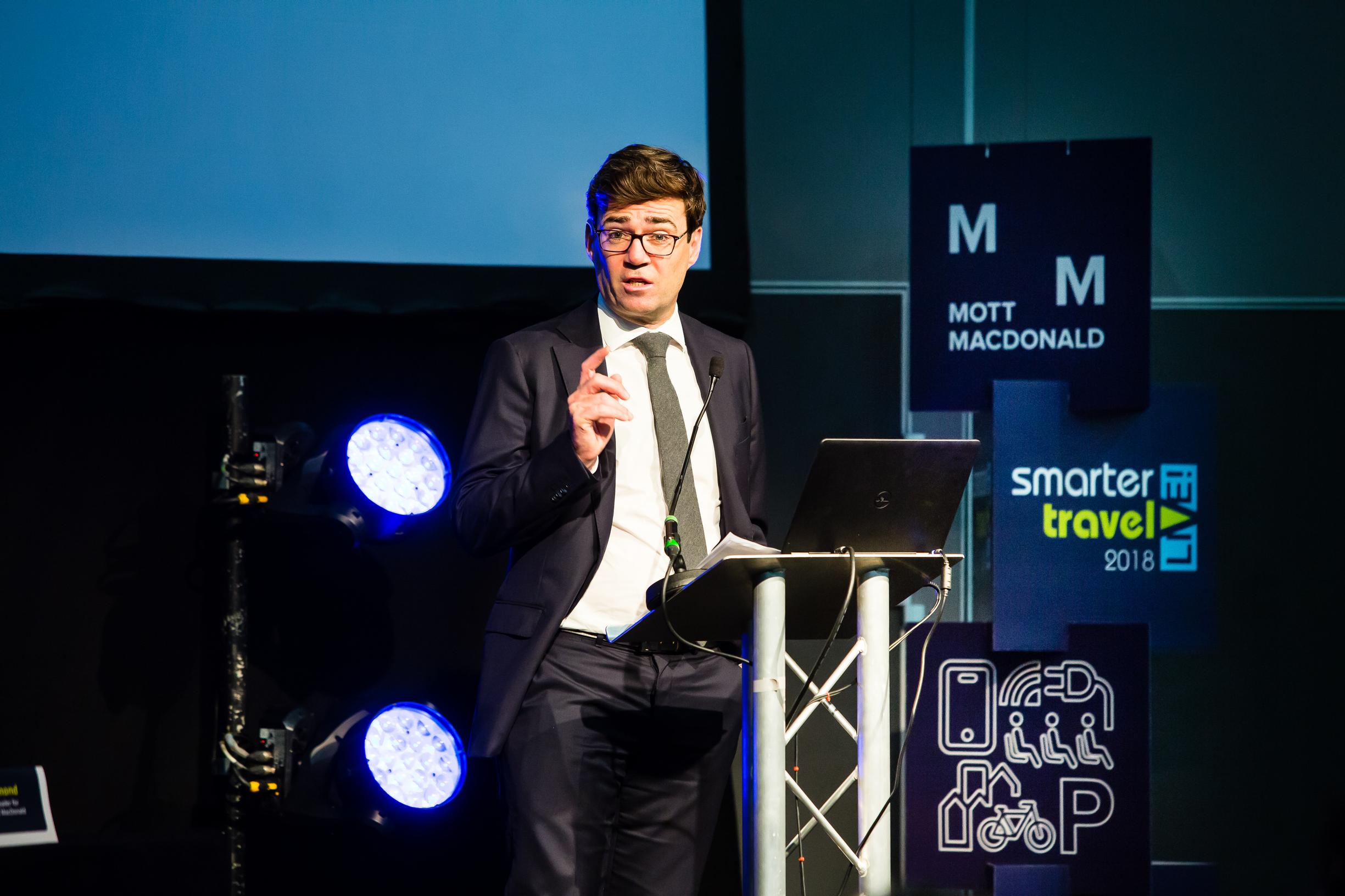 National Government, Network Rail and rail operators came under fire last week as Steve Rotheram, Mayor of Liverpool City Region and Andy Burnham, Mayor for Greater Manchester, spoke out about "lack of accountability".
Speaking at Smarter Travel LIVE! Steve Rotheram referred to the Office of Road and Rail's report into a summer of rail chaos which found "systematic failures from government, Network Rail and the rail operators" leading to collapsed services and missed chances to avoid disruption. "Can you honestly imagine chaos on that scale being allowed to happen in London and the South East without major government intervention," he asked? "The fragmented, unaccountable rail system has seen the North left behind and Northern passengers subjected to a second-class service." 
The Government's spending commitments make it clear where its priority lies, he noted. Between 2016-2021, more money has been committed to completing Crossrail (£4.6bn and rising) than is outlined to be spent on all transport projects across the north during that same period. And this is not a new phenomenon, he added. "Research from the think-tank IPPR found that, over the past ten years, Londoners enjoyed an average of £708/per person/per year in transport spending compared to just £289/per person/per year for us in the North. 
"The case for investing in Northern transport infrastructure couldn't be clearer – but it is not simply acceptable any longer to promise levelling the playing field in terms of resource, we need more responsibility to go with it. I believe that this summer's events demonstrate that Network Rail is no longer fit for purpose and needs to be restructured to serve the interests of the country – and the North in particular." 
"In May 2017," Rotheram added, "I was elected on a manifesto promising to 'improve accessibility for all public transport users'. Using the new powers won through our devolution agreement, we are investing half a billion pounds in brand new rolling stock. Our trains will be the most accessible in the country. 
"They will also help us reduce journey times by as much as eight minutes on some commuter services and will be able to carry 50% more passengers.  But, most importantly, our trains will be the first in the country to be publicly owned, by us the taxpayer, and not leased from private, profit-driven companies."
Mayor Rotheram also highlighted the region's pioneering Bus Alliance, a formal partnership between the transport authority and the area's two biggest operators, which has enabled it to reverse the national trend of reduced bus patronage and offer "the best bus offer outside of London". "But we are not satisfied being the best outside of London, he said, which is why we will be using the devolved powers given to us in the Bus Services Act 2017 – to drive through further improvements on our bus network."
There are a number of different options for change available, from building on the existing partnership arrangements, through to franchising. "We haven't pre-determined which model we will pursue, but we will deliver a bus service that is a real alternative to using the car: integrated, reliable and better value for money."
He also announced his determination to push for full connectivity to both HS2 and Northern Powerhouse Rail, both of which are of vital strategic importance to the Liverpool City Region. Rotheram also set out Liverpool City Region's position that central government should ensure that the city region benefits from HS2 and Northern Powerhouse Rail.
Also speaking at Smarter Travel LIVE!, Andy Burnham, Mayor for Greater Manchester, insisted that radical change is needed, both in Greater Manchester and across the North, if mayors are to be allowed to deliver for their regions. "The economic growth of our city region is asking questions of the transport system it can't answer," he said. He lamented that the key issues that need fixing – expensive, unpredictable buses, poor quality rail stations, unreliable rail services and unacceptable road congestion – are all areas in which he, as Mayor, has little control.  
He referred to local trains that are 'packed-out, clapped-out and over-priced' and buses as 'over-priced and a confusing free-for-all'. A whole range of transport bodies, from Network Rail to Highways England to the bus companies, are not sufficiently accountable to local commuters, he said. The highest volume of complaints the Mayor receives from his constituents across Greater Manchester is on the issue of transport, he noted: over-crowded trains, broken trams and expensive buses are issues which fill his twitter feed. "Regional transport bodies like TfGM are more accountable to local people but, as they have limited sway over these bodies, they are unable to make sense of the chaos and integrate it all."
Like Steve Rotheram, he called for a "substantial devolution of power and resources out of Westminster to all of the English regions".