Bedford completes cycle-friendly roundabout
14 November 2014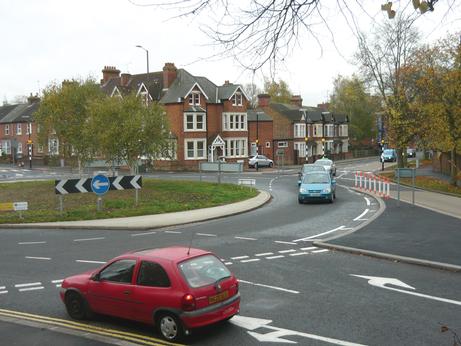 A new roundabout design in Bedford is improving safety for cyclists and pedestrians without any discernible impact on traffic queues, according to the borough council.
Controversy hampered the delivery of the remodelled Union Street roundabout, with motorcycle lobby groups opposing the original plans for raised plastic lane dividers (LTT 7 & 21 Mar).
Bedford Borough Council subsequently changed the design to feature kerbed traffic islands extending into the roundabout to narrow the carriageway and cut speeds. Bollards and marker posts on the islands promote their visibility while road markings, rather than raised lane dividers, separate the lanes at two other points on the roundabout. Zebra crossings have been installed on the approach roads near the roundabout, which has helped to slow down traffic speeds. The DfT has contributed £420,000 to the project with the council contributing £50,000.
Discuss road design that encourages more cycle journeys at LTT's Smarter Travel event on the 5-6 February