Building better streets on the foundations of strong evidence
Unlocking cities from car dominance will liberate communities and allow them to thrive, but these transitions must be backed by good data, writes Hirra Khan Adeogun
03 May 2023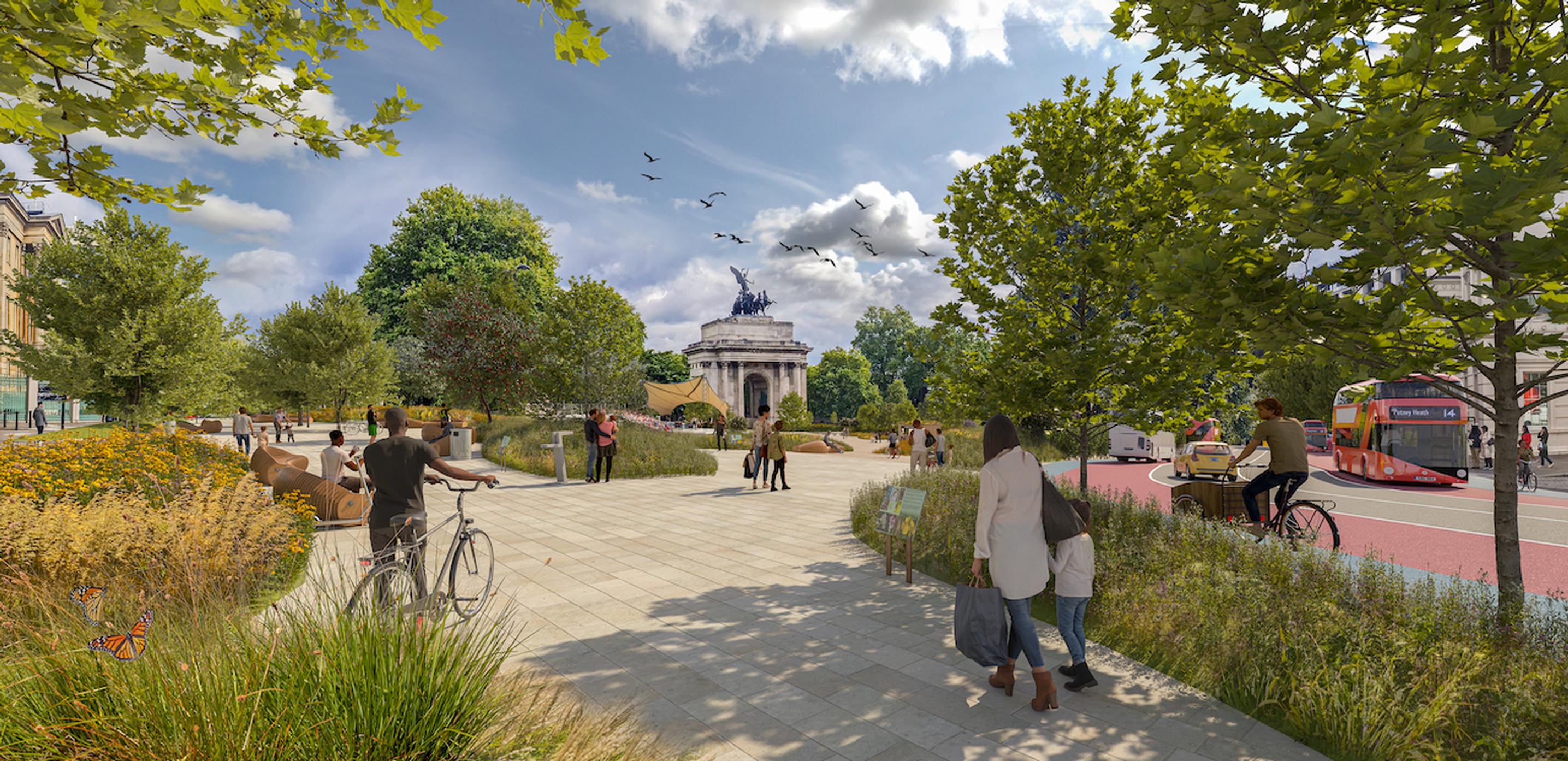 The Covid-19 pandemic turned the spotlight on how our cities might look without cars. Along with the roll-out of incentives to get people engaging in climate-friendly active travel, many policy makers started looking at what more they could do to transform their cities for the better - to become greener, healthier and safer places for people to thrive.
Air pollution, noise pollution, road safety, climate change, restricted mobility are all problems putting pressure on our cities and the people who live there. And breaking car dominance is the only way we're going to be able to start moving towards solutions.
But, as many policy makers and politicians will know, this is hardly a simple process. Cars have genuinely improved some people's lives, improving mobility for some disabled people and tradespeople. They also have a certain status in our society as ultimate symbols of freedom and autonomy.
For our cities, breaking up with cars is going to be tough. And for some people, like some disabled people, retaining cars is going to be essential. But as we move towards cities with far fewer cars, we face not only huge resistance to any measure that would see cars deprioritised, but also decades of the existing status quo - a status quo that sees cars as the 'normal' way of travel.
A three-pronged solution
So, what will it take to bring about change? How do we make the case for a fundamental shift in how our cities function?
After working on the Car Free Cities campaign for three years, I would argue that the solution is three-fold.
The first is a given – good quality data with well-evidenced research that can back up our arguments every step of the way.
We have to explain just how detrimental cars are to our cities. Institutions like Imperial College London demonstrate why toxic air pollution1 a direct result of car dependency, is so dangerous.
But NGOs are also vital in this. Here at climate charity Possible we pride ourselves on looking at these issues from a unique perspective. We've made the case for cargo bikes2 shown people just how much parking is subsidised in our cities3 and how our current systems impede the lives of disabled people.
We have to prove the impact of the action we're taking. For instance, you can collate: impact assessments of London's ULEZ (ultra low emission zone); traffic counts before and after interventions; and meta analysis of the impact of low-traffic neighbourhoods4 It is imperative that we not only prove the problems of motor vehicles, but that our solutions are materially improving people's lives.
The fervent opponents to these changes will try to find any way to discredit the solutions we're positing. As such, having a solid foundation of data and evidence, rigorously researched and analysed with a solid methodology, looking both nationally and internationally, can help us make the case for creating positive, sustainable change.
That's not the only thing we need to do though because, as we've learned, evidence and data only gets you so far.
The second part of the solution is to take people on a journey from fear to the future. We are creatures of habit, relying on familiar patterns and routines to navigate our lives, so the prospect of a new and uncertain future can be daunting. It is really important that we work collaboratively to co-design new visions, taking people with us into the safer, cleaner, greener future.
Our Car Free Visions5 project did exactly this. We worked with a diverse group of local residents - many of them drivers themselves - to co-design new visions of their communities free from car dominance. We polled people to garner support for the before and after images.
We asked over 1000 Londoners whether they would support the pedestrianisation of Hyde Park Corner to link it up with Green Park and 49% agreed. We then presented them with the co-designed vision and asked them if they would support or oppose the pedestrianisation of Hyde Park Corner if it looked like the presented image - support shot up to 72% agreeing. The results are clear: we have to show people where we're trying to take them.
The final part of the solution is a simple one - bravery.
The true impact of LTNs
When we published our research on the impact on traffic that low traffic neighbourhoods6 were having, the conclusions were remarkable. Traffic within LTNs fell dramatically and there was no consistent impact on boundary roads.
The reaction from staunch opponents was predictable. This rigorous piece of research produced by the foremost academics looking at traffic systems in the UK was dismissed as bias, of using flawed methodologies, misleading averages, and corrupt data.
So, if research and co-designing visions can't convince naysayers, what can? Well, that's when we need our political leaders to be brave. We found that Paris's cycling revolution owes much to Mayor Anne Hidalgo7 and her active travel policies that were emblematic of her mayoralty. We need political leaders across the world to follow her example in setting a bold vision for urban traffic reduction.
And we can't let a vocal minority intimidate political leaders from taking the action necessary to fight climate change. The 2022 local council elections, in which almost every candidate opposing urban traffic reduction lost, shows that most people actually support these measures.
If there is one thing we can predict, it's that eventually most sceptics come to love changes like these. Possible produced an international map of cities8 where traffic reduction measures have been implemented. Time and time again we see the same thing; initial opposition is loud and hard to ignore but, if we persevere, people come round and start to fervently defend these measures.
When you unlock cities from car dominance, you liberate communities and allow them to thrive. People are healthier thanks to improved air quality9 businesses start seeing more footfall10 cycles start to appear11 on roads rather than cars, and people take more public transport12
We need to shift away from car dependency. Data has a role to play - it will help us analyse the impacts of our actions, prove that action we're taking is right, and allow us to make changes if things start to go wrong. Our opponents are stubborn however, and it's not a change that's going to happen overnight but they can be brought on board. Through bold action, we can improve the lives of the vast majority. With time, those vocal opponents might see themselves loving their own local traffic filter.
Hirra Khan Adeogun is head of Car Free Cities at the climate charity Possible.
She will be speaking at Liveable Neighbourhoods 2023
1 https://www.imperial.ac.uk/news/190815/thousands-londoners-hospitalised-three-years-harmful/
2 https://static1.squarespace.com/static/6012c1c8eb0b5837ac26126b/t/6148ec21972cf761760e4d7d/1632169008667/The%2BPromise%2Bof%2BLow-Carbon%2BFreight.pdf
3 https://static1.squarespace.com/static/5d30896202a18c0001b49180/t/620bd77ea6a7065a0dec6fe1/1644943920058/Nobody+Left+Behind+Envisioning+inclusive+cities+in+a+low+car+future.pdf
4 https://www.wearepossible.org/latest-news/ltns
5 https://www.wearepossible.org/car-free-visions
6 https://docs.google.com/document/d/13Nsm_GFdH6CpIpPpOZ7hbhLZScgqCAP7ZGI0xi4qDqA/edit
7 https://www.carfreemegacities.org/latest-news/understanding-paris-cycling-revolution
8 https://interactive.wearepossible.org/carfreestories/
9 https://www.london.gov.uk/new-report-reveals-transformational-impact-expanded-ultra-low-emission-zone-so-far#:~:text=Report%20shows%20that%20the%20ULEZ,have%20been%20without%20the%20ULEZ.&text=Each%20day%2C%2074%2C000%20fewer%20polluting,since%20expansion%20in%20October%202021.
10 https://www.justeconomics.co.uk/uploads/reports/Just-Economics-Pedestrian-Pound-Living-Streets.pdf
11 https://www.forbes.com/sites/carltonreid/2023/03/01/cyclists-now-outnumber-motorists-in-city-of-london/?sh=103398c02236
12 https://www.express.co.uk/finance/personalfinance/1754956/free-bus-pass-fare-cap-England