Icon creator with a sense of irony
Obituary: The architect Owen Luder was best known for a pair of now lost Brutalist car parks
29 October 2021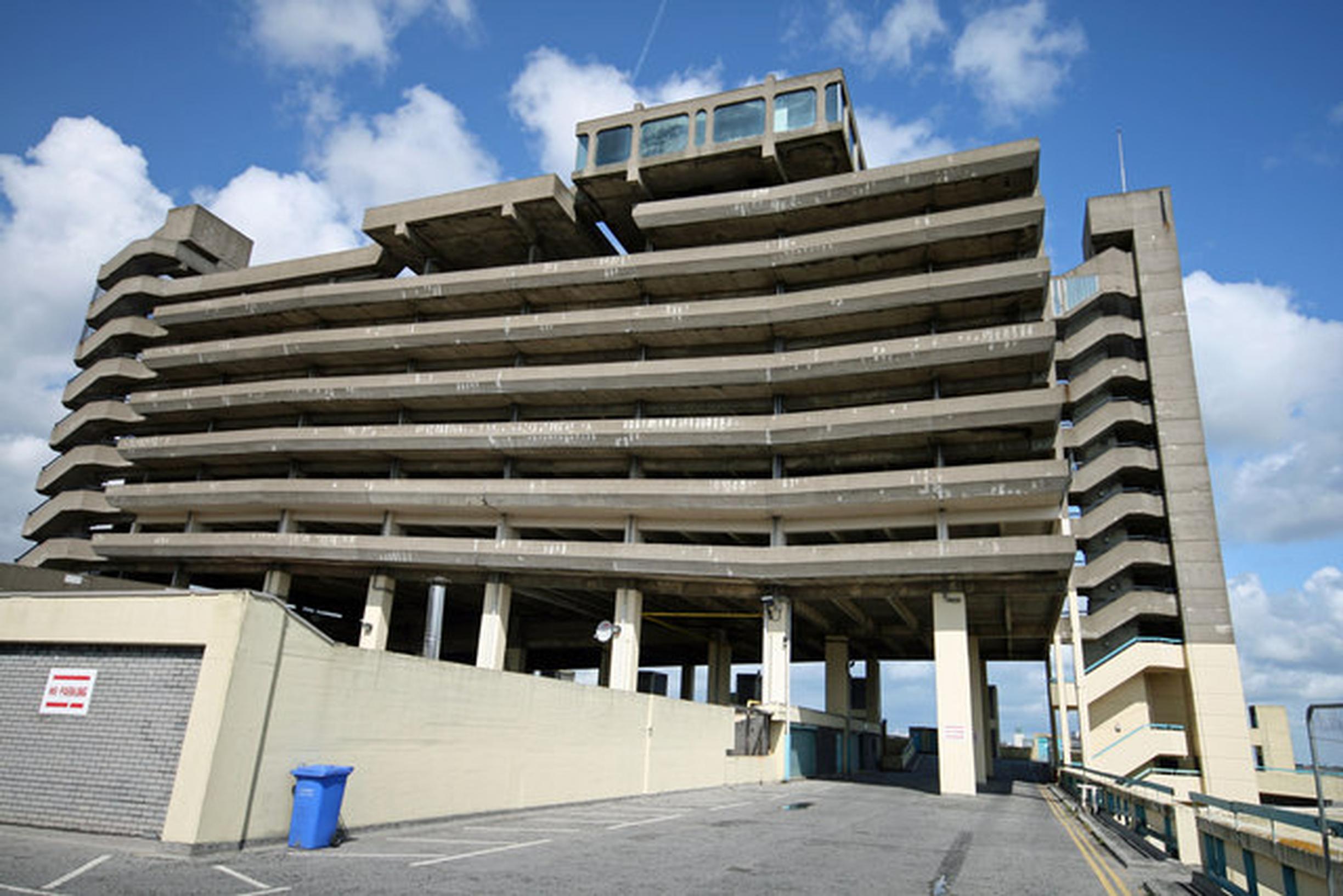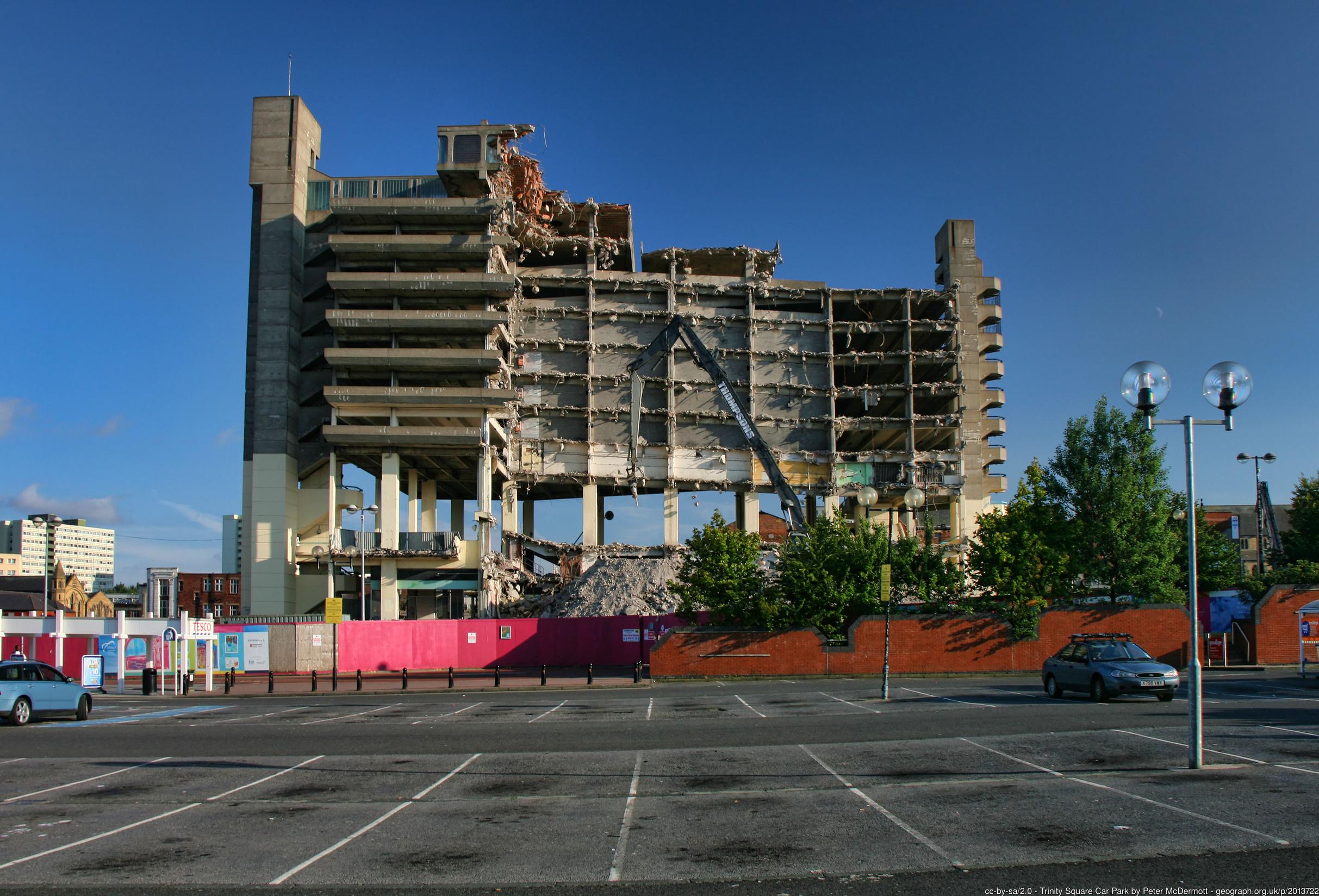 Multi-storey car parks are not a building type that generally win design awards or public acclaim. All too often the feelings these structures elicit are negative and hostile. At best, car parks are at best regarded as dull, utilitarian structures that are improved by being masked by façades that hide and disguise their form and function.
There are, however, some concrete car parks that are the passion of a band of people who have a passion for Brutalist design. And, among these structures, there was one that inspired what could almost called love, Trinity Square in Gateshead. This particular car park was a key location in the classic British gangster movie Get Carter (1971), being the setting for a scene where Michael Caine's character, Jack Carter, throws the businessman Cliff Brumby from the top of the building.
The car park's fame may have started as a somewhat ironic game among movie fans, but over time its stature grew in the architectural and historic buildings communities. Sadly, acquiring an iconic status did not save the building from demolition in 2011, an act witnessed by the building's lead architect, Owen Luder, who has died aged 93.
Luder was born in Paddington, London in 1928. In 1945, aged 16, he entered the Brixton School of Building, which gave him grounding in the practicalities of laying bricks and detailing joints. He then combined national service with evening classes in architecture at Regent Street Polytechnic, where he was inspired by the work of Le Corbusier. Having qualified as an architect in 1951, Luder's first commissions included series of hair salons, including one for Vidal Sassoon in Bond Street before turning to two related new building types, supermarkets and shopping centres. His practice produced award-winning shopping centres in Coalville, Leicestershire and Harrogate, as well as the two projects for which he is best knows, Trinity Square in Gateshead and the Tricorn Centre in Portsmouth.
Both the Gateshead and Portsmouth shopping centres were projects commissioned by the London developer Alec Colman. When the developer asked Luder to visit Gateshead in 1960, the architect had never previously ventured north of Watford. But having visited the sloping site overlooking the Tyne, sketched the basic scheme on the train home. Gateshead liked the idea, as the idea of a multi-storey car park was still novel and could be pitched as symbol of progress.
It is Luder who is associated with these projects, but here is the twist, the detailed work was the work on projects such as the Trinity and Tricorn by his colleague Rodney Gordon (1933-2008), who was a key member of the Owen Leader Partnership team. It was Gordon who suggested to his friend, the film director Mike Hodges, that the still unfinished Gateshead car park be used as a location in Get Carter. The film features the space for a café with panoramic views of the city that was created on top of the car park. But this space failed to find a tenant and was never opened.
The empty concrete box was a signal of the problems the wider development faced. Across the river, Newcastle upon Tyne's had become home to the covered Eldon Square Shopping Centre, a project that undermined Trinity Square. The opening of the Gateshead Interchange Centre, a bus and metro transport hub in 1985, combined with changes to town centre access for private motorists, made the car park largely redundant.
The car park's deteriorating condition also led to a decision to close the upper parking levels in 1995. In the late 1990s Tesco acquired an interest in the site and in 2008 work began to redevelop the entire Trinity Square site and the existing Tesco supermarket into a new town centre shopping complex. Demolition of the car park itself finally commenced on 26 July 2010, with Owen Luder stating that Gateshead would lose its "front teeth". Maybe inspired by the market in relics of the Berlin Wall, Gateshead Council would sell off pieces of concrete in specially decorated tins for £5 each. And, such is its legacy, replicas of Trinity Square and other classic car parks cast in concrete can be bought from the art company Space Play.
Trinity Square was actually the second major Owen Luder Partnership shopping scheme be demolished, the Tricorn Centre in Portsmouth having been torn down in 2004. This site also started life in 1960, with Luder and Gordon again working for developer Alec Colman. The Tricorn was an imposing concrete structure, that featured over-scaled pedestrian stairs, spiral car ramps and lorry parking on upper levels. However, the Tricorn Centre never thrived and became home to flea markets and pop-up shops rather than major retailers. Its Brutalist form was labelled by the Prince of Wales as "a mildewed lump of elephant droppings".
Having pioneered supermarkets and shopping centres, during the 1970s Luder was involved designing other unloved building types such as prisons and coal mines.
Known for his wit, Luder is the only person to have twice been elected president of the Royal Institute of British Architects (RIBA), in 1981-83 and 1995-97, setting up the Stirling prize for the best British building of the year in his second term. Looking back on his RIBA tenures, and a particularly hard fought campaign to secure his second term, he said: "I became president because of my individual approach, my publicity and ability to promote myself, all those things that come naturally to get that, to win that election. That was, very much, a one-off individualistic thing."
Even though he was twice headed the architecture profession, Luder always had a keen sense of being an outsider. "I am still not really accepted as a member of the Establishment," he observed. "I can remember when I was elected first time, one fairly eminent architect, I heard say: 'What's this guy who designs high security prisons and coal mines doing being president of RIBA?'"
His gift for humour was shown when he accepted membership of the "Rubble Club, an unofficial group launched by Isi Metzstein for those architects who outlive their buildings. Besides the Tricorn and Trinity Centre, other key Luder projects that were to be demolished in his lifetime were the monumental pithead structures at the Ashfordby Super Coal Pit in Leicestershire and Derwent Tower housing block (known locally as 'The Rocket') in Dunston, Tyneside.
Despite the loss of so many of his works during his career, Luder remained philosophical. He said "If you want to survive in the commercial world and you want to live with your conscience in it, you have to have integrity. I don't think anybody can ever say of me: 'Owen? He played a fast one on me'. I've never done that. It doesn't mean I haven't beaten them, that's a different question. The philosophy has always been with business-wise and in life generally, that, if in fact I realise that I've made a mistake and I'm going down the wrong track then stop. Think it through. Put it right. Enjoy life you've only got one. So enjoy it while you've got it."
And as for Rodney Gordon, he certainly deserves to be better remembered for his work on these parking projects. Back in 2014, the critic Jonathan Meades honoured his projects in a robust defence of Brutalism, writing: "Gordon's imagination was indeed fecund, rich, untrammelled. It was haunted by Russian constructivism, crusader castles, Levantine skylines. But the paramount desire was to make an architecture that had not previously existed. There are as many ideas in a single Gordon building as there are in the entire careers of most architects. The seldom-photographed street level stuff at the Trinity left the observer with the sensation of being in the presence of genius. One thinks of the burning of books."
Harold Owen Luder. Born 7 August 1928. Died 9 October 2021