E-scooters: a mode to split opinion
With Government-backed trials of e-scooter rental schemes about to be launched across Britain, a webinar discussed the pros and the cons of this new form of mobility. Deniz Huseyin reports
24 July 2020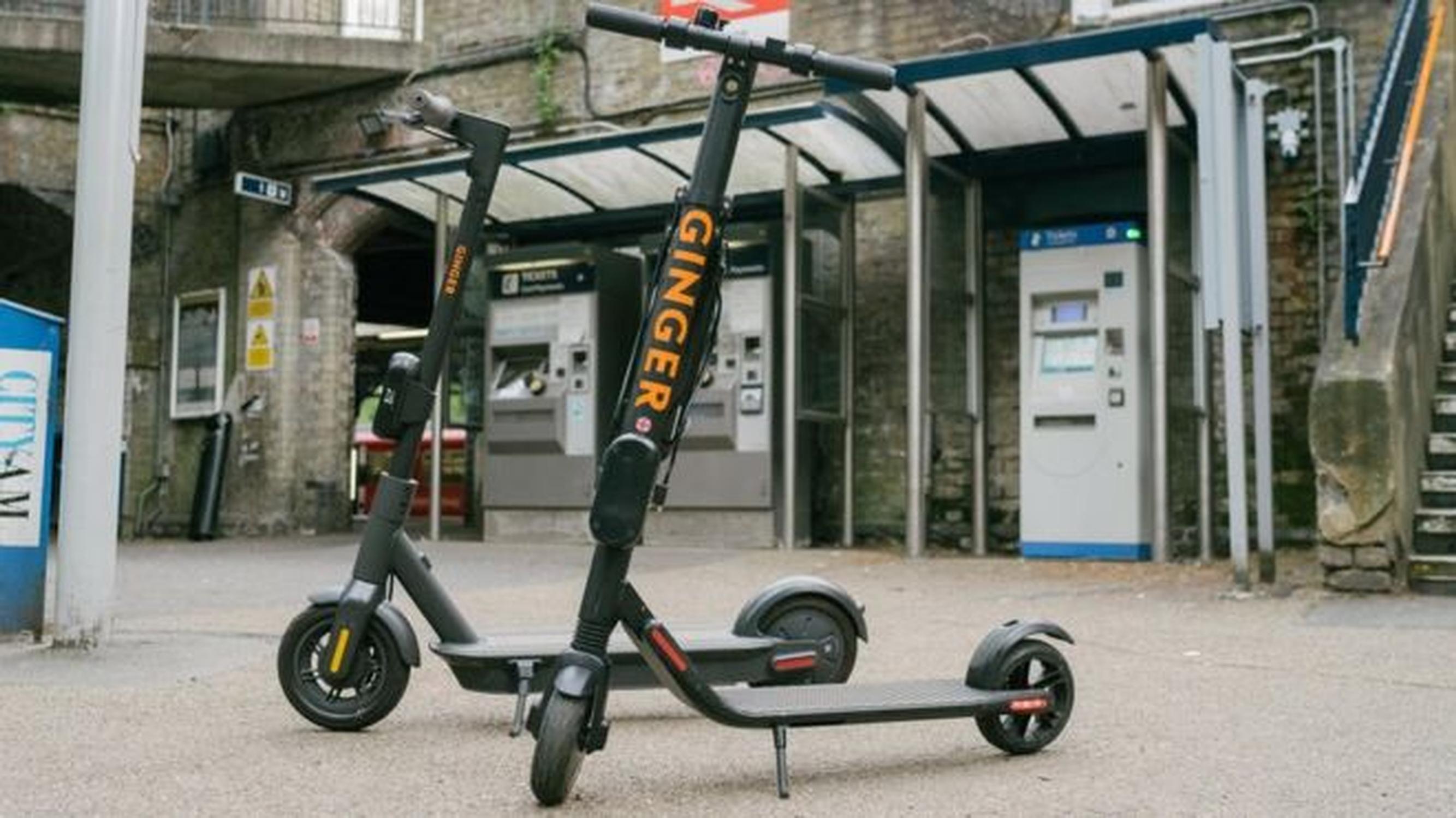 E-scooters are a practical, healthy and environmentally-friendly mode of transport that will help challenge the dominance of the car. Oh no they're not, they're potentially dangerous, will mainly replace walking, cycling and public transport trips, and cannot even be classed as 'active travel'.
These contrasting views were expressed at the e-scooters webinar organised by Landor LINKS earlier this month: view the video here
Britain's first e-scooter rental trial was launched in Middlesbrough on 13 July. The Tees Valley Combined Authority has partnered with e-scooter firm Ginger to provide a scheme across all five local authorities, with an initial fleet of 100 e-scooters rising to as many as 500 during the 12-month trial. Trials in many more areas of Britain are expected to commence before the end of August (LTT 10 Jul).
E-scooters will continue to be classed as motor vehicles during the trials, so riders will have to possess a provisional or full driving licence and insurance (the latter provided by the rental firms). They won't have to wear a helmet, however. The vehicles are permitted for use on the road and in cycle lanes and tracks but not on footways.
David Davies, executive director at the Parliamentary Advisory Council for Transport Safety (PACTS), believes that e-scooters pose a threat both to those who ride them and to pedestrians, particularly vulnerable road users such as the blind and visually impaired. "PACTS has gone from a position of not being particularly bothered about e-scooters, partly because there weren't many in the UK, to being increasingly concerned," said Davies. "We recognise that nothing is risk-free, we are supportive of cycling and recognise 80 per cent of deaths involve a motor vehicle, but that is not the same thing as saying it doesn't matter. Most e-scooter injuries occur when the rider comes off, and not from a collision with a motor vehicle."
Davies said he was "surprised and dismayed" that, following a short consultation, the Government has decided to authorise the use of faster (up to 15.5mph) and heavier (up to 55kg) e-scooters in the trial than had originally been proposed (12.5mph and 35kg).
E-scooters might replace some car journeys but could also result in fewer walking trips, said Davies. "A lot of analysis has ignored the trips transferred from walking and cycling and public transport to e-scooters, which is a much riskier mode."
A more upbeat assessment was provided by Brian Deegan, a design engineer at consultant Urban Movement. "They are not particularly dangerous," he said. "In a lot of instances it is about people being annoyed or mildly perturbed [by e-scooters]. They are not actually causing collisions. Internationally, they account for four per cent of collisions involving pedestrians. The onus is on me as a designer to keep people safe and I relish that challenge – there are a lot of shared issues with cyclists."
Deegan challenged the view that riding an e-scooter did not count as active travel. "I would say that any time you are holding a limb up against gravity you'll be doing some work. And, with the rental model, there will be at least two walking trips associated with every e-scooter trip."
E-scootering should be seen as an "ally" to cycling, he said, with both benefitting from schemes to restrict traffic, such as street closures for vehicles ('low traffic neighbourhoods') and segregated provision on busy roads. "We all want the same things – we need quiet streets and if we have quiet streets e-scooters will use them." Deegan said that in conditions where roads were too busy, "e-scooters go on the footway, the same way cyclists go on the footway."
Rental e-scooter schemes could support the development of mobility as a service (MaaS) systems, believes Deegan. "We are moving towards people not owning their own vehicles and choosing a more equitable share of transport. E-scooters offer local authorities a great opportunity to making inroads towards MaaS."
Deegan nevertheless said councils needed to learn from the mistakes made during the initial craze for dockless bike hire schemes a few years ago, when bikes began cluttering the streets. This point was echoed by Ceri Woolsgrove, policy officer European Cyclists' Federation. "We are still scarred by the impact of the pirate bikes in 2016. These services imported thousands of plastic bicycles into cities. People would download an app and off they'd go. There was no redistribution and bikes piled outside places people wanted to go to. It is absolutely imperative that you have interaction between the public authorities and the operators and there are good regulations in place."
Woolsgrove pointed to dockless bike hire schemes in Paris where authorised parking zones were created using geo-fencing. "If you park in the wrong place and you block the pavement, the operators get fined, which forces them to try and nudge the behaviour of the users."
Geo-fencing looks set to be deployed in the West Midlands. "We can have specified geo-fenced no-go areas, for example, at particular junctions," said Mark Collins, integration innovation lead at Transport for the West Midlands. "There is a level of technology we can potentially apply to this so we can stop pavement riding and illegal behaviour." Monitoring safety will be a key element of the area's trial. But there will be other benchmarks such as "levels of social inclusion, environmental benefits and how it fits in with the wider ecosystem of transport measures that we have in the West Midlands", said Collins.
A core measure of success will be to what extent the trial results in a shift from single occupancy car journeys. "What we don't want to do is cannablise our public transport or equally other sustainable forms such as walking and cycling."
TfWM will be assessing how "trigger points" around the appeal of e-scooters – such as convenience, time efficiency and flexibility – may entice people out of their cars. "But success in this trial could also mean failure at the same time," warned Collins. "We are cognisant that the only legal aspect for this trial is that people rent the e-scooters, whereas people might actually see it [an e-scooter] as a viable alternative, purchase one and use it on the road, which is illegal."
The DfT is preparing a monitoring and evaluation plan to gather evidence from the trials. It will assess the safety risks presented by e-scooters, the mode shift to e-scooters from other forms of transport, public perceptions around their use, and identify other impacts that should be considered for any future e-scooter legalisation.
Covid-19 would increase the appeal of e-scooters for people discouraged from using public transport, said Lorna Stevenson of the University of Westminster's Active Travel Academy. "There will be an interesting discussion in a year's time when we are at the end of the trials," she said. "Perhaps we might want to start nudging people back onto public transport or it might depend on what we see in terms of the carbon impact and social impact of e-scooters. We need to bear in mind our success criteria for what is good at the moment might be different from what is good in 12 or 24 months' time."
The ability of e-scooter rental schemes to mitigate transport disadvantage was likely to be limited, thought Stevenson. "You tend to get affluent white men, though local authorities can tweak that by having requirements about subsidised rides and where your e-scooters are distributed. It will be very interesting to see 30 to 40 different local areas potentially with a lot of variation in the requirements they put in, and then we can see which requirements seem to work to give us the most successful outcomes."
From a health and decarbonisation point of view, cycling and walking trips rank higher than riding an e-scooter, she said. "E-scooters should only be used by people who can't walk or cycle, and we accept that there are both physical and social factors that might impact on that. The evidence we are seeing from most other places is that if your area is good for cyclists it is good for e-scooters because they will have segregated lanes, and if you have secure parking for bikes you will be able to put scooters there as well."
E-scooters could serve the transport needs of some older people, she suggested. "They could potentially be a good thing for people who would struggle to walk short distances but who would have the capacity to use an e-scooter.
"It's about welcoming a broad spectrum of wheeled mobility, so that it doesn't matter whether you were on a bike or mobility scooter or e-scooter – you are just a normal part of the street scene."
Rental scheme trials should be inclusive and accessible to those living away from town or city centres, said Nick Davies from the Healthy Active Cities Research Centre at the University of Salford. "With the dockless bike hire schemes, there was a certain demographic taking up the scheme. Where the scheme was very centralised there were people unable to access it. These are things that local authorities need to think about before they implement an e-scooter scheme.
"The more you have ridden an e-scooter the less likely you are to either injure yourself or injure someone else," he added. "So any roll-out of a scheme would have to include a lot of engagement and a lot of explaining on how to use them."
Davies said arguments about whether or not e-scooters should be classed as active travel overlooked a fundamental aspect of riding one: "There are clearly wellbeing benefits – you can get endorphin from using one and you are outside in the fresh air as well."
Police fear e-scooter free-for-all
E-scooter rental trials may give people the false impression that all e-scooters can now be ridden legally on Britain's streets, the head of the Metropolitan Police's roads policing team has said.
"We could see a big increase in their unregulated usage, which then presents a larger number of enforcement problems," detective inspector Dan Card told LTT.
Since July 2019, Card's team has been running Operation Hornet, monitoring the use of e-scooters in the capital. This followed the death of an e-scooter rider who collided with a lorry at a roundabout in Battersea, south-west London.
"In essence, Operation Hornet is about educating people in the first instance and having an honest conversation with them. I don't think many people actually realise that it's illegal to ride an e-scooter."
Those stopped are initially let off with a warning, but if they continue to ride they face further enforcement action such as seizure of the vehicle or prosecution for riding without a licence and insurance.
In the past year Operation Hornet has issued warnings to 560 people and seized 109 e-scooters.
Many London boroughs are preparing to host trials of e-scooter rental schemes.
"We will be talking to councils about potentially adding safety measures as the DfT has left it relatively open to local discretion," said Card.
He believes e-scooters should be fitted with large pneumatic tyres to cope with bumps and undulations on the road. They should also be fitted with lights and a 'fit for purpose' braking system.
"Some scooters only have a front brake and a foot controlled rear brake, for example. What we would like to see is both brakes controlled independently.
"There is a discussion going on about whether they are mechanically propelled vehicles or motor vehicles. There is some confusion over which category they fall into."
For more information contact Daniel Simpson daniel@landor.co.uk