DRT to replace scheduled bus services in North Wales trial
Rural Transport
24 July 2020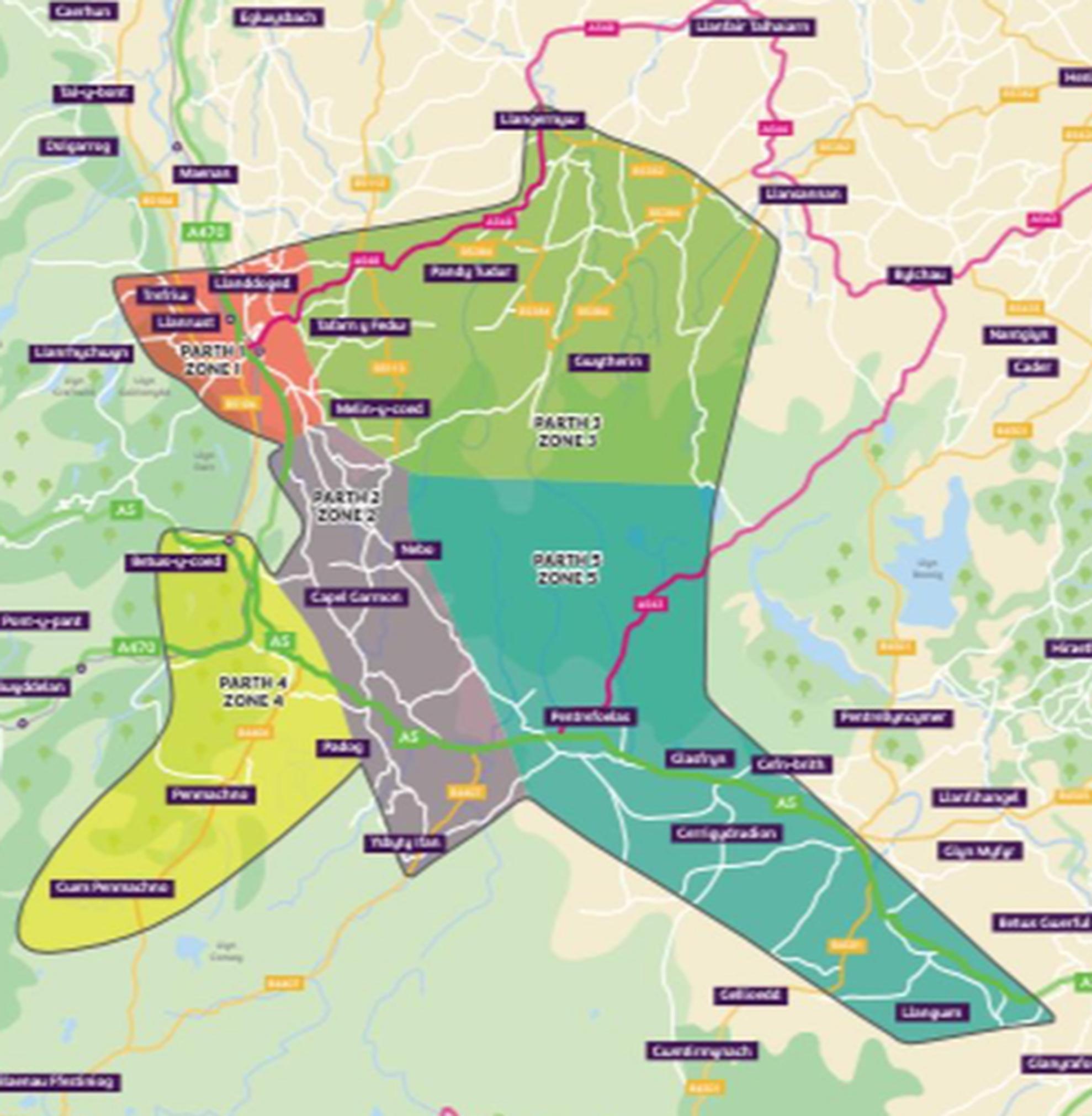 Subsidised bus services will be replaced with demand responsive services in part of rural north Wales under a trial backed by the Welsh Government.
The project focuses on the market town of Llanrwst in the Conwy Valley and involves Conwy County Borough Council, the Welsh Government and Transport for Wales.
Seven tendered bus routes will be withdrawn: 19, 42, 68A, 68B, 68C, 68D, 70. The majority operate only on particular days of the week.
The operating area for the new demand responsive services will be split into five zones, with services running between 07.00 and 19.00 Mondays to Saturdays (excluding public holidays).
The DRT will be registered as a flexibly routed local bus service. Passengers will be picked up and dropped off at any recognised bus stop within the operating area or at 'virtual' stops. The latter will be safe stopping points at locations as close as possible to the passenger's desired pick-up point/drop-off point.
The contract specification includes some fixed arrival and departure times to ensure that DRT services connect with scheduled bus and rail services.
Says the tender: "Initially the [service] configuration will be based on ensuring that no location is worse off in terms of availability than is the case at the moment, with priority arrival or departure times built around connecting with local bus services and trains at Llanrwst and Betws y Coed, and facilitating attendance of medical appointments, shopping, and other essential travel needs."
Fixed arrival and departure times at Llangernyw in zone three will facilitate through travel between Llanrwst and Abergele using a combination of the DRT and scheduled bus route 43. Fixed arrival times at Llangernyw will be 07:35, 09:00, 13:40, and 17:45. Fixed departure times from Llangernyw will be 07:45, 09:10, 13:50, and 17:55. The latter can be delayed to maintain a connection with service 43.
Conwy Council will provide three new EVM Cityline 16-seat Euro VI minibuses for the routes. Two will be utilised on Mondays, Wednesdays and Thursdays, and all three on Tuesdays, Fridays and Saturdays when fixed departure/arrival times will operate in zone 5 (to Corwen).
Services could commence in October. The contract will run for three years with the option of extending for two more, subject to funding availability.
Conwy Council anticipates that the daily mileage will be 185 miles. The trigger for additional mileage payments will be based on a weekly mileage of 1,420. This represents six days of the daily allowance of 185 miles, plus an allowance of 310 miles per week for operating journeys with fixed departure or arrival times in zone 5 on Tuesday, Friday and Saturday.
Bidders can propose the rate they are paid for excess mileage. They are also being invited to submit prices for operating on Sundays and public holidays.
Bookings and scheduling of services will be undertaken by a third party.
Conwy Council will receive passenger revenues, including concessionary fare payments.