Driverless cars: dystopian or utopian?
Driverless Cars
18 April 2020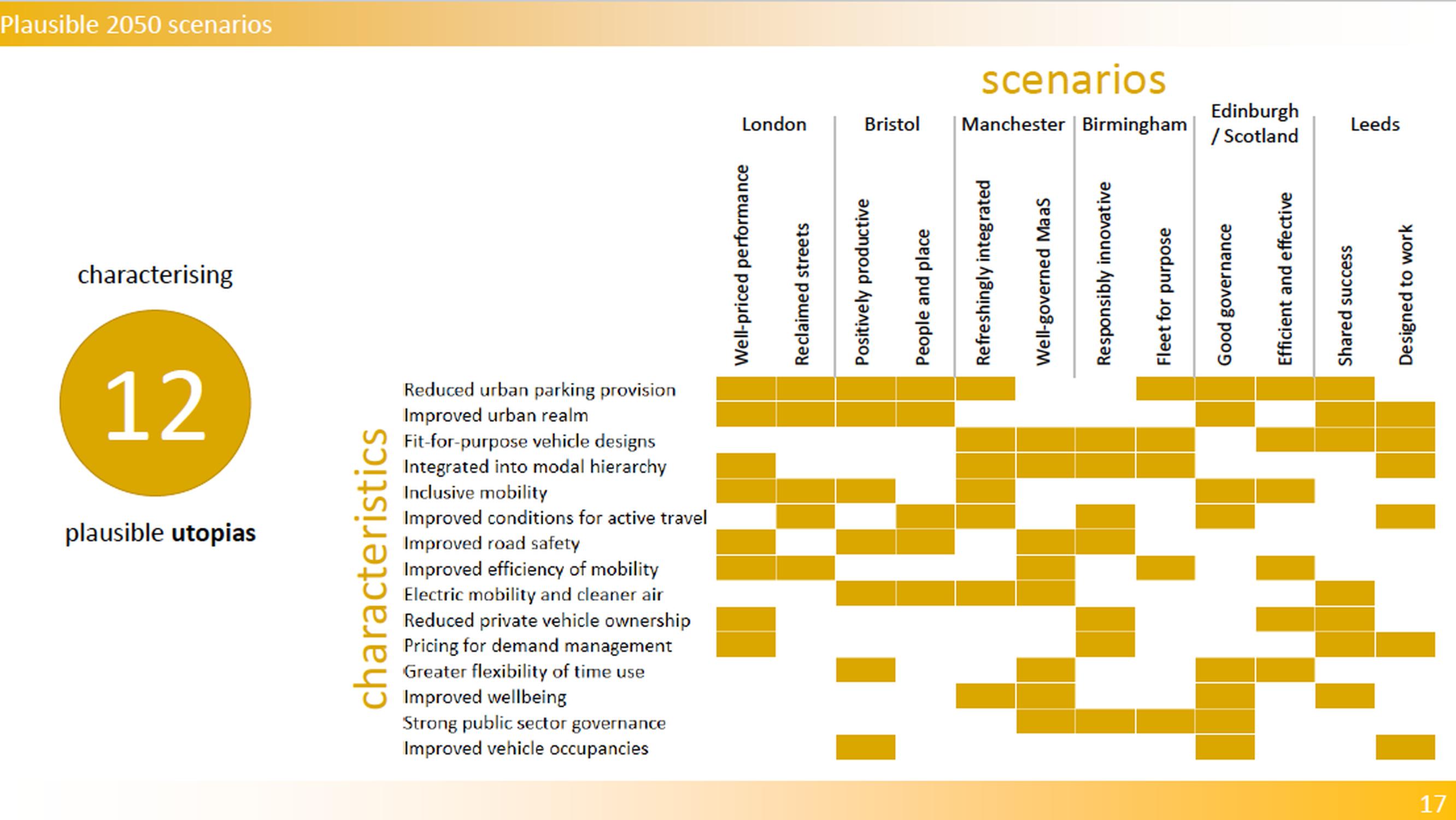 The Government will have to carefully regulate driverless cars to ensure they serve public interests, transport professionals have said.
The message is contained in a report summarising six workshops organised by Glenn Lyons, the Mott MacDonald professor of future mobility at the University of the West of England, working with Landor LINKS. The events brought together driverless car evangelists, opponents and agnostics, and were branded 'Driverless cars emulsion' because, say the organisers, like oil and water, driverless car advocates and critics seldom mix.
The focus was on fully autonomous cars (Level 5 on the Society of Automotive Engineers' scale) and the premise was that these would form a significant part of the transport system in 2050.
Sub-groups in the workshops considered what a utopian and a dystopian future of driverless cars might look like. Participants then considered how society could transition to these futures and suggested principles for ensuring a move towards utopia.
Characteristics of "plausible utopias" included: reduced urban parking provision; improved public realm; "fit for purpose" vehicle designs; inclusive mobility; improved road safety; electric mobility; reduced private vehicle ownership; pricing for demand management; and strong public sector governance.
Dystopian thinking came "easily" to participants, says the report. "Knowledge of existing problems with, and consequences of, the mobility system readily fuelled contemplation of the plausibility of dystopian futures significantly defined by driverless cars, in which unsatisfactory aspects of today's mobility system persist or are exacerbated."
The characteristics of "plausible dystopias" included: increased social inequality; transport systems vulnerable to disruption; the erosion of public transport; less active travel; streetspace reclaimed for cars; more urban sprawl; large corporations in control; transport sector unemployment; an unequal geographic coverage of driverless cars; increased energy demands; private ownership of driverless cars; and more traffic.
Participants considered how current developments in policy and society could contribute to these contrasting futures. Developments contributing towards the utopian outlook included: a greater focus on active travel; more micromobility modes; more compact settlement patterns; falling levels of car ownership; heightened concern and action on climate change; and growing distrust of technology companies.
Developments heading society towards the dystopian future included: rising populism and a declining trust in experts; the growing gig economy; increasing corporate power; low levels of regulation; rival and incompatible technology platforms; a focus on technology means rather than societal ends; low levels of land-use/transport planning integration; more road building; and low levels of investment in active travel and public transport.
Some people's views of driverless cars were changed by the workshop experience. "People changed their initial views in the course of dialogue with others – some haters became more positive, while some lovers reduced their confidence."
Overall, "over twice as many of our participants had become more negative than had become more positive about the proposition 'Driverless cars are a great opportunity for society'".
The report suggests ten principles for driverless car policy. "To address them all effectively will require a new strength of public sector governance that surpasses much to date," it says. "The private sector alone cannot deliver a fair system of services, but the public sector must support change too."
A "cornerstone" of driverless car use is that the safety of every road user should "demonstrably improve". "This must be a shared goal of all those involved in driverless car design, development and operation."
Driverless cars "should be designed, priced and introduced to support rather than detract from greater social inclusion".
Through their design and operation, they should "significantly contribute to improving air quality and reducing carbon emissions".
Workshop participants saw compatability between driverless cars and a nationwide system of mobility pricing. "The provision and usage of driverless cars should fit within a system of variable pricing for mobility, enabling public sector influence over the market," says the report.
The workshop organisers would have liked stronger representation from the technology companies involved in driverless car developments. "As a self-selecting group of participants it was recognised that there are many others involved with examining the prospects of driverless cars who would have benefitted, and brought benefit, from participating – particularly the 'new tech people' who are entering the transport sector with their ideas for solutions, and indeed the incumbent car manufacturers. It was not for want of trying that tech industry representation was conspicuous by its absence (seemingly not an uncommon problem)."
The event sponsors were: Mott MacDonald, UWE, the Chartered Institution of Highways and Transportation; Transport for Greater Manchester; Transport for West Midlands; Transport Scotland; Leeds City Council; and the Urban Transport Group.