Boroughs' conflicting goals shape West London cycle route
Cycling
13 September 2019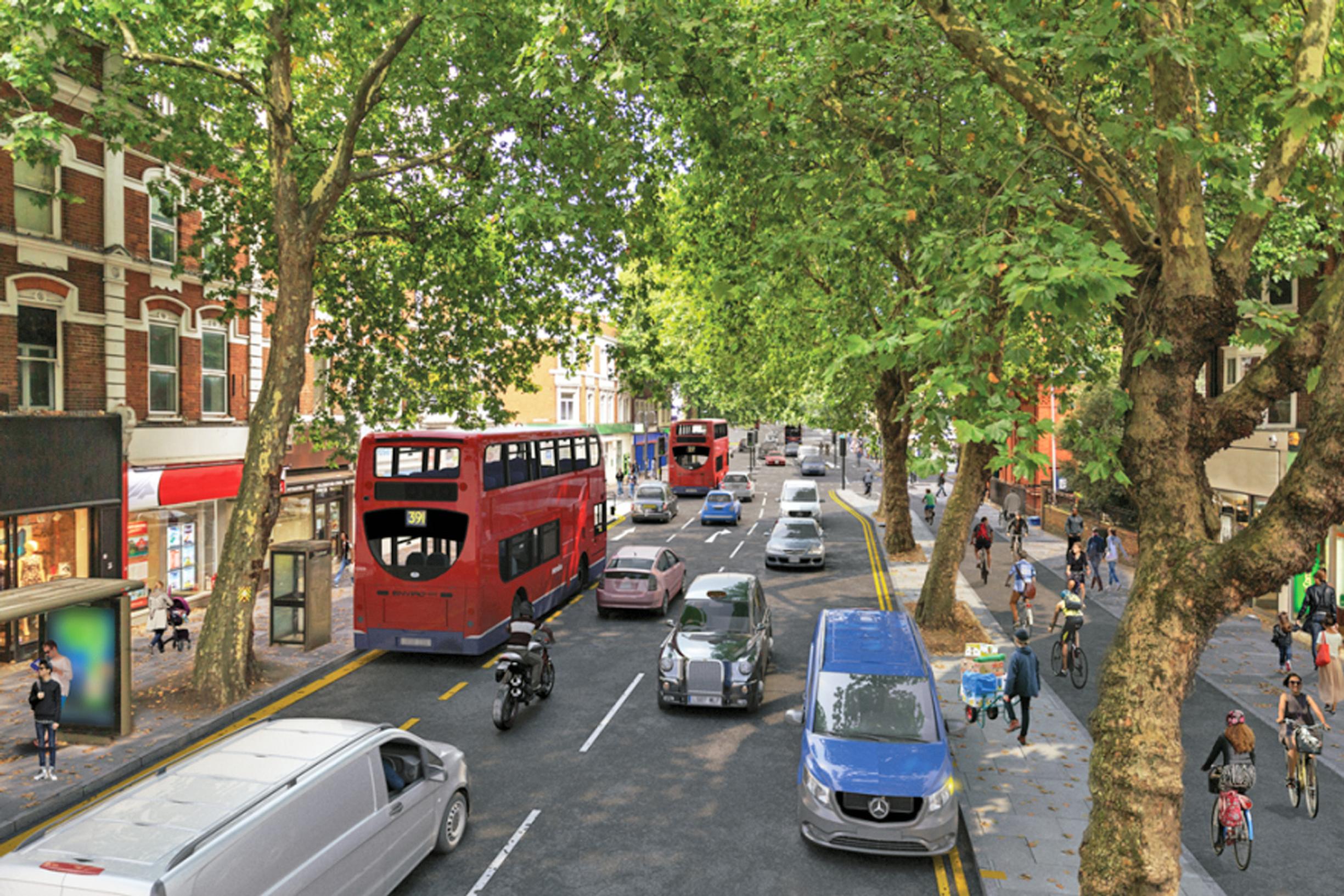 The complexity of planning new cycle routes across London boroughs has been highlighted by Transport for London's proposed Cycleway 9 in west London.
The C9 will eventually run from Hounslow town centre in the west to Kensington Olympia in the east. TfL's initial focus is the section between Brentford town centre to Kensington Olympia. This will feature a two-way segregated cycle track on Hammersmith Road, King Street, Chiswick High Road and Kew Bridge Road, with-flow cycle tracks in each direction on Brentford High Street, bus stop bypasses, and changes to bus lane and parking/loading bay operation times.
The London Borough of Hounslow last week approved the western end of the route. The eastern end lies within the London Borough of Hammersmith & Fulham. It has approved the two-way segregated track on its roads but calls the route the 'safer cycle pathway' rather than the C9, and is also proposing cycle facilities on the parallel A4 for commuter cyclists. Hounslow has ruled out cycling facilities on the A4 within its boundary, saying all cyclists should use the C9.
Kensington Olympia lies on the boundary of Hammersmith & Fulham and the Royal Borough of Kensington and Chelsea.
Simon Munk, the London Cycling Campaign's infrastructure campaigner, told LTT that extending the C9 along Kensington High Street would enable cyclists to access a route through Kensington Gardens that links up in Hyde Park to TfL's East-West cycleway to Tower Bridge.
Monk said Kensington High Street was currently used by about 3,000 cyclists a day and this would rise when C9 opens. "It is a wholly inappropriate design for the volume of cyclists already cycling there. It's five lanes of traffic at various points and one of London's more horrible roads to cycle on.
"We think it's high time Kensington and Chelsea looked at the road, thought about how it doesn't work now, and how it could and should work in the future."
LTT asked Kensington and Chelsea why C9 didn't extend along Kensington High Street. A spokesman said: "TfL discussed a proposal for a segregated route on Kensington High Street with us in 2013 but the council did not support this at the time, owing to concerns about additional congestion on an already congested road. TfL did not propose to extend the route along Kensington High Street when it consulted on the other parts of the [C9] route."
A TfL spokeswoman said Kensington and Chelsea's past opposition explained why C9 terminated at Olympia. "If we've got strong feedback from a borough that they do not want it [a cycle route], unless they come back and say they've changed their minds or they want to consult the public, it's literally a non-starter for us. We've got to concentrate on routes we know boroughs support."
The London Borough of Hounslow last week approved the design for the western end of C9 despite opposition to the plan for a two-way segregated cycle track on Chiswick High Road, a busy shopping street.
Councillors heard that more than 1,600 people had signed a petition saying the cycle track would damage the viability of the street's shops and businesses, remove the street's "highly prized wide pavements", increase congestion, reduce the road to a single carriageway at key points, remove parking for shoppers and residents, and cause disruption during construction.
Recommending councillors support the plan, Mark Frost, Hounslow's head of traffic and transport, said Chiswick High Road was part of the wider scheme that would "either be delivered in full or not delivered at all."
Critics of the plans for Chiswick High Road section have suggested that the cycle route be placed on the A4, which runs parallel to the south.
But Frost said existing walking and cycling flows on the 40mph A4 were low, with surveys showing that seven times more cyclists use the Chiswick High Road than the A4.
"This is likely to be a consequence of it [the A4] being a hostile environment for non-motorised modes, given it is a high-speed, high volume road, with poor air quality and high ambient noise, which makes for an unpleasant visitor experience." Traffic counts show the A4 carries 99,430 vehicles a day compared with 13,000-16,000 using the Chiswick High Road.
Frost added: "The A4 (particularly through Chiswick) has no notable active frontage i.e. the road is not a destination in itself. The fact that no one wishes to go to the A4 is considered likely to impact on demand for a new facility if it was sited there, which could raise queries about the value for money of such an investment."
London Borough of Hammersmith & Fulham officers this week presented councillors with a report on the 'safer cycle pathway' – the borough's name for the C9 – and the 'A4 cycle highway'.
The borough reached agreement with TfL earlier this year for the two route strategy, with the borough accepting the fully segregated cycle route along King Street and Hammersmith Road to Kensington Olympia.
Hammersmith & Fulham is about to start public engagement on the detailed design of both routes.
Council cycling officer Richard Duffill told councillors: "Walking and cycling in Hammersmith & Fulham will be safer and easier after the council insisted on redesigning TfL's cycling routes planned for the borough. TfL have agreed that Hammersmith Council will carry out all detailed design for these routes making them designs that work locally."
The 'safer cycle pathway' will be designed for use by "slower, less confident cyclists", being "tailored to suit families, novice riders and those just looking to pop to the shops". It will be designed to "maximise pedestrian space and make the transition from pavement to pavement safe". The design will also feature seating areas, water fountains and new lighting.
Mark Frost of Hounslow told LTT he understood C9 and the 'safer cycle pathway' would join seamlessly at the Hounslow/LBHF boundary.
Hammersmith & Fulham's 'A4 cycle highway' will be designed for "faster and experienced commuting riders". What will happen to the route at the Hounslow boundary is unclear.
A TfL spokeswoman told LTT that Hammersmith & Fulham had only been given funding to conduct feasibility work for the A4 scheme. Any bid for capital funding would need a strong business case and the project would have to make sense as part of a network. "There's no point having a little bit of segregated route and then you're onto a busy road in another borough."
Kensington and Chelsea told LTT that there was "no policy in the borough against segregated cycle routes" but that the council's emphasis is on implementing schemes featuring unsegregated lanes.
Johnny Thalassites, lead member for planning and transport, said: "We have built one cycleway this year, consulted on another two, and have plans for four more routes, with some connecting links, which will cover ten miles – in addition to the five miles of Quietway routes we have already completed."