Council scraps plan to include cars in Bath's Clean Air Zone
AIR QUALITY
15 March 2019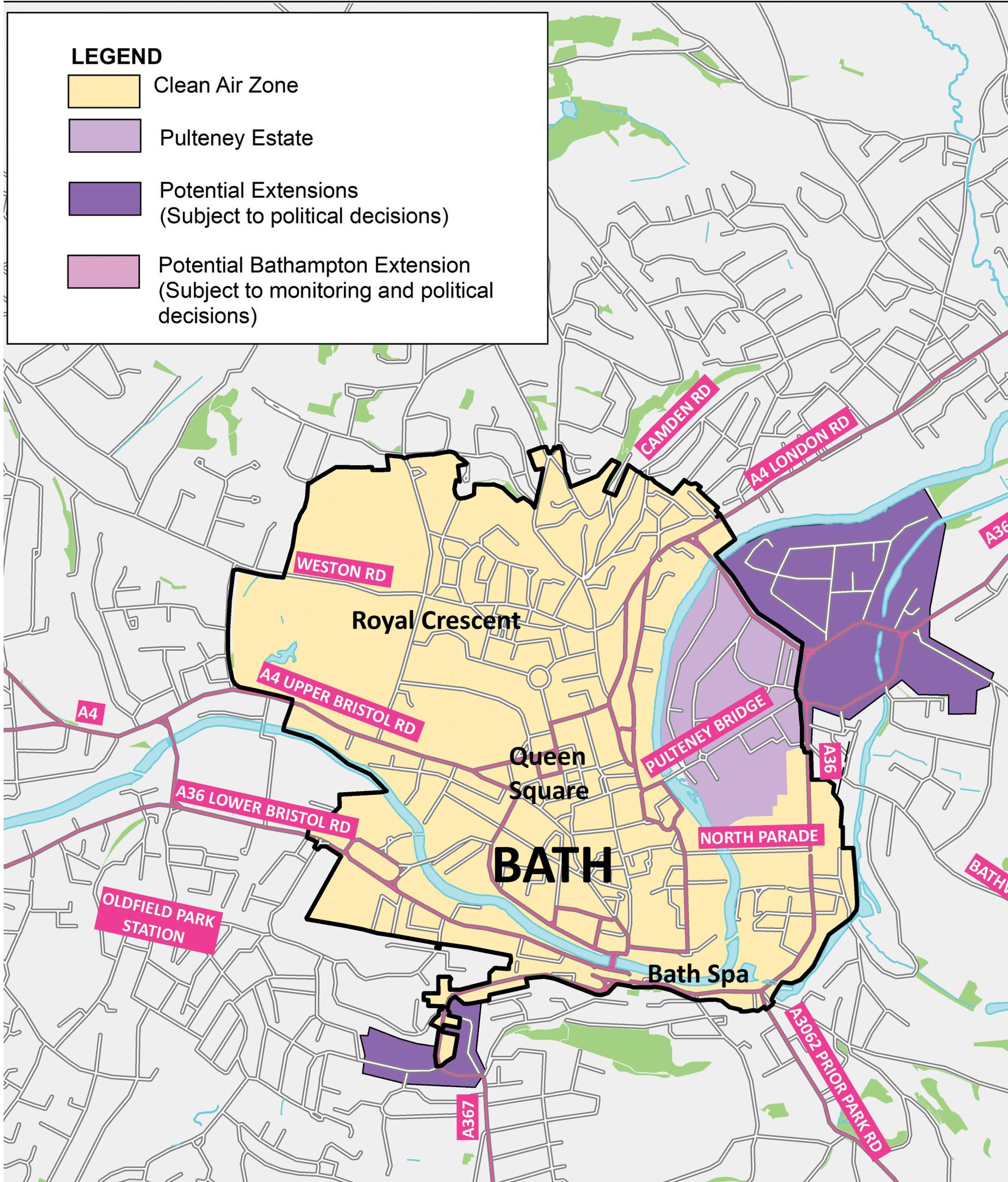 Bath and North East Somerset Council has dropped a plan to include cars in a charging clean air zone for Bath, saying new analysis shows nitrogen dioxide concentrations can be reduced to legal levels with less drastic action.
Councillors have approved a Class C charging CAZ covering the centre of the city. This will see daily charges for the lorries, buses, coaches, vans, taxis and private hire vehicles that fail to meet the zone's minimum emission standards.
Bath and North East Somerset Council (BANES) was one of the councils ordered by Government to prepare an action plan to reduce nitrogen dioxide concentrations to below the EU annual mean limit value in the shortest possible time. The Government's modelling suggested that, without additional action, NO2 concentrations on one road in Bath would remain in breach of the 40μg/m3 value until 2022.
The council consulted last autumn on a Class D CAZ, which would have seen charges imposed on vehicles including cars. The plan attracted an "unprecedented" 8,421 responses and the council subsequently missed the deadline to submit its action plan to Government, saying more time was needed to consider the consultation responses (LTT 14 Dec 18).
BANES had previously rejected Class B and Class C charging CAZs, saying that only a Class D scheme could deliver compliance by December 2021.
But Chris Major, the council's group manager – transport and parking, told councillors last week that new modelling indicated that "either a charging Class C CAZ with traffic management or a charging Class D CAZ will achieve compliance by 2021".
He explained: "In parallel with the public consultation, further refinements to the baseline air quality modelling improved how gradients were represented. A revised assessment of a charging Class C CAZ would now result in a single exceedance at Gay St, caused by localised traffic issues."
BANES believes this exceedance can be solved by installing traffic signals at two junctions.
The CAZ should commence operation in December 2020. The daily charge will be £9 for non-compliant taxis, private hire vehicles and light goods vehicles (the minimum standard being Euro 6 for diesel and Euro 4 for petrol), and £100 for buses, coaches and HGVs (the minimum standard being Euro VI).
The zone boundary has been slightly amended to reduce the impact of 'rat running', create opportunities for non-compliant vehicles to turn around to avoid the zone, and rationalise the number of boundary points.
To support the proposals, BANES wants £43.5m from the Government's Implementation Fund and Clean Air Fund. This includes £28m to help businesses retrofit or buy new vehicles, including via interest-free loans.
The bid also features grants of up to £2,000 to help pre-Euro 4 car owners upgrade their vehicles, and a proposal to spend £2.4m on free park-and-ride prioritised at non-compliant vehicles.
These latter two ideas featured in the original plan for a Class D CAZ. LTT asked the council why they remained in the revised Class C CAZ plan, which does not cover cars.
On the grants to pre-Euro 4 car owners, a spokeswoman said: "The aim is that it will contribute to cleaner air across the city and help to ensure compliance. The council may not be successful in securing this funding, now that we're exempting cars, but it's submitting the bid in the hope that it will."
On the park-and-ride concession, she said: "Better use of the park-and-ride could be made at peak hours for commuting. The council wants to encourage this by giving a time-limited concession to certain commuters. The details of this are still to be worked out should the necessary funds be secured."