Light rail and tri-mode trains to run on Cardiff's Valley Lines
Rail
08 June 2018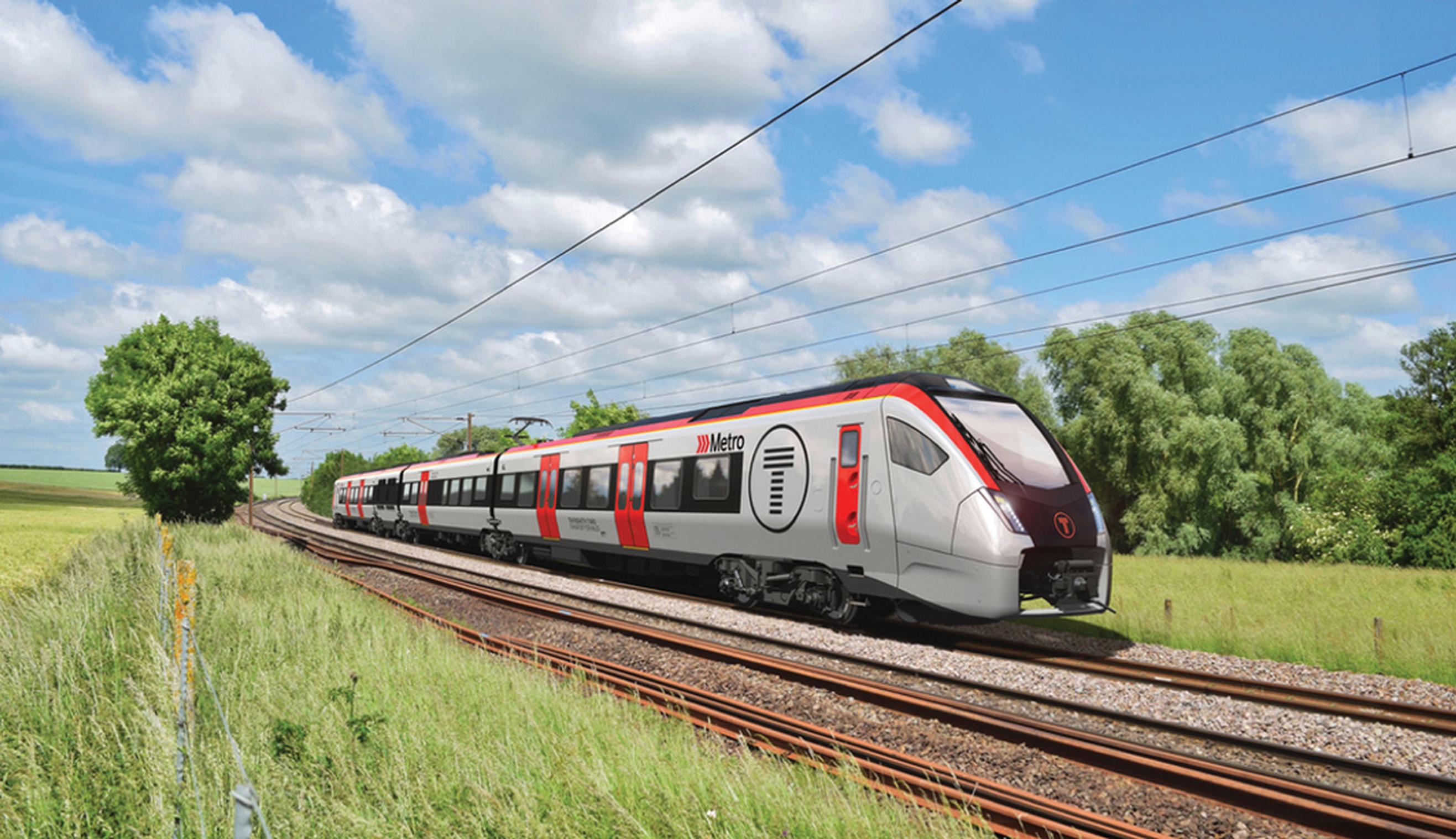 Two fleets of new trains will be introduced to the Core Valley Lines in South Wales under the 15-year Wales and Borders contract awarded this week to KeolisAmey.
Discontinuous electrification will be implemented on the lines, with one branch being operated by heavy rail trains and the other three by light rail. All vehicles will be fitted with batteries to eliminate the need for diesel operations and the heavy rail fleet will be tri-mode (diesel, battery and overhead electric), enabling through running between the Core Valley Lines and other parts of the local rail network in South Wales.
The operator and development partner (ODP) contract for Wales and Borders includes £800m of investment in new trains – replacing almost the entire fleet used by current franchise holder Arriva Trains Wales – and a £200m modernisation of most stations across the Wales and Borders network. It commences on 14 October and runs to 14 October 2033.
The ODP will oversee the £738m phase two of the South Wales Metro programme, mostly on the Core Valley Lines. These are defined as all routes from Cardiff Queen Street station, including those to Cardiff Central and Cardiff Bay, and are due to be transferred from Network Rail to the Welsh Government in September next year.
They will receive discontinuous 25kV overhead power supply. The Rhymney line will be equipped for heavy rail trains by 2023, and the Merthyr Tydfil, Aberdare and Treherbert lines for light rail operation by 2022. Batteries will enable all the vehicles to operate over unelectrified track. The different treatment of the Rhymney line will allow through running between the Core Valley Lines and lines south of Cardiff, which will not be electrified.
Discontinuous electrification of the Core Valley Lines will avoid 55 interventions, such as rebuilding of overbridges, which would have been necessary for continuous power supply.
In this way, KeolisAmey will meet a ministerial commitment that no Core Valley Lines services will operate on diesel fuel after the modernisation.
The UK Government has rejected requests for devolution of Welsh rail infrastructure and will retain control of other local railways in South Wales. Therefore, the Barry and Penarth lines, south-west of Cardiff, will not be electrified.
The Welsh Government wants to retain some of the long-established through running between Barry and Penarth and the Core Valley Lines. This is particularly useful for passengers from Barry and Penarth whose destinations are close to Cardiff Queen Street station. To preserve through journey opportunities, KeolisAmey will order the fleet of tri-modes.
Services from the Rhymney line will switch from electricity to diesel at Cardiff Central, the boundary between Welsh Government and DfT control.
A third fleet of new trains, which will be ordered for other local services around Cardiff, will be diesel electric multiple units. These will operate the Ebbw Vale and Maesteg services, both of which use the South Wales main line to access Cardiff. The UK Government's decision to cancel Cardiff-Bridgend-Swansea electrification last year thwarted plans for the Bridgend-Maesteg line to receive non-diesel technology.
Swiss manufacturer Stadler will build all three of the above fleets of trains/light rail vehicles.
A fourth new fleet will cover most of the other Wales and Borders services, including the rural Conwy Valley and Cambrian Coast lines. These diesel multiple unit trains account for 52 per cent of the new trains for Wales and Borders and will be manufactured in Newport by Spanish company CAF.
Commenting on the plans, Welsh transport secretary Ken Skates said: "Whilst the specific tri-mode solution has been developed to meet the unique requirements for operation on the South Wales Metro, the train is based on an established product platform and uses a modular design from a well-established manufacturer of rolling stock and with a track record of supplying reliable rolling stock elsewhere in Europe."
Skates said the light rail vehicles "will use a technology often referred to as tram-train". The UK's trial deployment of tram-train in the Sheffield area has been heavily delayed, but KeolisAmey managers are confident that the Welsh vehicles will meet UK safety standards.
Skates explained: "They [tram-trains] will operate under heavy rail regulations on conventional railway, but will be capable of use in light rail, or tram, mode for extendibility."
The contract includes a short section of new on-street running in Cardiff Bay, which is intended as a trial with a view to utilising this increasing flexibility to then expand the network in future.
No other on-street extensions are funded through the £5bn ODP contract, but Transport for Wales chief executive James Price said local authorities had already asked for certain extensions, which would exploit tram mode. The Cardiff Capital Region City Deal was one possible source of funding, he said.
Electrification and new vehicles will enable service frequencies to be increased on the Core Valley Lines to provide four trains per hour from each Heads of the Valleys terminus. For this, a second track will be installed at 15 locations. Substantial journey time reductions will also arise.
The Ebbw Vale and Vale of Glamorgan (Bridgend-Barry-Cardiff) lines are promised a doubling of frequency to half-hourly.
There are firm commitments to new stations at Loudoun Square, Crwys Road and Gabalfa on the Core Valley Lines in Cardiff. The poorly sited Treforest Estate station will be replaced with a new station further south.
New stations on the main line at Miskin, between Pontyclun and Cardiff, and at Llanwern, east of Newport, are also proposed.
---
Dustbin for Heathrow's no extra traffic pledge?
Heathrow Airport Ltd's pledge that a third runway will be delivered without increasing airport-related road traffic looks likely to be quietly dropped after the Government refused to write the promise into the Airports National Policy Statement.
Transport secretary Chris Grayling this week published the final version of the NPS, which makes the case for a third runway. The House of Commons will vote on the document later this month. If passed, the NPS and the third runway will become Government policy, paving the way for Heathrow Airport Ltd (HAL) to bring forward a development consent order (DCO) application for the expansion.
The House of Commons transport committee recently said the Government should either include the airport's road traffic pledge in the NPS or make it a condition of the DCO (LTT 03 Apr).
But the DfT said this week: "We have acknowledged Heathrow Airport Limited's public pledge to expand the airport without increasing landside airport-related traffic compared to today. This is a worthy aspiration, which we support. However, we recognise the complexity of defining and measuring a specific target for no additional traffic, and the risk of unintended consequences if such a target were imposed."
The DfT pointed out that the NPS includes mode share targets for passengers and employees at the airport. "It is our expectation that the mode share targets would become requirements of a development consent order," it added.
Although the expansion plan is controversial and likely to be opposed by a number of Tory MPs, the expectation is that the Commons will approve the NPS. If so, councils opposed to expansion seem certain to lodge a judicial review application.
HAL is to prepare a masterplan for the expansion, drawing on feedback from its recent consultation (LTT 19 Jan). A second, statutory, consultation is planned for next year. The DCO application is expected to be made in winter 2019/2020. If approval is granted, the new runway could open in 2026.