Another day, another driverless car, shuttle and taxi trial
12 September 2016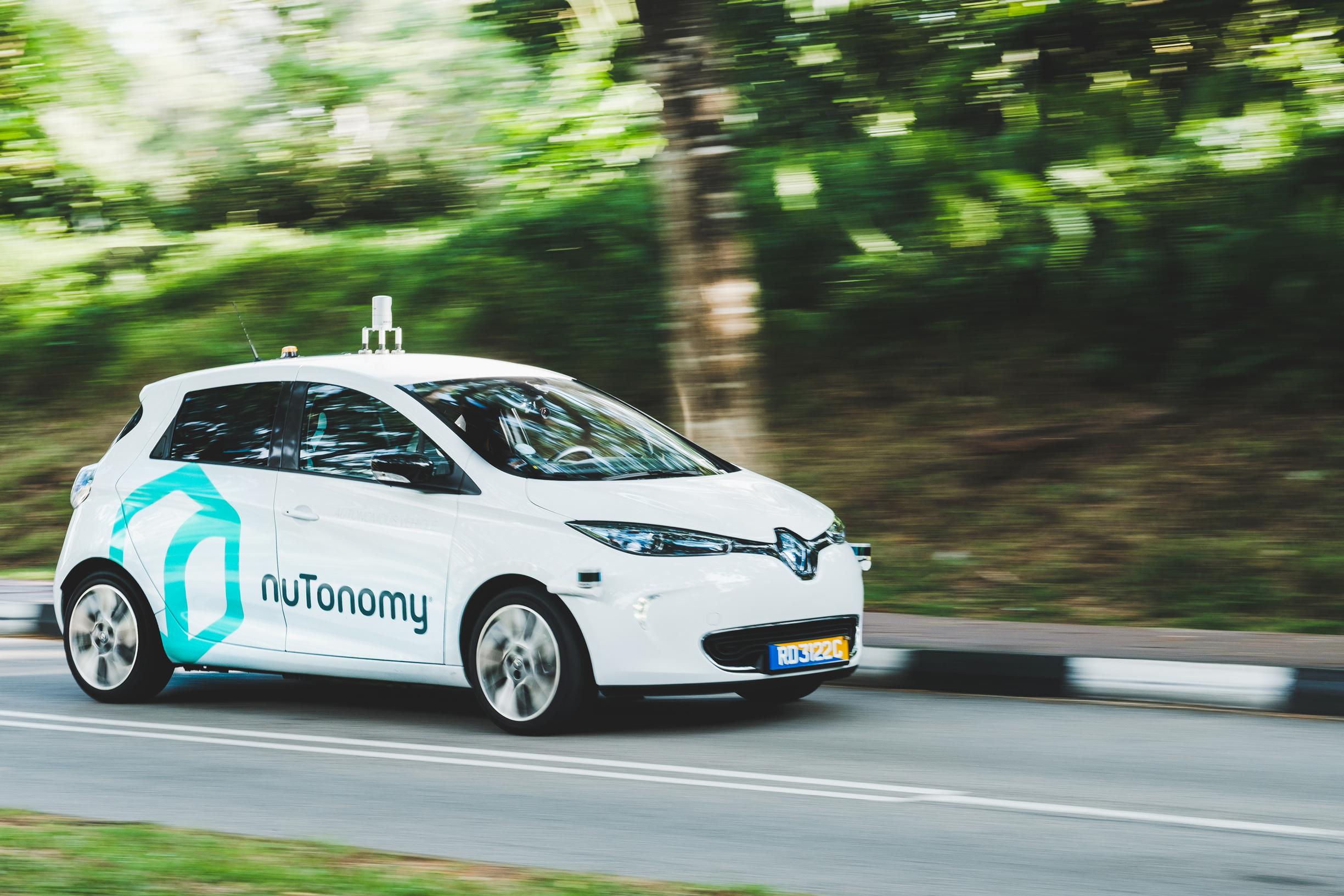 Didi Chuxing in China, Google and Uber are all exploring the potential for driverless taxis. Driverless shuttle and taxi trials are taking place all over the world, led by Delphi in the US and Singapore, and nuTonomy in Singapore. Japan plans to deploy driverless robot taxis during the 2020 Tokyo Olympics. On-street trialling of a new electric, driverless and fully autonomous public transport service known as 'NAVLY' launched in the French city of Lyon this month. Architecture firm Foster + Partners and auto brand Nissan have combined technologies including wireless charging, autonomous driving and battery storage to present a proposal for the future of vehicles and cities. Nissan and Foster suggest that the cars themselves could be used to store and distribute renewable energy along a "smart street". And residents in the US city of Pittsburgh now have the choice of going about their day in an Uber that drives itself: the web-based ride service has launched its driverless car service to jump ahead of Detroit auto giants and Silicon Valley rivals with technology that could revolutionise transportation.
Volvo Cars and safety systems supplier Autoliv are to set up a new jointly-owned company to develop autonomous driving software. Following successful European self-driving truck convoy or 'platooning' trials, an electric, driverless system freight shuttle system (FSS), technology developed at Texas A&M University, is taking to the streets in the USA.
The French bus trial by intelligent mobility specialist Navya and public transport operator Keolis involves two autonomous shuttles which will travel a 1350m circuit in the Confluence district, adjacent to the Saône river.
The collaborators claim that the project marks the first implementation of this form of transport around the world. It is hoped that NAVLY – which is intended to be an innovative 'last mile' transportation solution – will become an enduring, long lasting service for the city.
Free of charge for all users, the shuttles take up to 15 people with room for 11 seated. A NAVLY operator will be on board at all times to ensure the safety of passengers and to answer any questions.
The vehicles are capable of reaching speeds of 45 km/h (28MPH) but during the trial will be limited to 20km/h (12MPH), says Keoli.
They have no steering wheel or pedals but feature an effective navigation and sensor system incorporating the simultaneous use of several technologies including Lidar, stereovision cameras, RTK (real-time kinematic) GPS, IMU and odometry.
The project is supported by la Métropole de Lyon and Sytral – which is responsible for all transport solutions in the Lyon Metropolitan area – and is endorsed by the French Agency for Environment and Energy management (ADEME).
Self-driving or autonomous vehicles will likely be a key part of any future Mobility as a Service (MaaS) offering. MaaS represents a paradigm shift from transport to technology. The key concept behind MaaS is to offer the public mobility solutions based on current travel needs, and information and demand-based services will be vital. Not only do today's travellers expect real-time information before and during their trips, but without real-time information, the seamless and efficient flow of goods and people, and the open ecosystem for information and services, would not be possible.
Mathematical models tell us that if drivers kept within the variable speed limits sometimes displayed on a motorway, traffic would flow consistently at, say, 50mph, says Lorna Wilson, Commercial Research Associate, University of Bath, writing for The Conversation. Instead we tend to drive more aggressively, accelerating as soon as the opportunity arises – and being forced to brake moments later. The result is greater fuel consumption and a longer overall journey time. Cooperative driving seems to go against human nature when we get behind the wheel. But could this change if our roads were taken over by driverless cars?
Incorporating driverless cars into mathematical traffic models will prove key to improving traffic flow and assessing the various conditions in which traffic reaches a traffic jam threshold, or "jamming density". In theory, autonomous cars will typically drive within the speed limits, have faster reaction times, allowing them to drive closer together, and will behave less randomly than humans, who tend to overreact in certain situations. On a tactical level, choosing the optimum route, accounting for obstacles and traffic density, driverless cars will behave in a more rational way, as they can communicate with other cars and quickly change route or driving behaviour.
International technology company Continental is developing components and systems for platooning, notes ITS International. 'With platooning, the truck, which is electronically coupled with the lead vehicle, consumes up to 15 percent less fuel thanks to safe slipstreaming. Even the lead vehicle drives up to three percent more efficiently on account of the reduction in air turbulence,' says Dr. Michael Ruf, head of the Commercial Vehicles and Aftermarket business unit.
The technology used is complex in detail but the basic principle is actually very simple. Continental is focusing on an interoperable internet platform, which trucks from different manufacturers and fleet operators can use to form an electronic convoy on the freeway. Braking and sensor data are transmitted wirelessly from the lead vehicle to the following vehicles. Thanks to the electronic towbar, Continental envisages the possibility to initially reduce the distance between vehicles from 50 meters to only 15 meters at a speed of 80 km/h. Development experts even predict that, in the long term, it will be technically possible to safely reduce this distance to only 10 meters. This will even further reduce the space required for the trucks. The drivers in the convoy are supported by automated driving systems. As the first step, Continental is working on the technology for highly automated convoys comprising a lead truck being followed by one or two additional trucks using the electronic towbar.
If only 50 percent of the annual mileage of a truck – totaling 150,000 km – was driven in convoy, every coupled truck would be able to save 4,000 liters of diesel per year. One of these convoys would reduce annual fuel costs by over €9,000 per year and enable the fleet operator to reduce its CO2 emissions by 24 kg per hour with a convoy of three trucks.
Back in April 2016, six truck manufacturers demonstrated the technical functionality of platooning in the European Truck Platooning Challenge and governments around the world are working on the statutory regulations surrounding automated driving.
An overview of the various aspects of automation in the automotive and commercial vehicle industries can be found on the information and discussion platform 2025AD.com, which reports on the technology behind platooning and simplifies the concept using infographics. Furthermore, the advantages and disadvantages of automation in the commercial vehicle industry are also discussed on this platform.
In April this year six truck manufacturers demonstrated the technical functionality of platooning in the European Truck Platooning Challenge. This saw platoons from DAF Trucks, Daimler Trucks, Iveco, MAN Truck & Bus, Scania and Volvo Group travel across national borders from Sweden, Germany and Belgium to arrive in Rotterdam.
When self-driving cars become the norm, there will be more spare time to read, work and play driving games on mobile devices, but there could be a downside: Motion sickness.
Motion sickness is already a problem for many passengers - and when we all become passengers, it seems inevitable that it'll get worse. In fact, experts predict that between 6% and 12% of Americans can expect to get sick travelling in an autonomous vehicle.
Car manufacturers are already working on designing vehicles that will mitigate motion sickness - and they are using driving simulator technology from a UK company called Ansible Motion to do it. According to Ansible Motion's technical liaison, Phil Morse, this type of simulator, called "Driver in the Loop", is "dynamics-class". Speaking to Robitics and Automation, he added:"This means that it isn't just for measuring human reactions, like other types of automotive driving simulators or how a flight simulator for training pilots might be – but thanks to some sophisticated engineering, it can be used to virtually prototype vehicles and different on-car components."
Let's see what the future brings….