Cyclists criticise Essex for town's 'unwanted' shared path
29 April 2016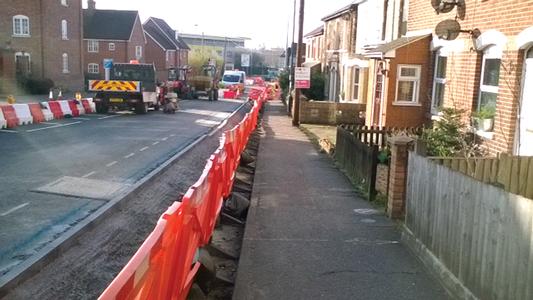 Cyclists in Colchester are demanding an investigation into Essex County Council's decision to spend £750,000 of Government grant on converting a 1.2km footway into a shared pedestrian/cycle path.
Colchester Cycling Campaign (CCC) says the scheme being implemented on the town's Mile End Road is unwanted; was developed in a hurry; is unsuitable for utility cyclists; and will increase danger.
The group says an on-road solution for cyclists would have been better for all road users. "From the start, CCC favoured a 20mph limit with light-touch traffic calming," the group has told the council. "Mile End Road as it exists is eminently suitable for cycling – low traffic levels and generally low speeds."
The group cites Essex's own in-house road safety audit of the scheme, which highlighted the risk of collisions between cyclists and vehicles crossing the shared path to exit/enter driveways.
Noting that the road has a gradient, the council's audit adds: "This could lead to high cyclist speeds, which could result in loss-of-control type collisions and collisions with pedestrians and vehicles crossing the shared use path."
The CCC says the path itself is also too narrow for pedestrians and cyclists. "In the final scheme, path width falls below three metres, the very minimum recommended for a path on open land, let alone between garden walls and parked cars. In at least one location it is 2.6 metres."
Says the group: "The path wasn't requested by anyone. No research was carried out before construction began. Essex County Council [has] admitted that the scheme was pushed through to 'save face' with the funder."
The scheme has been funded from a mix of Local Sustainable Transport Fund, and Local Growth Fund grant awarded by the South East Local Enterprise Partnership.
Colchester was one of the Government's Cycling Town projects between 2009 and 2011, and the CCC says it had a good relationship with Essex throughout the project's life. "During Cycling Town, the DfT was insistent that the cycling community was involved and kept an eye on schemes as they were developed," says the CCC. "We had a productive relationship with Essex until about 15 months ago when, for no discernible reason, the council's approach to us changed."
Essex County Council this week responded to the CCC's complaint. "Your comments have been noted by our transportation, planning and development team however, they are confident that the scheme is being delivered in accordance with the requirements that the funding was secured through," said the council.
"I understand that you have been in regular dialogue with officers and that they have attempted to allay the concerns you have raised."
Discuss these issues at LTT's Cycle City event in May