Slough bus rapid transit scheme consultation begins
03 October 2014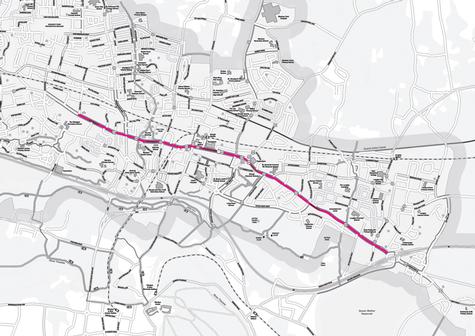 Residents and businesses in Slough are being asked for their views on local authority plans for a bus rapid transit service along a busy commuter road in Berkshire.
The £8m scheme, known as SMaRT (Slough Mass Rapid Transit), was approved by the borough council on 15 September.
The proposals involve widening the A4 and upgrading several junctions, as well as turning service roads parallel to the A4 through Slough Trading Estate into bus lanes.
The council said the aim of the scheme was to provide quicker, more frequent and reliable bus services. The consultation will ask people for their overall views, as well as specific questions about parking, one-way systems, bus stops and widening in certain roads.
"The council has been offered financial support from the Government's Local Growth Fund for SMaRT but before we go ahead with the scheme we want to make sure residents, businesses and others have the opportunity to have their say," said Savio DeCruz, head of transport for Slough Borough Council."The A4 is a crucial link between Maidenhead, Slough and Heathrow, and improving bus times will play a major part in reducing congestion and increasing economic efficiency."
"A key objective of the SEP (strategic economic plan) is to improve urban connectivity by linking residential areas to mainline railway stations, employment, leisure, learning and retail centres," Slough Borough Council says. "For Slough, a mass rapid transit solution is proposed, using dedicated rather than shared highway space. These systems will use smart technology as it becomes available at reasonable cost, and will be developed in phases."
The council also notes that Slough, which is close to the M4, M25, Heathrow Airport and the employment areas of West London, "is experiencing traffic volumes beyond anything a town of its size would normally generate, including conflicting peak hour flows of inward and outward commuting patterns. This causes severe congestion and leads to long delays on the network of 10-15 minutes and reduces economic efficiency."
The SMaRT scheme is intended to reduce congestion on a key transport route for commuting and economic activity. "With Crossrail and Western Rail Access to Heathrow (WRAtH) due in Slough in 2019 and 2021 respectively it is critical that a fast link to Slough Station is provided to assist businesses to be within touching distance of London and Heathrow," the council adds. "Other possibilities have been considered, but a mass rapid transit solution is the preferred option because it provides the greatest benefits through using dedicated infrastructure."
Discuss this at LTT's 'BRT - Creating stimulus for future growth' event on the 1-2 December 2014