Scots councils struggle to make parking enforcement add up
04 April 2014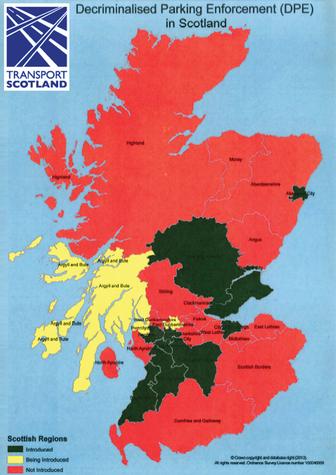 A number of Scottish councils are struggling to make a business case for decriminalised parking enforcement powers following Police Scotland's withdrawal of its traffic warden service.
Only 12 of Scotland's 32 local authorities have so far taken on decriminalised parking enforcement (DPE) and two more are in the process of applying for the powers.
But, with the traffic warden service being withdrawn, Police Scotland will in future only undertake enforcement where parking is considered to be "dangerous or causes significant obstruction".
Police Scotland's decision has angered councils but Scotland's justice secretary Kenny Macaskill has told West Lothian Council that it was "an operational matter for Police Scotland and it would be inappropriate for me, as Cabinet Secretary, to intervene".
West Lothian was covered by four traffic wardens who issued about 3,000 fixed penalty notices a year.
Jim Jack, the council's head of operational services, told councillors that it was a requirement of the Scottish Government that decriminalisation had to be self-financing from parking revenues and fines within the first five years of operation.
West Lothian's initial analysis suggests a scheme would not be self-financing from fine income, with a shortfall of £32,000 in year one, assuming 6,000 penalty charge notices are issued, rising to almost £82,000 by year five as costs rise and PCNs issued are assumed to fall to 5,100.
Jack added that a 2009 study for the South East Scotland transport partnership (SEStran) had shown that a regional approach to DPE would only be self-financing if it involved the City of Edinburgh Council but Edinburgh had not supported the idea.
Edinburgh and Fife are the only SEStran authorities that operate DPE. The city is currently procuring a new contract to commence in October, which will be open to other Scottish local authorities to use.
West Lothian plans to monitor the impact of the cessation of police enforcement while undertaking some further work on developing an outline business case for DPE.
Jack said Transport Scotland's view was that three years was a realistic timescale for implementing DPE from the point of a council deciding to proceed.
Scottish Borders Council is establishing a working group of officers and members to decide a way forward. "A particular fear for the Scottish Borders Council area is that it will not be possible to demonstrate the break-even position that is required by Transport Scotland for an application to operate DPE to be successful," said the council's network manager, Brian Young.
Councillors have already reported parking problems occurring in Hawick's High Street and say businesses are concerned that the withdrawal of enforcement will hamper deliveries.
Discuss Parking Enforcement at the 8th Annual Enforcement Summit in London on the 9 April