Who actually pays the costs of road traffic congestion?
13 April 2012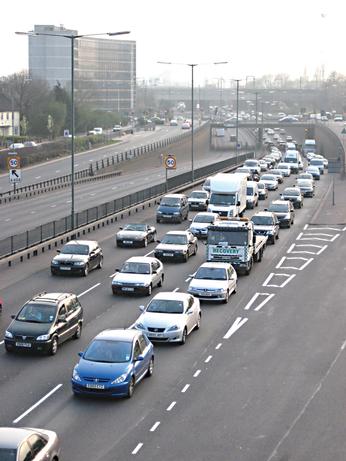 Well done LTT in pulling together the publicly quoted costs of road congestion to the economy, ranging from the Prime Minister's £7bn a year to £30bn (In Passing, 30 Mar). They can't all be right. Indeed, are any right?
I am struck by the evidence that the efficient road hauliers, for instance those that deliver for the supermarket chains, can meet very demanding contractual terms including penalties for delivering outside a specified 30 minute time slot. I had the opportunity recently to ask a senior executive of such a firm how much unanticipated traffic congestion affected performance. His response was that unanticipated traffic congestion was less of a problem than unanticipated delays at customers' premises. This indicates that the hauliers can manage performance around expected congestion, and that unanticipated congestion imposes minimal costs.
There remains the regular congestion at times of peak usage, but we surely know by now that 'we can't build our way out of congestion', and we understand why. The M25 orbital motorway around London, part of the strategic trunk road network that enables traffic from south coast ports to travel to the Midlands and the North avoiding built-up London, is currently being widened to dual four lanes in response to increasing congestion levels.
The conventional appraisal methodology for this investment estimates the value of the saving of travel time through relieving congestion. However, the M25 is used for both long and short distance trips, with 40% of journeys over 100km and 50% of traffic making a journey to work.
Experience of previous widening is that the road has quickly filled up with additional traffic, very largely a consequence of higher speeds permitting longer trips by local users who thus achieve enhanced access and greater choice of employment, homes etc. The conventional focus on travel time savings as the aggregate economic benefit does not therefore distinguish between different kinds of benefit – regional access benefits to local users and national benefits to long-distance road users.
The benefits to local users pre-empt those to users of the strategic network, while adding to carbon dioxide emissions and other detriments associated with vehicle-km. The results of costly road widening are local, not national, benefits. National benefits are best sought through information and telecoms technologies, following the example of the hauliers.
Keith Buchan, chair of the Transport Planning Society, rightly criticises DfT's recently published National Road Traffic Forecasts, an output of the National Transport Model (Letters 30 Mar). It is not only the Department's modelling that is problematic. So is its appraisal methodology with its focus on travel time savings, when it is clear that the benefits of investment are taken in the long run in the form of greater access, achieved through higher speeds in unchanging average travel time.
The Prime Minister is keen to have more private sector investment in the road network. The Department's modelling and appraisal methodologies will be found wanting when independent economic consultancies subject investment opportunities to due diligence.