Mayor has smashing time in cycle lane
That's one way to keep cycle lanes clear
31 August 2011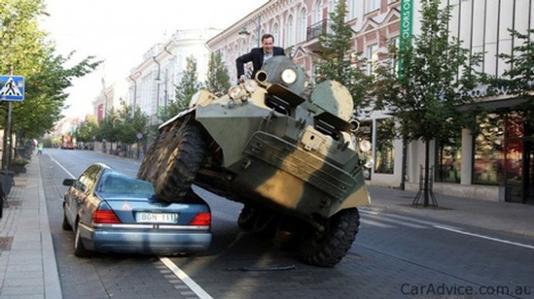 The mayor of Vilnius obviously has no time for people who don't obey parking rules in Lithuania's capital city. He is seen here crushing a car parked in a cycle lane with a rather large armoured vehicle. The owner arrived to see his wrecked Mercedes being towed away.
"That's what will happen if you park your car illegally," warns mayor Arturas Zuokas in a clip of the enforcement action posted on the Vilnius City website.
The warning video, in fact, started out life as a stunt shot for a popular Swedish TV series, 99 Things You Should Do Before You Die. In the video, Zuokas ticks off the car's owner, sweeps up the broken glass from the wreckage and then hops on his bike. "You have to have a sense of humour in my line of work and I thought this would be a way of drawing attention to the fact that the city intends to be proactive in its fight against illegal parking," he said.
An avid cyclist, Zuokas has long urged residents to take up cycling, introducing various bicycle schemes and cycle lanes.