Motoring is at war with life on Earth
Despite all the evidence linking cars to climate change, many in the UK appear reluctant to change their driving habits, writes John Dales. Reflecting on COP26's 'Transport Day' discussions, he warns that our failure to drive less is an act of self-harm
17 November 2021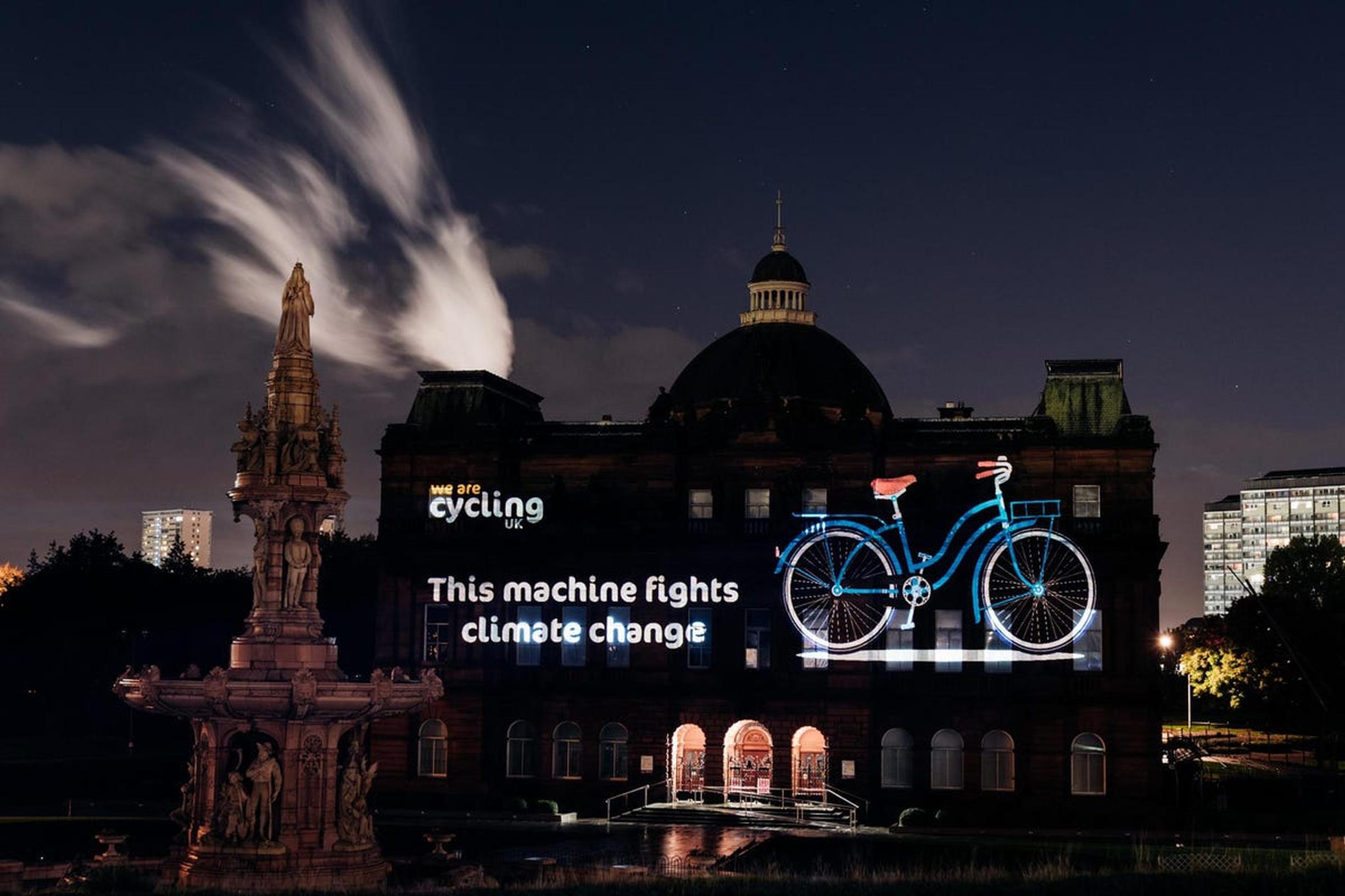 This was written in Glasgow, on what was 'Transport Day' at the 26th Conference of the Parties (COP26). From many people, with many different perspectives, there's been a pretty good deal of eye-rolling, frustration and indeed anger about the COP26 proceedings. However, there is, in my view, and to steal a turn of phrase from Oscar Wilde, only one thing in the world worse than talking about climate change, and that is not talking about climate change.
Active denial is prevalent, of course. Indeed, one might even say it throbs in the breasts of those who simply don't want to drive less (and also – as a leak concerning out-of-the-public-eye pre-COP26 lobbying revealed – in the economic strategies and business plans of those who don't want us to do so, either).
One small group, whose chief concern is that "drivers will bear the brunt of policies aimed at forcing us off the roads", issued a press release prior to COP26 stating that "the false 'climate emergency' narrative has no supporting data". Forgive me, though, if I give more credence to the evidence presented by the Intergovernmental Panel on Climate Change than to this group's somewhat selective 'Fact Check'.
The 'war on drivers'
The strong desire to Carry on Driving isn't, of course, to be found just on the fringes. Thus, it was that the Daily Mail chose to report the launch of the Government's Net Zero Strategy under the headline 'Boris Johnson's war on drivers'.
As for the Strategy itself, published last month, you won't be shocked to know that the first thing I did after downloading it was to see what it said about transport. The first paragraph under that heading notes that, "Domestic transport has the largest share of UK greenhouse gas emissions of any sector across the economy, at 23% in 2019. The majority (55%) of these emissions are from passenger cars."
Since no one seriously disputes these figures, the questions in play are: (a) do they constitute a serious problem and (b), if they do, what do we need to do about it? Although a minority prides itself on claiming the answer to (a) is 'no', it is wrong. And so I move on to question (b).
Quite plainly, what we need to do about the effect of greenhouse gas emissions from road transport is to reduce them. This being the case, we can swiftly move further on to the matters of by how much and how soon; and the answers we give to these questions are perhaps the most important of all.
That's because, whether our minds are truly open to the science on climate change, whether we accept that the emissions from our driving need to be reduced, how much we're prepared to change in contributing to that reduction, and how soon we're willing to make the necessary changes all really depend on one thing: how much do we care?
Whatever our personal circumstances, the truth is that people living in the UK are extraordinarily well-off by global standards. One of the ways in which this is true is that we're nowhere near the first in line when it comes to feeling the effects of climate change. Accordingly, the idea that climate change might affect us personally, materially and substantially still seems remote; and so, unless we feel a strong sense of care for our fellow humans living in more vulnerable circumstances, or unless we see beyond the present to care for the future prospects of our own children and grandchildren, we'll inevitably have a limited sense of urgency.
That said, even if every person in the UK did care deeply, and did feel the need to cut their transport-related carbon emissions, other truths include the following: (i) many people will struggle to because of where they live relative to where they need to travel to; (ii) many people don't know how to or don't believe they can, because their alternatives are so unfamiliar or perceived to be poor; and (iii) many people who could change simply haven't grasped how great a change is needed, and how quickly.
Decisive measures
For all these reasons, and indeed to require change from those who don't care, it's vital that the Government speaks with a clear and unequivocal voice and takes decisive measures. In this regard…
On 23 September, addressing the United Nations General Assembly, prime minister Boris Johnson called on his fellow leaders to commit to major changes to curb further global warming, adding that four areas – "coal, cars, cash and trees" – need tackling and that "the destruction we are inflicting (is) not just upon our planet but ourselves".
On 30 October, at the G20 Summit in Rome, the prime minister stressed that the alternative to tackling global warming was apocalyptic and could consign future generations to shortages of food, conflict and mass migrations. He also noted that "the foes of humanity are apathy and political indifference and lack of will and people's excessive caution about what they can achieve".
On 1 November, opening COP26, Johnson told delegates that the "anger and the impatience of the world" would be uncontainable "unless we make this the moment that we get real about climate change".
And back in Glasgow on this very 'Transport Day', 10 November, the prime minister reiterated that "the world knows the mess our planet is in… and will find it absolutely incomprehensible if we fail to deliver the action needed. The backlash from our people will be immense and it will be long-lasting. And frankly, we will deserve their criticism. Because we know and agree on what needs to be done. We just need the courage to get on and do it".
That does seem to be clear and unequivocal, as far as the speaking goes. But might it be just more of what Greta Thunberg has called "blah, blah, blah"? After all…
…on 27 October, just before COP26, chancellor Rishi Sunak said, in his autumn Spending Review, that the Government will invest £46bn on railways, but also £21bn on roads. He said that nine million passengers will have their duty on internal domestic flights cut by half, and he cancelled a planned increase in fuel duty, costing the exchequer £8bn over five years. HM Treasury duly tweeted that "after 12 consecutive years of frozen fuel duty rates, the average car driver will save a total of £1,900".
We're nowhere near the first in line when it comes to feeling the effects of climate change. Accordingly, the idea that climate change might affect us personally, materially and substantially still seems remote
Then to 'Transport Day' itself, where the overwhelming focus of the official COP26 activity was on electric vehicles, and electric cars particularly, as the one change needed above all. Given that more carbon is used in the manufacture of EVs than their internal combustion engine counterparts, and that the means of producing the electricity may also be carbon-intensive, this emphasis is mistaken. But it isn't the only example of an 'EVs will save us all' approach. After all…
…on 14 July, in the Foreword to the Government's Decarbonising Transport plan, the Secretary of State for Transport wrote that "it's not about stopping people doing things: it's about doing the same things differently… We will still drive on improved roads, but increasingly in zero emission cars".
After much public lobbying from active travel and public transport organisations, there was, at least, the following last-minute addition to the Glasgow Declaration on Accelerating the Transition to 100% Zero Emission Cars and Vans: "We recognise that alongside the shift to zero emission vehicles, a sustainable future for road transport will require wider system transformation, including support for active travel, public and shared transport".
Trojan horse
Our reluctance to forego the immediate convenience of car travel to avoid longer-term consequences is something Colin Buchanan foreshadowed as far back as 1958, in his book Mixed Blessing.
"The day the first motor car was unloaded marked the point, as time was to show, that we had pulled in a Trojan horse more brutally destructive in some of its consequences than any that emerged from the original Wooden Horse upon an unsuspecting population… the motor vehicle has come to affect the lives of every single person, and is presenting us with a tougher series of adjustment problems than perhaps any single invention has done in the course of history."
The thing is, as Jane Dennyson – who works for an organisation called Shift Cycling Culture – recently said, climate action is no longer a case of a moral obligation but "about no longer having a viable business unless you do something about it".
In doing so, she's echoing what American 'ecological economist' Herman Daly once observed: "The economy is a wholly-owned subsidiary of the environment, not the reverse". Despite all the evidence of the harm that our car-driving habits have been and are still doing to the climate – and thereby to life on earth – it seems we just can't, or won't, or don't want to face the truth that we need to change how we live now, by driving less, so that others may live in future.
Perhaps it would help if we were clearer that our failure to drive less is itself an act of self-harm. We hear slogans like 'Save the Planet' a lot, but it's 'Save the Humans' we need to hear much more, and more loudly.
John Dales is a streets design adviser to local authorities around the UK, a member of several design review panels, and one the London Mayor's Design Advocates. He's a past chair of the Transport Planning Society, a former trustee of Living Streets, and a committee member of the Parliamentary Advisory Council for Transport Safety. He is director of transport planning and street design consultancy Urban Movement.
Tweet John @johnstreetdales