South Coast resorts prepare for a busy summer
BCP Council and Dorset Police will remove illegally parked vehicles
12 August 2020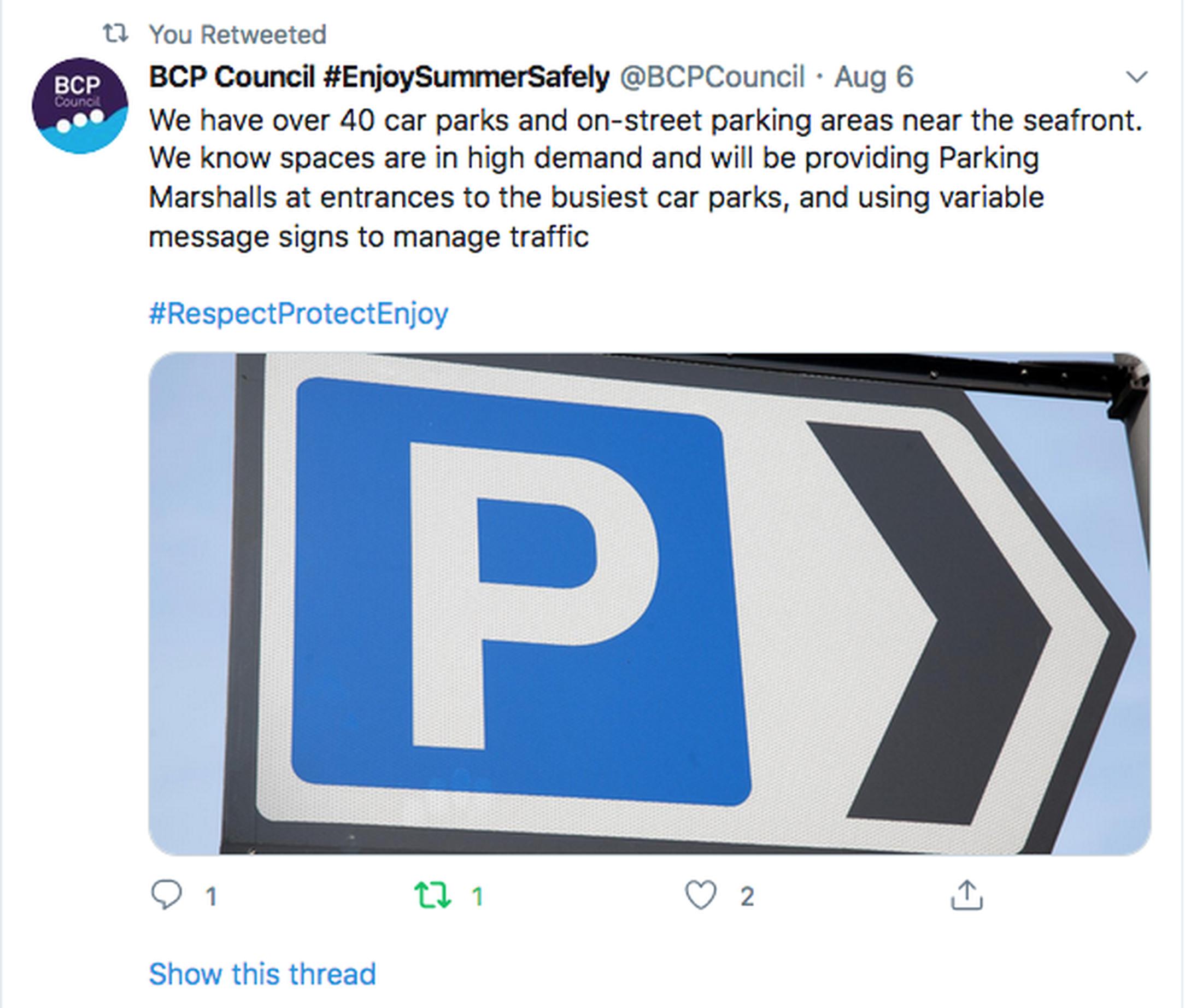 "Please park considerately, respect the communities you are visiting," is the message being sent by the police to people heading to the South Coast's beaches this summer,
Parking marshals, removal vehicles and apps will deployed in Bournemouth and Poole to manage an influx of sun-seekers over the summer. The reintroduction of quarantine measures for travel to Spain means that people are expected to head in great numbers to the British seaside over the coming weeks.
Dorset Police and Bournemouth Christchurch and Poole (BCP) Council have agreed to field more patrols in a bid to avoid the problems that led to a major incident being declared on 25 June when as many as half-a-million people descended on the beaches.
In June, the police reported fights, overnight camping and three men were stabbed in an attack near Bournemouth pier. Cars were left abandoned on verges as visitors struggled to park and the beaches were strewn with litter.
BCP Council leader Vikki Slade said the towns were ready to welcome visitors, but marshals had been deployed at car parks along with extra security officers, First Aiders and additional traffic management systems. The council has also launched a new app it has developed that pinpoints busy parts of the beaches.
BCP Council has also introduced new removal powers to tackle illegal parking in cases where parked vehicles are causing an obstruction.
The council said the towing away of vehicles will complement the existing enforcement ticketing operation in place across the conurbation, but will only be used where parked vehicles are causing significant problems such as a dangerous hazard. The towing operation will run through August to the end of September before being reviewed ahead of a decision on whether to roll it out permanently.
Cllr Andy Hadley, portfolio holder for transport and infrastructure, said: "This is a decision not taken lightly but as a result of the significant volume of illegally parked cars experienced, particularly at Sandbanks and Bournemouth seafront; we have no choice but to take action.
"I hope we rarely have to use the power and people instead choose to park responsibly but everyone should be aware we now have this option at our disposal if they choose otherwise."
The option to tow has been rolled out across the whole area of Bournemouth, Christchurch and Poole and not just in seafront locations. Vehicles that flout parking rules and are left on double yellow lines, across driveways, cycle lanes, on verges or too close to junctions blocking sight lines could be towed away. Vehicles removed will be subject to the government-set fine of £150 and face up to £20 a day storage fee for every 24 hours the car is left before being collected.
BCP Council enforcement officers will also to patrol car parks to ensure people are parking appropriately.
The new approach has now been tested in reality. Friday 31 July saw record temperatures recorded at Heathrow, where it reached 37.8C (100.04F), making it the third warmest day ever recorded in the UK.
On the South Coast crowds of daytrippers arrived by car, which led to tailbacks. By 9am, some roads were gridlocked and the mobile app was showing red in three areas, meaning "avoid".
By 11am it was reported that traffic marshals were turning people away from Sandbanks car park and residents were urging the council to close the road.
By mid-afternoon, nearly all of the seven-mile stretch of beach between Poole Harbour and Highcliffe was marked as red on the council's beach app, meaning "avoid, safe social distancing not possible".
Dorset Council reported that car parks at Lulworth and Durdle Door, on the Jurassic Coast, were also full.
Superintendant Richard Bell of Dorset Police said plans had been put in place to cope with another surge. Officers were working longer shifts and some had their rest days cancelled to cope with the anticipated influx of visitors over the summer.
Supt Bell said: "We have seen a significant increase in demand during the last few weeks with the good weather attracting thousands more people to Dorset.
"We would ask anyone coming to the area to be prepared; it will be busy, please take care on our roads and respect the fact that many beaches will be near capacity and you may need to change your plans and find another less busy location.
"We are working closely with our partners to maintain a safe environment for everyone, but it is critical people act responsibly, park considerately and remember that COVID-19 has not gone away. Everyone must play their part in maintaining the safety of residents and
visitors alike."
Similar issues with traffic and busy beaches have been reported at other resorts across the UK during the first few weekends of August.