Coach park becomes a concert hall
Royal Philharmonic stages a musical extravaganza in Wembley's massive Green Parking facility
13 September 2023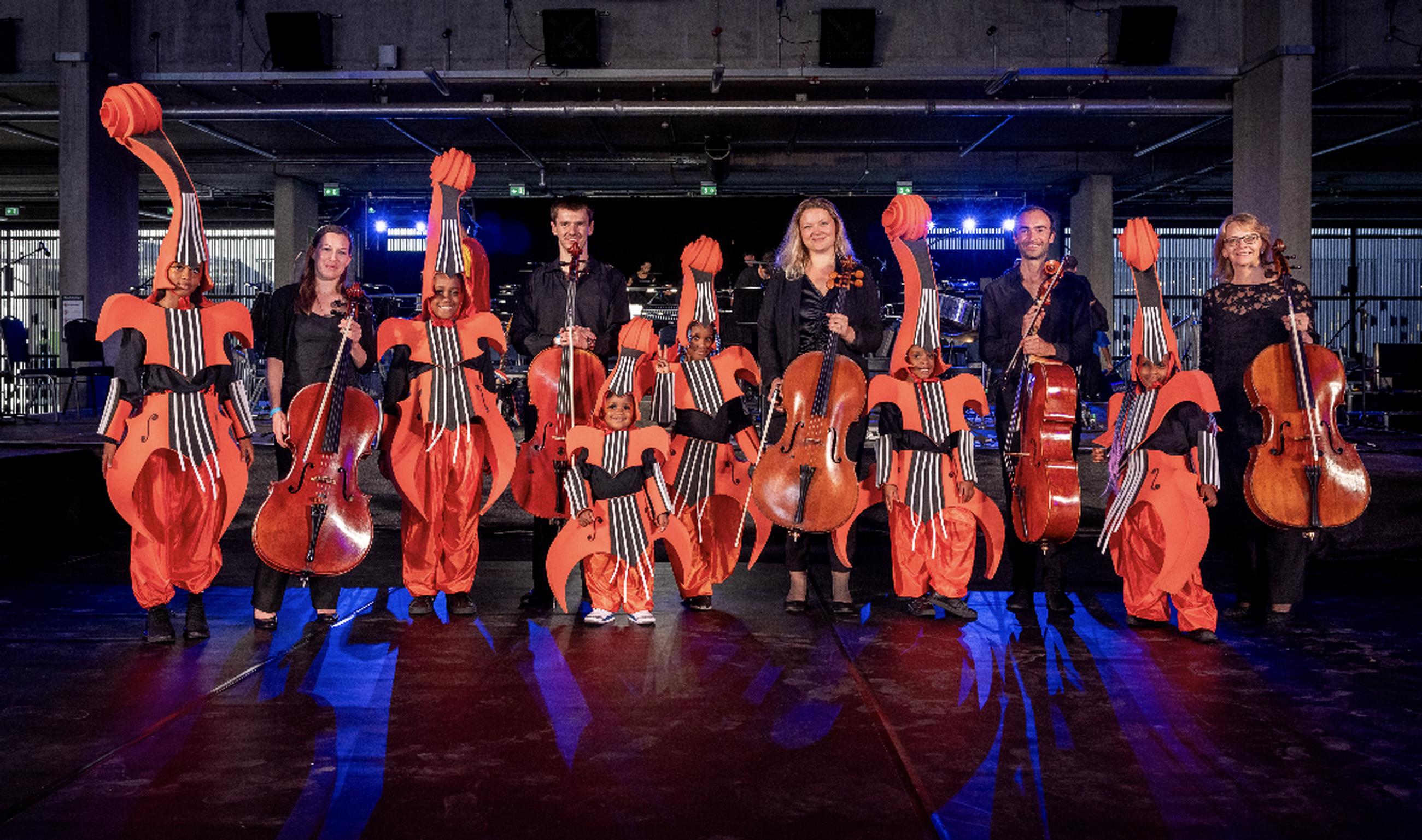 The cavernous interior of a coach park serving Wembley Stadium hosted a music and dance extravaganza staged by the Royal Philharmonic Orchestra.
Wemba's Dream: Join the Journey tells the story of Anglo-Saxon traveller Wemba, who journeyed in 825 AD to settle in a 'lea', the Anglo-Saxon word for a clearing in the forest, that became known as Wemba's Lea, or Wembley. Wemba's journey was mirrored by those of later travellers, coming from around the world to settle in the heart of Brent. Wembley Park, a new neighbourhood of London, will become home to the Royal Philharmonic Orchestra (RPO) in 2025.
The event sought to break down barriers between audiences, performance spaces and musical styles as musicians, poets, dancers, and carnival artists from Brent and beyond joined the RPO in Green Parking, an undercroft coach park built for event days at Wembley Stadium. Green Parking was never intended for use solely as a coach park. The versatile space doubles as an event venue, regularly being repurposed and given new life as part of Wembley Park's cultural placemaking strategy, of which the RPO is a now an anchor.
James Williams, managing director, Royal Philharmonic Orchestra, said: "The common language of music has this incredible power to enrich communities, break down barriers and create connections. By bringing Wemba's Dream: Join the Journey to Green Parking, we are seeking to challenge preconceptions about how music can and should be enjoyed. This exciting new challenge will enable audiences to connect with music and performance art in a new way."
Green Parking sits beneath the 2.5-acre podium garden enjoyed by residents of Canada Gardens, homes to rent from operator Quintain Living. The space has capacity for 168 coaches or 588 cars (or a combination thereof), with northern and southern sections connected by large aircraft hangar-style doors beneath Canada Lane. Green Parking was created to replace an original surface car park, which has now been transformed into the verdant greenery of the new public Union Park as part of Quintain's masterplan for the Wembley Park neighbourhood.
Green Parking has been designed so that the noise associated with vehicles entering and exiting the area does not inconvenience the residents above. The FA Cup Final showcased this in 2022 when it took place on a particularly sunny day. Despite thousands of Liverpool FC fans disembarking from coaches to attend the match at the National Stadium, Canada Gardens residents were undisturbed while enjoying their green spaces just 5-metres above. This meant that those living above were entirely undisturbed despite a 55-strong orchestra and a wealth of other musicians performing just below.
Wemba's Dream: Join the Journey was specifically created around the venue. From the huge metal impulse fans that assist the natural ventilation in Green Parking and the concrete of the pillars and ceiling that give the space an industrial feel, creating an arresting juxtaposition with the melodic sounds of the RPO and local performers. St Michael & All Angels Steel Orchestra, Mahogany Carnival, Word Up and the Sujata Banerjee Dance Company all performed with the RPO, delivering a distinctive mix of styles, sights and sounds.
The coach park works well in terms of sightlines as the gradient of the land provides a natural raked viewing area. This meant that the audience were incredibly close to the performers, providing an immersive dimension to the event on 3 September.
In acoustic terms, Green Parking presented an interesting opportunity to reconsider the use and purpose of the urban landscape. The acoustics of the coach park allow the sound to roll and reverberate around the space, using the echoes to create a powerful resonance and cocoon the audience in the auditory experience.
This is not the first time that Green Parking has been used as an event space. Outside of major event days, the coach park serves a range of other purposes. It is home to the bustling Wembley Park Antiques Market each month and serves as the ideal space for cycle safety training events for local schoolchildren. During Wembley Stadium's NFL games, Green Parking was also used to host the Tailgate Party, with retail and merchandising areas.
Josh McNorton, cultural director at Wembley Park, said: "We are all on our own journeys, with events and experiences shaping our lives in unexpected ways. Wemba's Dream: Join the Journey examines the joy, sadness, hope, anticipation and self-discovery that those journeys encompass. We are delighted that the performance was staged in fabulous urban context of Green Parking, as we celebrate the resilience and determination of those who overcome barriers and struggles, using art to tell their stories."
Wembley Park
A 12-minute rail journey from central London, Wembley Park stands as one of Europe's most substantial regeneration projects. Wembley Park is home to The OVO Arena Wembley and Wembley Stadium, internationally famous music and sporting events, and becoming a landmark destination with culture, entertainment, and community at its heart.
As a neighbourhood, Wembley Park includes over 5,000 new homes, retailers and cultural venues, as well as attractive public spaces, with parks and gardens, public squares and wide boulevards. When completed, nearly half of the 85-acre site will be open space and private gardens and Wembley Park will be home to over 20,000 residents.
Cultural landmarks within Wembley Park include the 2,000-seat Troubadour Wembley Park Theatre, currently staging the multiple Tony and Olivier Award-winning show, Newsies. Artist support is at the forefront with 20 affordable studios managed by Second Floor Studios & Arts. The area is home to London's most extensive BOXPARK, an immersive entertainment hub with a whole floor dedicated to gaming, and the London Designer Outlet, alongside a host of independent local shops and restaurants. In September 2023, Punchdrunk Enrichment will be opening a new venue in Wembley Park, whilst the Royal Philharmonic Orchestra is slated to move its headquarters to the neighbourhood in 2025.
Wembley Park's cultural strategy showcases an annual line-up of free-to-attend public events. Recent notable events include Wembley Park Live, International Busking Day, the lights festival Winterfest, and Wemba's Dream—a performance festival co-produced with the Royal Philharmonic Orchestra.
The Wembley Park Art Trail, a public art programme, breathes life into the neighbourhood's open spaces with recent works by JR, Jason Bruges, Mr Doodle, Pref, and Lois O'Hara. A newly built community hub, The Yellow, hosts an array of free community activities, catering to diverse interests from youth theatre to Indian classical dance. Further testament to the area's transformation is the recent introduction of the Sound Shell stage and the new Samovar Space, a unique public space designed by a group of young people with London School of Economics, repurposed from a car park to a concert venue.