New town, new transport solutions
Milton Keynes is now a testbed for a host of innovations, including driverless vehicles and an electric vehicle network, says Brian Matthews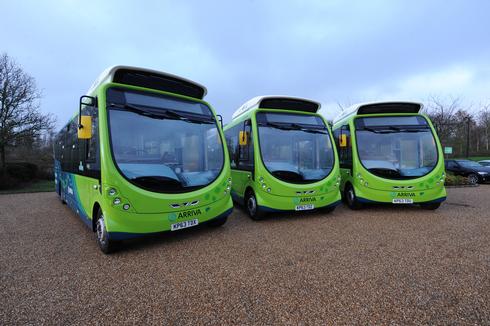 Milton Keynes is an innovative, 'can-do' city. Its unique layout and structure has helped support growth, making Milton Keynes the most successful new town in the UK, and possibly the World.
Milton Keynes is economically successful, home to many international companies and organisations including Santander, the Open University, British Petroleum, Mercedes Benz and Red Bull Racing.
Enhancing the network
Milton Keynes is expected to grow rapidly over the next 20 years. It is essential that as the city grows, so does the transport choice available to residents and visitors alike. Making better use of existing infrastructure, improving highway and the connectivity of Redways (the 250km segregated cycle network that traverses Milton Keynes) are key.
Steps also need to be taken to ensure that we provide an attractive public transport network. Against a backdrop of tightening financial resources and the understandable high expectations from residents and visitors, Milton Keynes Council has taken steps to explore what can be achieved by looking at innovative transport opportunities to meets it objectives.
Key initiatives
The authority is pioneering financing arrangements for infrastructure maintenance and improvement. Milton Keynes is using a long-term investment strategy to secure significant funding through prudential borrowing to create a stable investment fund.
The council is developing the UK's, and probably the World's, first all-electric bus service. It is utilising inductive opportunity charging to ensure that the 15km route can be served from 7am to 11pm with full electric buses.
Another major development is our electric vehicle infrastructure. This represents the vanguard of deploying city-scale EV charging infrastructure. The Plugged-in Places programme has seen the creation a network of 200 on-street charge posts along with a network of rapid charge units (56) in neighbourhoods across Milton Keynes.
This has helped Milton Keynes secure funding as a Go Ultra Low City, with a £9m investment programme to support the uptake of electric vehicles being announced by the Department for Transport in February.
Autonomous pods
Milton Keynes is able to provide an urban laboratory to trial new autonomous vehicle technology. This test environment stems from an initiative it took forward with the Automotive Council to develop a Low Carbon Urban Transport Zone (LUTZ). This demonstration environment has enabled the council's partners to explore the use of autonomous 'pods' that share pavements with pedestrians and cyclists.
The LUTZ pathfinder project is a collaboration between Milton Keynes Council, the Transport Systems Catapult, Oxford University's Mobile Robotics Group and RDM (pod manufacturer).
Driverless cars
Milton Keynes is the lead host city for an impressive consortium promoting the advancement of autonomous vehicle operation. Within the next three years Milton Keynes will deploy a fleet of autonomous pods on its pedestrian network to demonstrate their capabilities as a short-range (last mile) public transport system.
The consortium will also introduce passenger cars on the roads of Milton Keynes. Backed up by a comprehensive research and dissemination programme, the UK Autodrive project is set to advance the UK's capabilities in this field.
MK Smart
The council is working with the Milton Keynes based Open University, and is deploying its MK Smart programme to create an open data hub supporting the information needs of its residents, visitors and businesses. The MK Smart programme, which has a focus on transport, will create a MK Motion map platform, taking real-time data feeds and giving access to users throughout the city. This is seen as breaking down barriers for travel for individuals and business.
Brian Matthews is head of transport innovation at Milton Keynes Council