Is the long struggle over - has BRT really come of age?
David Eve, BRT specialist at consultants Parsons Brinckerhoff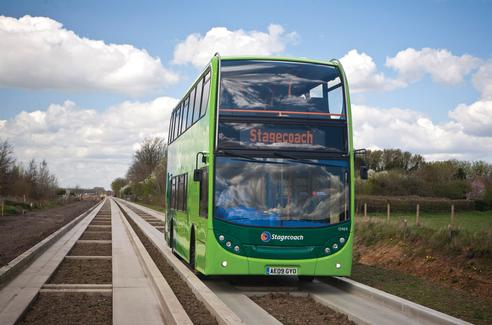 Forty-two years may seem like a long time – but for a totally new concept in transportation to become accepted and proven over that time on a variety of major schemes across the UK is really quite remarkable.
While the real boom in BRT schemes has occurred over the last few years, the first to be launched was in Runcorn, near Liverpool, in 1971. Pioneering in its time, the Runcorn Busway was a very clever idea; a completely segregated bus system running on its own dedicated roads, circulating 22km around a dense urban district, with an elevated section into a shopping area at its intersection.
Although there is still some debate over exactly what qualifies as BRT – one of its great strengths being that it is not easily definable because it is such a flexible mode of transport – it is generally accepted that there are now 11 operational BRT schemes in the UK. The two most advanced ones opened relatively recently: Cambridgeshire Guided Busway last year and Transport for South Hampshire's Eclipse service, which was launched in April this year.
In addition, there are a further 14 currently in the pipeline waiting to be built or being built. These include the Leigh-Salford-Manchester and Luton to Dunstable BRT schemes, along with the ambitious Bristol BRT programme that will ultimately transform the city with three separate schemes.
These are certainly exciting times for those of us involved in developing this form of transit in the UK. We now really do seem to be 'pushing against an open door', with BRT schemes genuinely being accepted as a viable high-quality economic transport option for urban environments.
So what defines a good BRT?
Clearly it has to occupy a transport corridor or corridors along which people want to be transported and, ideally, it needs to be integrated with other modes of transport, such as heavy rail.
But assuming the need is there, speed is a good starting point; it's the 'rapid' in BRT. Journey times for riders need to be favourably comparable to other modes of transport and the scheme also needs to be reliable and offer a regular frequency of service.
As each new BRT is opened the bar continually seems to rise. In terms of comfort, for example, the recently launched Eclipse service even provides live news and travel updates via on-board 'infotainment' screens, keeping passengers up to date with train and ferry departure information, allowing them to plan their onward journey. The service also provides a first class-style travel environment with exceptional levels of comfort including leather seats, wi-fi connections, charging sockets, wood panel flooring, and so on.
Perhaps one of the most critical areas that defines a good BRT scheme is the all-important 'branding' of the system. It is critical that the quality of service differentiates the BRT from a conventional bus system – it's all about attracting people who would never normally use buses, offering people an attractive alternative and getting them to change their travel behaviours.
You only have to look at the park-and-ride sites along the Cambridgeshire Guided Busway route to see the number of brand new Audis, Mercedes and BMWs and realise that this is working in practice. The riders are making a conscious decision to use public transport and the key driver, beyond providing an effective service, is brand – which comes out of reliability, comfort, ride quality, clarity of real-time service information, and so on.
Lastly, effective BRT schemes need to integrate holistically with land use planning along their routes to ensure that they make the right links between demand and the transport hubs, including that all important 'last-mile'. Combined with cycle hubs, BRT can form part of a true door-to-door transport solution. Affecting land use change and encouraging development can greatly assist economic growth along BRT corridors.
So is it all plain sailing now – or do we still face challenges?
In reality, it is getting a lot easier to sell the concept of BRT. Perception has always been the main challenge or obstacle to be overcome. Although it's changing now, politicians and policy leaders, whose support is always critical, need evidence of anticipated success before they can make decisions. They tend to rely on cost benefit ratios and detailed usage analysis – the type of data that has only started to be available in the last five to 10 years with the increase in performance statistics from successful schemes both in the UK and overseas.
For example, on the successful Nantes Busway in western France they have now experienced very positive economic regeneration along the BRT corridor in exactly the same way they have with tram routes – they just didn't expect it  – and as a result they have been able to increase business rates along the corridor. It has been a similar story in Rouen.
Kent Fastrack is another example. This has been operating since 1996 and is supporting the long-term regeneration of the Kent Thameside growth area by providing a public transport system that acts as both an enabler and catalyst for growth. So successful has this service been that it has already drawn patronage from beyond its anticipated catchment, which has allowed the routes to be extended – with very evident increases in property prices along the transit corridors.
Sharing best practice and learning from successful schemes has always been an objective of the BRT sector. Indeed Cambridgeshire County Council is currently carrying out in-depth passenger surveys to analyse its ridership demographic and catchment area, amongst other things. The results of this analysis will be shared with the industry at the upcoming BRTuk conference in Southampton and I've no doubt they will ultimately benefit the development of future BRT schemes.
Additionally, developing BRT schemes on the ambitious scale of cities such as Manchester and Bristol requires strong political will. In Manchester, for example, while the city has an extensive new tram system with new lines running out of the city to the suburbs and the airport, it is aiming to complement the region's tram and heavy rail ambitions with two ambitious BRT schemes that will penetrate right into the city centre, including a guided busway between Leigh and Salford. This must inevitably have an impact on car users in the city, who will ultimately be strongly encouraged to change their travel behaviours and convert to public transport – but hopefully by the evidence of a system that offers them a real alternative.
So how might BRT develop in the UK?
There are undoubtedly many opportunities to develop new BRT schemes along short high-demand corridors, moving high volumes of people short distances between two places. This demand can also manifest strategically, with respect to connecting deprived areas to education, jobs and healthcare. Whereas, in a lot of situations, the economics for constructing trams in these locations does not stand up to scrutiny, or available budgets, BRT provides a cost-effective solution that can prove economically viable and, indeed, provide economic regeneration and social mobility. Additionally, there are obvious benefits of linking BRTs with high-capacity hubs like airports and large railway stations, which are often still a distance from city centres, and with known commuter corridors not already served by rail. As an example, Madrid has very successfully introduced a BRT system from Las Rozas, a suburban village that supplies a workforce for the city centre. Using HOV lanes on the motorway to ensure reliability of service,  it enjoys its own dedicated corridor and penetrates right into the city centre with no delays. This also provides the benefit of removing a significant amount of traffic from the busy radial motorway. One of the critical factors for potential BRTs is funding. Manchester, for example, is funding its BRT programme off the back of the earnings from its very successful Metrolink system - so the success of the tram is essentially paying for the BRT system.
One of the reasons that BRTuk is keen on undertaking research and collecting data on the real effects of putting in transit corridors – not just BRT but Light Rail Transit (LRT) as well - is that the resulting data enables project sponsors to raise capital based on those projects' future effects. It's about making an assessment of items such as the potential land value impacts – capturing the increased value and then using that to pay for a project.
On the technical front there are two main exciting potential developments coming through. The first is the introduction of 'guidance' systems – magnetic guidance systems involving the use of an on-board computer system that detects magnetic markers buried in the running surface, which then automatically directs the bus. This 'Phileas' system has been trialled by the Dutch on the Eindhoven HPT network and, whilst gaining health and safety approval for this type of system will be challenging, I believe it is likely to be a key innovation in future schemes.
The second technical development is in the power train. Manufacturers are already looking at fully electric buses where charging takes place automatically at stops through an induction loop buried in the road surface, which means there will be no physical connection between the bus and the power system.
All in all, it feels as though the pieces are now falling into place. We see BRT becoming part and parcel of the transport mix for major towns and cities around the UK, providing local authorities with a solution for linking transport demand and communities to education, employment and healthcare. The performance of newly constructed BRT systems that include the correct infrastructure elements and position their brands effectively are exceeding expectations, and thus solidifying the mode's reputation as a genuinely effective, integrated transport solution.
Discuss BRT in detail at the BRTuk annual conference on the 2 October 2012