Superloop grows as two more routes get go-ahead
01 November 2023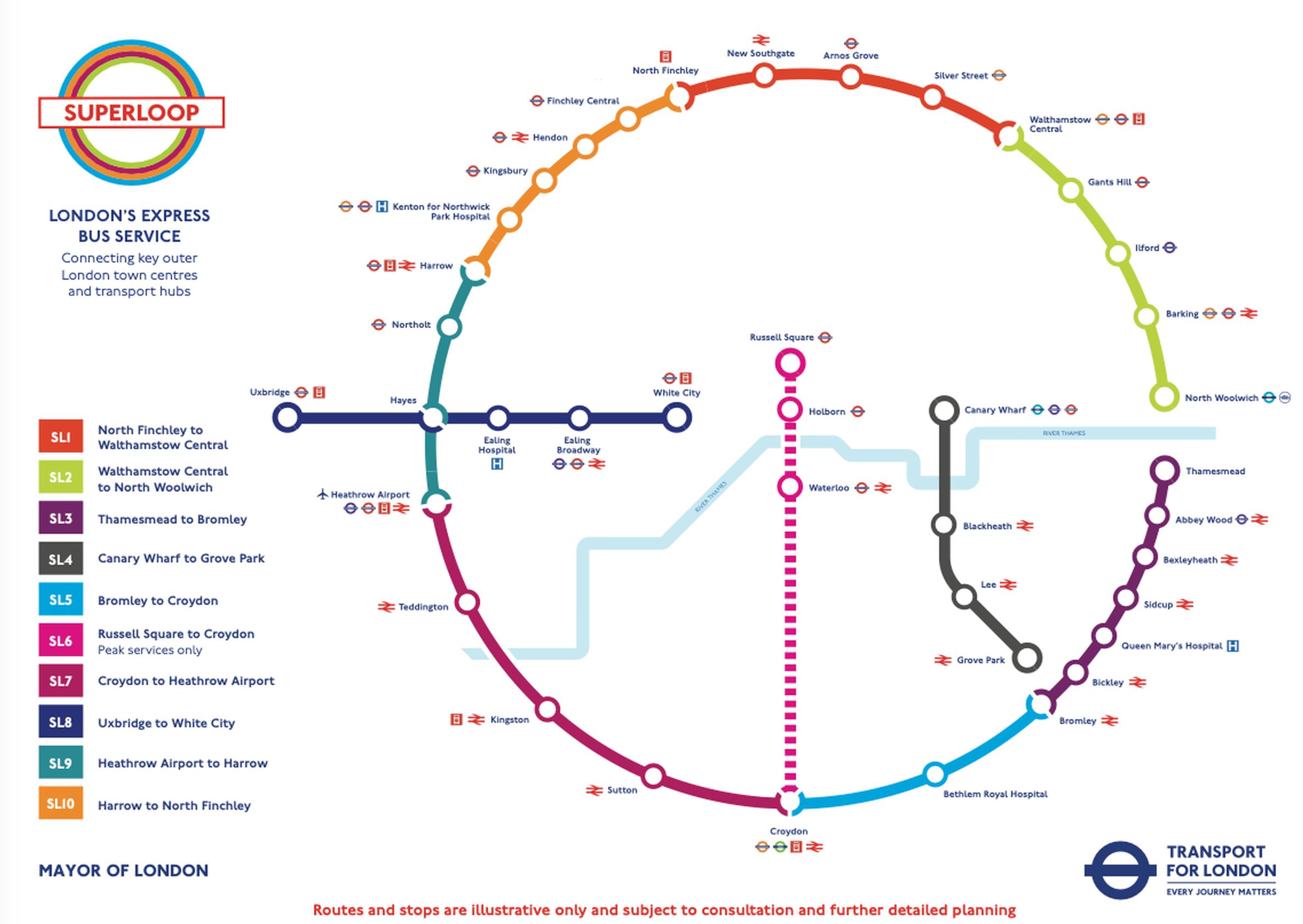 Further services are to be added to London's Superloop, the limited-stop express bus network which will eventually completely circle the capital.
Transport for London (TfL) expects much of the orbital network to be in operation by spring 2024. The services will link town centres, railway stations, hospitals and transport hubs.
The service, which is getting £6m funding from the mayor Sadiq Khan, is being introduced in stages.
The two new routes, which recently underwent public consultation, are the SL2, linking Walthamstow Central and North Woolwich, and the SL3, linking Thamesmead and Bromley. The routes are due to be in operation by spring 2024.
The first Superloop route, SL8, was launched in July 2023 and runs between Uxbridge and White City. This was followed by route SL6 between West Croydon and Russell Square, SL7 between West Croydon and Heathrow Central and SL9, offering an express service between Heathrow and Harrow.
There are currently four Superloop services in operation. The SL1 and SL10 will launch later this year. The mayor said the orbital netowrk will be complete by spring 2024, subject to consultation, with the exception of route SL4, which will start when the Silvertown tunnel opens in 2025.
The new express route, SL2, will run between Walthamstow Central and North Woolwich via Ilford and Barking as proposed in the consultation. Additional stops will be reintroduced at the A1020 junction with Armada Way near Gallion's Reach Shopping Centre in Beckton at existing bus laybys immediately south of the existing pedestrian/cycle crossing. This follows feedback for better connections around North Woolwich, Beckton and Gallions Reach.
The SL2 will run every 12 minutes Monday to Saturday and every 15 minutes on evenings and Sundays, running alongside part of 123 bus route between Walthamstow and Ilford.
The new express route SL3 will run between Thamesmead and Bromley via Sidcup as proposed and will run alongside the 301 bus route between Thamesmead and Bexleyheath, and the 269 bus route between Bexleyheath and Bromley, providing new links across these key locations and providing extra capacity on this route. The SL3 will run every 12 minutes Monday to Saturday and every 15 minutes on evenings and Sundays.
TfL said that feedback from both consultations showed strong support for the Superloop, with 63% of respondents saying the new SL2 express bus service would make their journey more convenient, while 67% of respondents felt the SL3 would do the same. Similarly, 69% said that the SL2 would make journeys quicker, while 70% said that the SL3 would improve journey times.
The mayor and TfL have committed to creating a bus network where more than 95% of Londoners live within 400 metres of a bus stop.
Sadiq Khan said: "The Superloop will be a gamechanger for travel around outer London, delivering quicker links to transport hubs, town centres, schools and hospitals.
"It was great to see Londoners showing their support for these new routes through the consultation and sharing my excitement about the benefits these new services will bring by providing Londoners with more alternatives to private car use, and helping us to build a better, greener London for everyone."