New strategy needed to re-green towns and cities, says Create Streets report
07 October 2023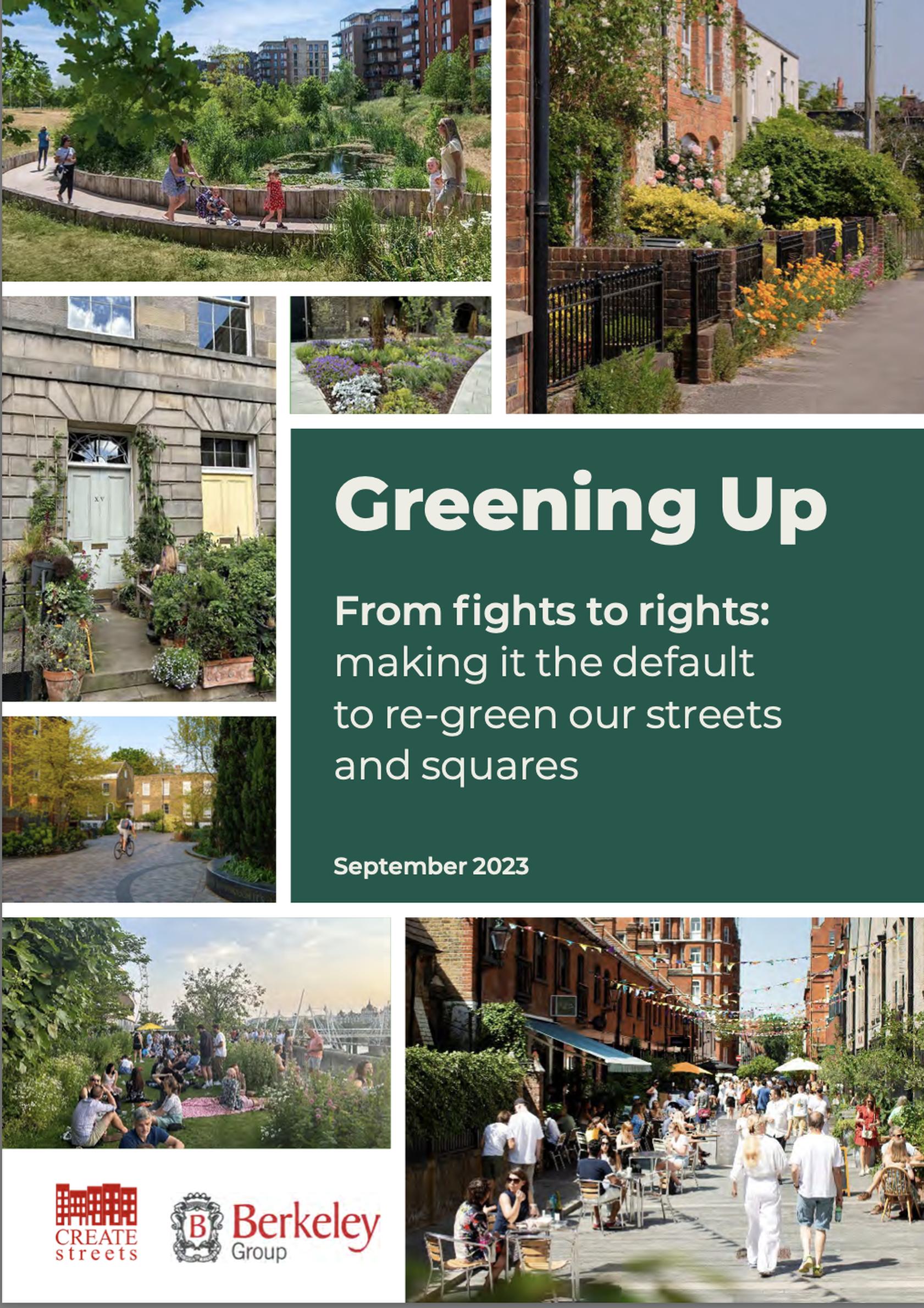 Levels of urban greenery in the UK are declining, with new places less green than old places, and many councils cutting down old trees while failing to plant new ones, reveals a new report by campaign group Create Streets.
Access to greenery needs levelling-up, states the report, noting that the ten most prosperous places in the UK have 25% tree canopy cover while the ten least prosperous have 15%.
Between 2001 and 2018 urban greenspace in England declined from 63% of the urban area to 55%, says the report.
Recently created neighbourhoods have up to 40% less greenery than late nineteenth and early twentieth century neighbourhoods.
Create Streets' project, funded by property developer Berkeley Group, involved an extensive literature review and new primary research.
The report offers detailed policy recommendations including:
The prime minister Rishi Sunak should declare a National Mission to re-green all towns and cities
The secretary of state for levelling up Michael Gove should launch an Urban Greening Task Force to co-ordinate Government budgets and targets
All parts of Government, particularly local authorities, need a clear framework for appraising the value of urban greenery
Green parking should be made the norm by simplifying the Traffic Regulation Order process to allow buildouts for planting to be interspersed between parking spots and by streamlining permissions and providing capital funding for green roofs on multi- storey car parks
Individuals and local communities the legal right to plant in existing public green spaces in their neighbourhoods
Provide more and better funding by making current urban greening funds less bureaucratic and better aligned to the needs of deprived communities. Identify alternative funding pots for urban greenery such as ringfencing parking and Penalty Charge Notices
Explore new funding mechanisms to provide protected income for maintenance and stewardship, such as permanent trust structures or charitable status
Demystify the costs of installing and maintaining urban greenery by developing standardised costs for community groups and councils planning greening schemes
Appoint 'Chiefs of Urban Greening' at national and local level, to champion urban greening , and recruit, train and develop more urban green professionals
Jon Burke, climate change and decarbonisation lead at Gloucester City Council, said: "Create Streets' Greening Up report is essential reading for any policymaker with an interest in the enormous power of green infrastructure to address the 21st Century urban challenges of heatwaves, surface water flooding, and biodiversity collapse, while improving people's physical and mental wellbeing, supporting 'store-front' businesses, and even eliminating crime."
Greening Up - From fights to rights: making it the default to re-green our streets and squares