Smaller electric vehicles urged to support urban sustainability
05 October 2023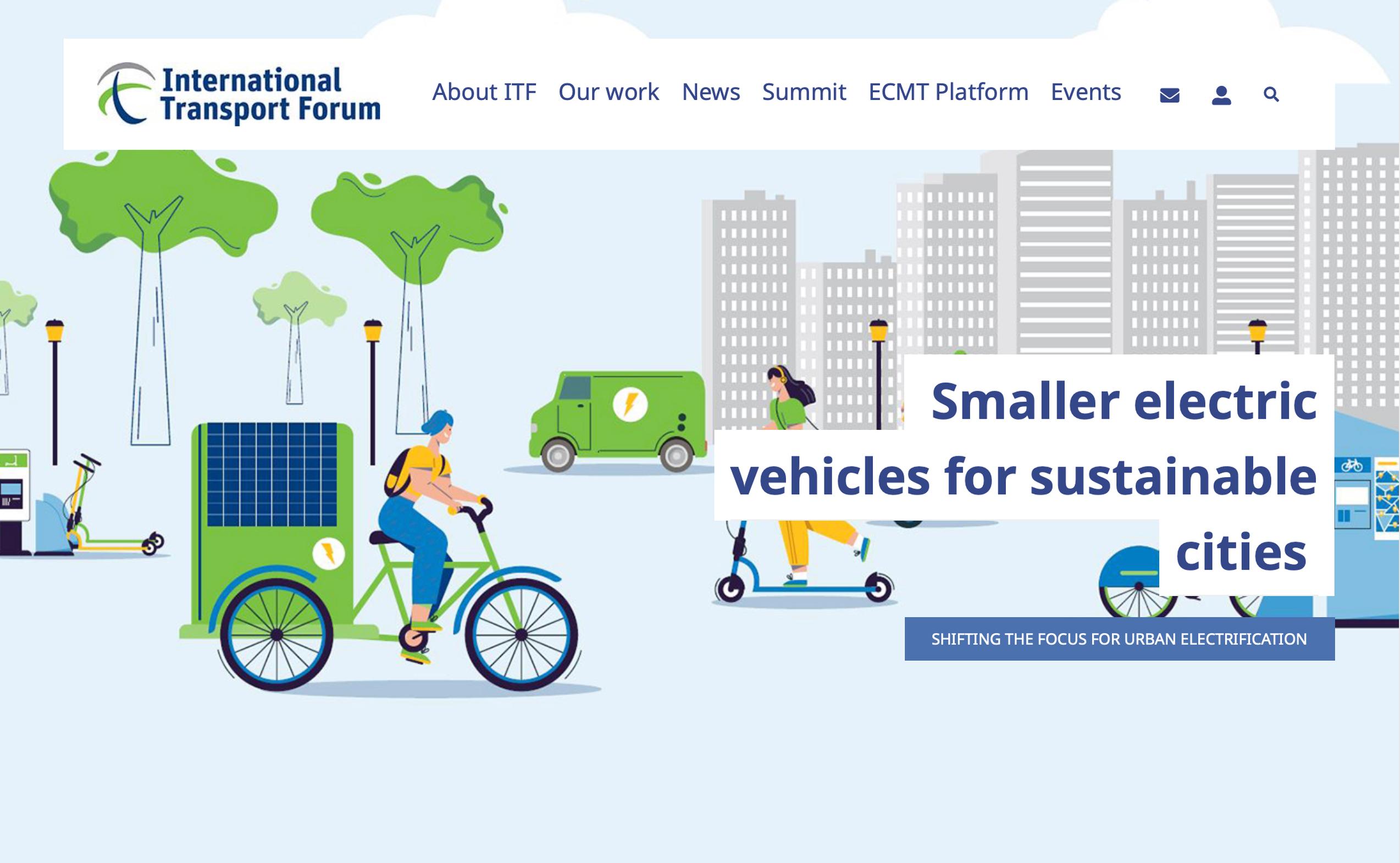 Both passenger and freight electric vehicle markets around the world are showing an emerging uptake of smaller, lighter and shorter-ranged vehicle types specially designed for urban areas, which provides an opportunity for more sustainable and electric urban mobility systems says a new report by The International Transport Forum.
It says this change could bring comparatively lower electricity and charging infrastructure demand and battery materials needs, lower emissions and safer city streets. This report identifies the main use cases that could be part of such a broader and sustainable EV uptake.
It gives recommendations on how authorities could leverage the passenger and freight EV transition for more sustainable cities.
The report explores urban EV use cases: electric "car-like" light vehicles, including micro cars and micro EVs; two- and three-wheelers; shared electric mobility, including shared vehicle fleets, ridesourcing and micro-transit services; electric public transport buses; e-cargo bikes and electric light commercial vehicles.
The report compares the sustainability impacts of like- for-like replacement of internal combustion engines (ICE) with a shift to emerging smaller vehicle types and shared use cases by calculating the electricity demand, charging infrastructure needs and local pollutant and greenhouse gas (GHG) emissions for low, medium, and high levels of electrification. The quantitative analysis uses the ITF urban agent-based model developed for the Greater Dublin area, which is used to simulate vehicle use and charging patterns.
Modelling results show that the broader uptake pathway delivers more sustainability benefits than the like-for-like pathway with vehicles requiring one-third less street space, one-third less battery capacity (and battery materials) and one-third fewer charging points . Electricity use would be 15% lower.
A broader EV uptake can also deliver safer streets when supported by segregated infrastructure and regulated street access, use and speeds the report says.
Under the high electrification ambition scenario, the modelling results show that by 2030, CO2 and local pollutants tailpipe emissions will be 65% lower
for passenger transport and 10% lower for freight transport than in a low ambition like-for-like scenario.
ITF recommends a shift in focus of policies that promote electric vehicles to end the dependency on large, under- used vehicles, reducing the dependency on large vehicles and maximising the use of vehicle capacity. For instance, authorities should support urban goods deliveries that use electric cargo bikes and electric light commercial vehicles with high load factors for low-carbon, multimodal city logistics.
Support schemes should be differentiated by vehicle size and weight to counter the ongoing increase in vehicle size. Standards for fuel economy or vehicle weight could also be used., with differential road use and parking charging regimes. Authorities should support the creation of break-bulk centres - centres that allow loads to be shifted from larger vehicles to smaller ones and parking spaces for electric cargo bikes to make urban logistics more sustainable. Support could be funded via road and parking charges for legacy vehicles and "feebates" that impose surcharges on the purchase of polluting vehicles to subsidise buyers of electric cars.
ITF is holding an "Ask the Author" webinar at 14:30 CET on 31 October.
https://www.itf-oecd.org/shifting-focus-smaller-electric-vehicles