Coventry on track to become UK's first all-electric bus city
05 October 2023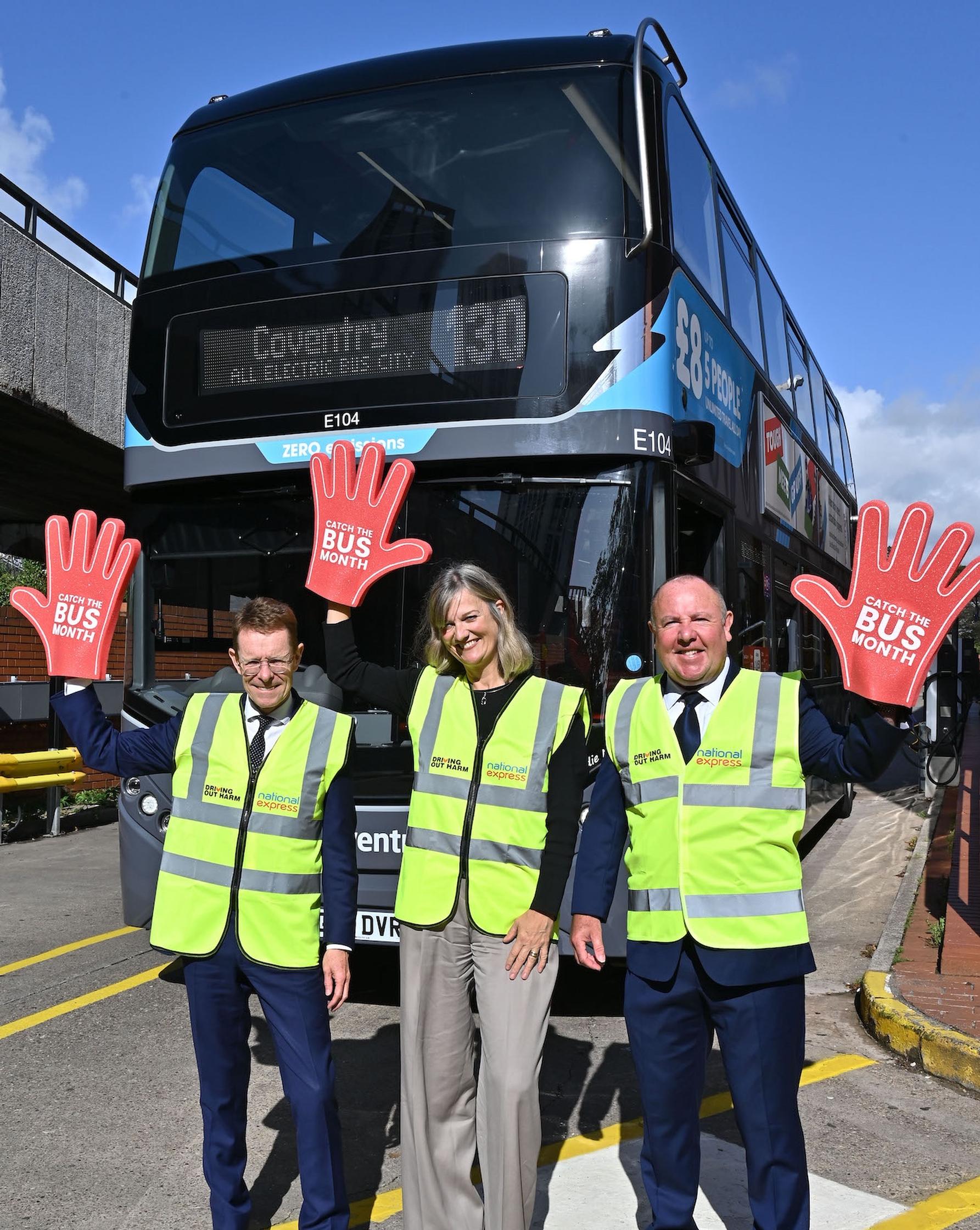 A fleet of 130 double-decker electric buses are now in operation in Coventry, with 80% of the city's fleet now zero-emission. This marks the next stage in a £140m project that will see Coventry become the UK's first all-electric bus city by 2025.
The project has been funded by a combination of Government funding and investment from bus operator National Express. In 2021 Transport for West Midlands (TfWM), which is part of the West Midlands Combined Authority (WMCA), secured £50m funding from the DfT to ensure every bus in Coventry is zero-emission. National Express is investing £90m in the project.
Funding was also used to replace the city's bus fleet with zero-emission electric buses along with charging infrastructure.
EV fleet and battery storage specialist Zenob? is providing Electric-Transport-as-a-Service (ETaaS) to National Express Coventry, which it describes as an "end-to-end electrification solution". This includes on-board replacement batteries, the charging and grid infrastructure system at the depot, with rapid chargers, and a software platform which helps monitor and optimise energy use, as well as parts and operational support.
The buses produce zero carbon emissions at the tailpipe. They are powered by renewable 'green' energy via solar panels, a second-life battery and charge-point infrastructure, all installed at National Express Coventry's bus depot by electrification specialist Zenob?. The electric buses take four hours to charge and can run for up to 175 miles depending on the time of year, said National Express.
The new instalment of 130 buses are in addition to 10 fully electric double-decker buses introduced by National Express Coventry in 2020, supported by £2.2m of Government funding from the Ultra-Low Emission Bus Scheme.
National Express said its Coventry's electric buses have operated over 2.5 million miles since their introduction in August 2020, saving 4,000 tonnes of carbon dioxide.
Jim O'Boyle, cabinet member for jobs, regeneration and climate change, said: "This is a significant step towards the decarbonisation of the city's transport network, building on the council's investment in a public chargepoint network, and our investment in new cycle routes.
"I've used the new electric buses and they're very smart, comfortable to ride on, and, most importantly, are good for our environment."
Alex Jensen, CEO National Express UK & Germany, said: "We're incredibly proud to play our part in making Coventry the UK's first All-Electric Bus City. By working together with our partners at TfWM, Coventry City Council and Zenob? we have made great progress in creating a greener and more efficient public transport system for our customers.
"As we have some of the cheapest ticket fares in England, alongside flexible ticketing, our customers can have the confidence that they are doing their bit for the planet when they ditch the car and travel by bus."
The electric bus fleet for Coventry is one part of TfWM's plans, with new rail, bus, tram and cycle routes being developed and new technology introduced to support the West Midlands in achieving its target of becoming a net-zero carbon region by 2041.
As part of the West Midlands Bus Alliance, National Express Coventry, Stagecoach and other bus operators work with TfWM, Coventry City Council and Warwickshire County Council, with the aim of providing "reliable, affordable and green bus services to residents and visitors across the city".