Special Report: Government unveils manifesto for motorists
Plan for Drivers pledges crackdown on LTNs, bus lanes and '15-minute cities'
04 October 2023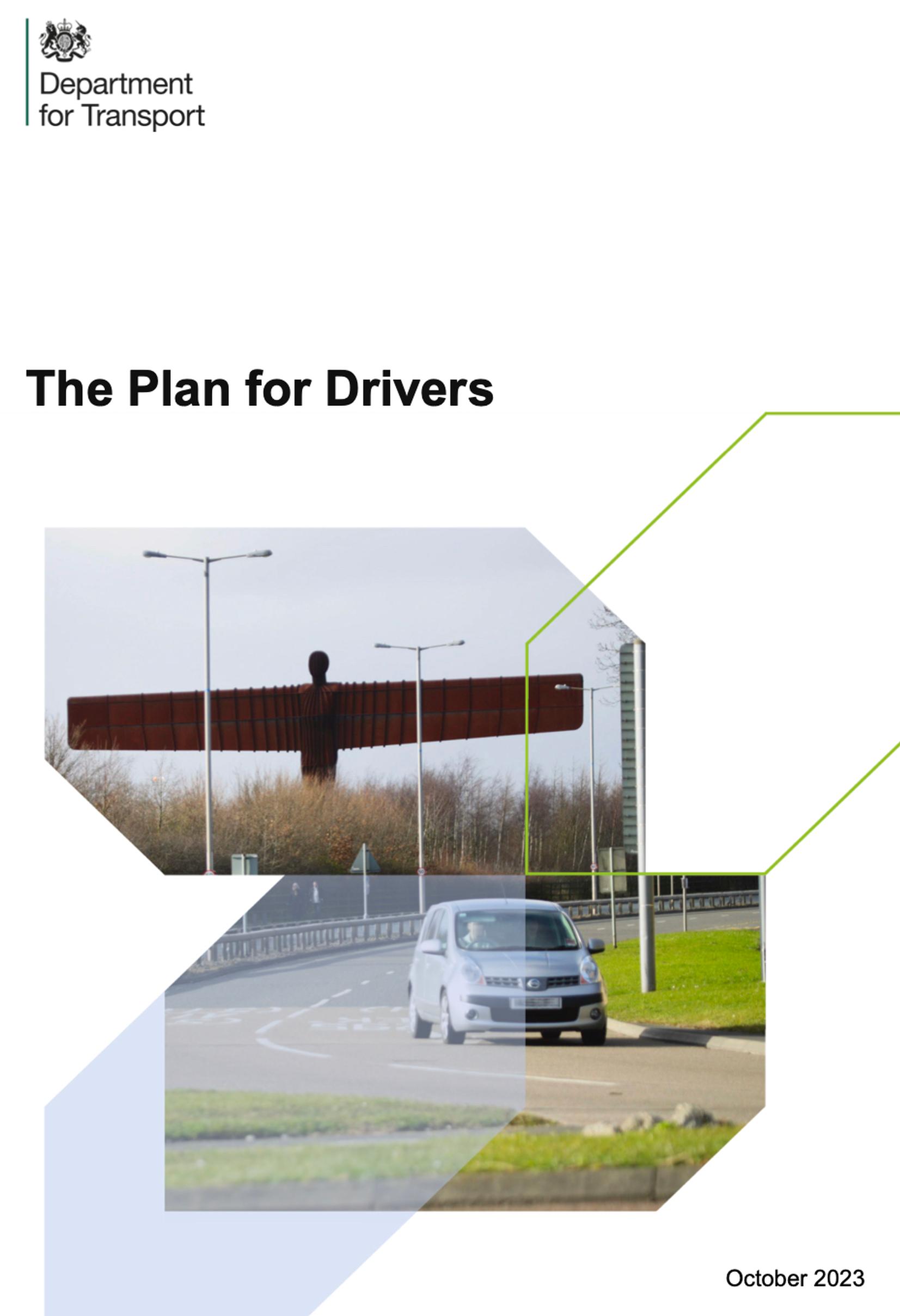 On the first day of the Conservative Party Conference, the Government published its Plan for Drivers. Based on feedback from the Motorists Forum and research by AA, RAC and Transport Focus, the report sets out drivers' top concerns. These include the cost of motoring, how easy it is to get around, staying safe while doing so, and the impact inconsiderate drivers have on their journeys.
The Plan addresses the following:
Smoother journeys
Stopping unfair enforcement
Easier parking
Cracking down on inconsiderate driving
Helping the transition to zero emission driving.
Echoing comments made by prime minister Rishi Sunak last month, the report confirms that Low Traffic Neighbourhoods (LTNs) will be reviewed. This will "ensure that they are deployed fairly and with local support, and we have withdrawn Covid-19-era guidance, which referenced LTNs as one measure local authorities should consider".
It also pledges to crack down on so-called '15-minute cities', stating that they feature "excessive traffic restrictions and even permits to ration car use, do not offer transport choice and have failed to secure the support of local people and businesses".
The Government said it will consider "legislative changes" to stop 15-minute cities being introduced, such as no longer allowing councils to access DVLA data, stopping them from enforcing the schemes with cameras.
Guidance with be "strengthened" to limit the use of bus lanes, states the report. "For example, bus lanes should only operate when bus services are running, or when traffic flows are heavy enough to delay buses."
Technical advice will be reviewed to ensure bus lanes are open to motorcycles, with a consultation to be launched on motorcycles using bus lanes as a default.
Improving roads

Under the 'smoother journeys' heading, maintenance will be stepped up, says the report. "We know that potholes are the bane of many drivers' lives, and we are determined to tackle them."
The Government says it is investing more than £5bn from 2020/21 to 2024/25 to maintain local road networks, with an extra £200m announced at the Budget in March 2023. "This funding is enabling councils up and down the country to fill millions of potholes, repair dozens of bridges and resurface roads."
This forms part of the £24bn Strategic Road Network (our motorways and major 'A' roads) over the period 2020 to 2025 through the delivery of the second Road Investment Strategy (RIS2).
"We have already invested over £2bn in the first three years of RIS2 in renewals of the network such as resurfacing and addressing ageing concrete issues in our road infrastructure."
More is being done to clamp down on utility companies leaving poor quality resurfacing repairs behind after carrying out street works, says the report.
The Government said its Street Manager digital service has been in use by every utility firm and council since 2020, and is "helping to coordinate over 2 million works that take place in England each year". Since April 2023, new rules have been in force to clamp down on utility, says the report.
"The new performance-based inspection regime is already helping to ensure utility companies resurface roads to the best possible standard after street works, potentially preventing thousands of potholes from developing in the future."
In a bid to improve safety, road recovery operators will be allowed to use rear-facing red flashing lamps.
It will be made "easier and quicker" for councils to set up Lane Rental schemes, says the report. It will consult on requiring councils to use at least 50% of any surplus funds on pothole repair.
The Government will also consult on closing the loophole that means over-running street works at weekends does not attract fines and increasing fixed penalty notices to utility companies.
Environmentally friendly ways of managing and maintaining local highway networks in different parts of the country are being explored as part of the £30m 'Live Labs' pilot, the report points out.
Traffic control systems will be updated to "manage flow intelligently, reduce queuing, reduce the time drivers spend at red lights and generally speed up journeys". Currently, around half of England's traffic signals are working below optimal performance, the report estimates.
The Government said it will give councils £30m to replace unreliable and obsolete equipment and create a £20m 'Green Light Fund' for tuning up traffic signals to better reflect current traffic conditions.
Another £20m will be deployed for advanced technology for traffic signals, making use of machine learning and AI to optimise traffic flow and balance traffic across city centres.
Re-think needed on 'blanket use' of 20mph limits and yellow box enforcement
The guidance for implementing 20mph speed limits are needed to "prevent inappropriate blanket use", states the Plan for Drivers. Over-use risks "undermining public acceptance", so 20mph zones should be considered on a road-by-road basis to ensure local consent, says the Plan.
"Where there are rules, there must be enforcement, but we need to balance an enforcement regime that cracks down on dangerous driving practices while also, at its heart, trusting responsible drivers," says the report.
Some drivers are concerned that local authorities use penalty charge notices (PCNs) "far too liberally", not to make our roads safer and easier to navigate, but simply to raise revenue, according to the report.
In London alone, more than 7 million PCNs were issued in the year ending March 2022, an increase of 41.3% on the year before and 21.4% on the last pre-pandemic year of 2019 to 2020, it points out. "A significant proportion of these PCNs were related to LTNs and school streets. Just under half (42.8%) of these London PCNs were successfully appealed, despite the difficulty some drivers face in making those appeals."
It is clear many local authorities could use more discretion, says the Plan. "Issuing fines when the high number of successful appeals indicates that many are not justified reduces trust in the way we enforce our roads."
Another area of concern is moving traffic enforcement, says the report. It cites how "too often" drivers feel that yellow box junctions are confusing, resulting in them being issued with PCNs.
The Government said it is working with the British Parking Association and other stakeholders to develop guidance on a "fair, proportionate and consistent enforcement approach for local authorities outside London using moving traffic enforcement powers for the first time, especially for yellow box junctions".
Revised statutory guidance on yellow box junctions would build on the sector guidance, but would have a statutory basis and could require reviews of yellow box junctions where a disproportionate number of PCNs are issued, says the report.
A call for evidence on options might be necessary to restrict a council's ability to generate surpluses from traffic contraventions. This, suggests the report, may create an "incentive for over-zealous enforcement, in particular of yellow box junctions".
Easier and fairer parking systems to be implemented
The process of parking is to be made simpler, more user friendly and fairer, the Government has pledged in its new Plan for Drivers. Councils will not be able to raise parking charges excessively. "We will require authorities to carry out a review of their parking charges periodically," says the report. "Local authorities would be required to have regard to the guidance."
The scope of the statutory guidance, which enables the public to challenge parking policies by petitions, will also be extended. The guidance, first published in 2015, will cover bus lane and moving traffic contraventions (including yellow box junctions) and will apply it to local authorities inside and outside London.
Payment systems will be simplified under Government changes. Drivers trying to park, both on-street and in car parks, currently face a "fragmented market offering a wide variety of payment options", which makes paying for parking complex and confusing, the Plan for Drivers states.
Payment for parking has lagged behind developments in other markets and industries, says the report. "This confusion is leading to drivers facing penalties, with a quarter of UK drivers having been given a parking fine from a private parking company."
But work is underway to develop a nationwide payment platform which will "join hundreds of parking providers into a single, user-friendly system", according to the report.
Since 2021, the DfT has funded a pilot called the National Parking Platform (NPP). This provides a hub linking together parking sites with multiple parking apps, allowing drivers paying for parking to use their choice of app, "rather than whatever app the council has signed an exclusive contract with".
Development work will start now on a nationwide platform, due to be delivered next year, says the report. "This will end the need for drivers to carry a phone full of parking apps just to park. It will also create an open market that encourages innovation, competition and customer service; and automate processes to reduce burdens on local authorities."
The data gathered by the NPP has the potential to "greatly improve our understanding of parking in real-time, telling traffic managers and drivers where spaces are available", it adds.
Progress is also being made on rolling out sensors at on-street bays and council-run off-street car parks, the Government reports. By using an app, drivers will be able to find a free space immediately, pay by the minute "rather than in hour-long segments and sign up for services that stopped the meter automatically the moment they drove away".
Another Government initiative is the digitisation of traffic regulation orders. This would require councils to send legal orders they make – for example, to set speed limits, close roads and designate parking bays – to a central publication platform. The data could then be used to create a digital map of the road network, providing information to drivers – such as location and availability of parking space – and helping the safe operation of self-driving vehicles, the report says. The Government said it will "legislate for this when Parliamentary time allows".
New measures to tackle inconsiderate drivers
A CCTV enforcement trial by National Highways to tackle those who leave litter on the strategic road network is to be expanded, the Government has announced. It is also to issue guidance to councils setting out minimum requirements and best practice for the use of noise cameras, sharing the findings of recent trials of this equipment.
The Government says it has conducted research into the use of noise camera technology and aims to provide recommendations on a noise enforcement limit and deployment guidance.
Surveys have revealed that drivers are concerned by the use of handheld mobile phones at the wheel and aggression on the part of other road users, says the report. "There is widespread support among drivers for tougher enforcement against those who endanger others."
Issues causing concern among drivers include: drivers braking suddenly to scare the person behind them; tailgating; not pulling over for emergency vehicles (44%); overtaking then going slowly; people throwing rubbish out of their window; people using offensive hand gestures; middle lane hogging; parking in a disabled bay when they are not disabled.
Through the Safer Roads Fund, the Government says it has invested £100m since April 2017 in improving the top 50 most high-risk roads in England. In April 2023, it says it added a further £47.5m to the fund bringing the total number of roads being improved to 83.
The Government says it plans to remove the existing right for uninsured drivers to claim property damage from the Motor Insurers' Bureau if they are involved in a crash with another uninsured or untraced driver. "This would remove a right put in place due to EU law, that those committing a criminal offence have the benefit of and that is unfair to the majority of law-abiding drivers," says the report.
In a bid to encourage considerate motorway driving, National Highways will run a marketing campaign to educate road users on how to use all areas of the network, including smart motorways, lane hogging and tailgating.
Making the transition to zero emission driving
In the Plan for Drivers, the Government underlines its commitment to "charting the fairest path to reach net zero, while meeting our climate change obligations".
This will involve reviewing the grid connections process for EV chargepoints, with the aim of accelerating it. The Government says it will consult on measures to speed up the approvals process for installation of chargepoints, and will provide dedicated, targeted support for schools to install chargepoints, using existing grants.
It has also pledged to widen eligibility of EV chargepoint grants to include cross-pavement solutions, to make EV ownership a more practical option for those without off-street parking.
The Government says it is continuing to support those in rented accommodation, flats and multi-occupancy buildings, as well as landlords, to install chargepoints through its Electric Vehicle Chargepoint and Infrastructure Grant. Small or medium sized enterprises and public sector organisations will also be supported through the Workplace Charging Scheme.
The number of plug-in vehicles in the UK has risen to over 1.2 million, of which over 770,000 are fully battery-electric, meaning more and more drivers are making the switch, says the report.
"To help drivers and businesses make the transition, plug-in vehicle grants continue to be available for harder to transition vehicles. Grants remain available for taxis, motorcycles, vans, trucks and wheelchair accessible vehicles."
The network of public chargepoints to support zero emission vehicles is growing rapidly, with over 48,100 available in September 2023 – a huge 43% increase since September 2022, says the Government. "This is in addition to the hundreds of thousands of chargepoints in homes and workplaces, with over 400,000 supported by the government to date. In total, the government has already spent over £2bn supporting the transition to zero emission vehicles."
In March 2023, the Government announced over £380m of funding for local authorities across England through the Local Electric Vehicle Infrastructure Fund. "This will deliver tens of thousands of local chargepoints and transform the availability of charging for drivers without off-street parking," says the report.