Tower Hamlets Liveable Streets to be removed
21 September 2023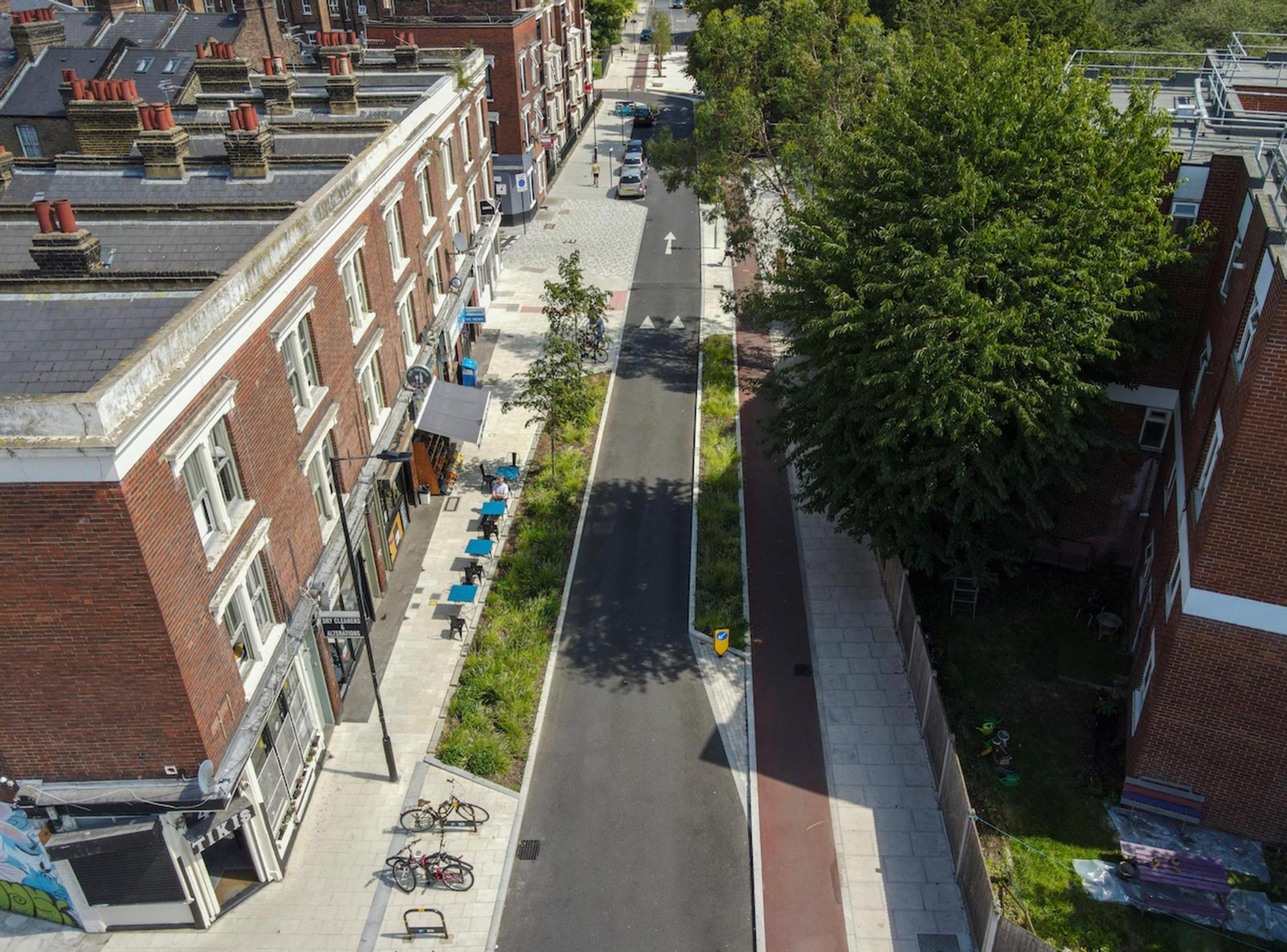 Mayor of Tower Hamlets Lutfur Rahman has decided to remove most of the road closures introduced as part of the borough's Liveable Streets programme.
Removal of modal filters was among his manifesto pledges before his election in May 2022.
His Aspire party won a majority, replacing the Tower Hamlet's Labour administration, which had introduced the Liveable Streets to tackle congestion and air pollution and to encourage more residents to cycle, walk and use public transport.
At a cabinet meeting on 20 September, Rahman decided to scrap Liveable Streets schemes on Old Bethnal Green Road, Columbia Road and Arnold Circus, removing road closures and making one-way sections two-way again. He said Liveable Streets had "proved controversial, pitting residents against each other" and Tower Hamlets Council would seek "less divisive ways to achieve cleaner air".
The council plans to invest £6m in measures to improve air quality, "including building more infrastructure to enhance public spaces and encourage walking and cycling, including planting more trees."
Removing the road closures will cost £2.5m, though the funding needed for this has not yet been secured, the council said. There is currently no capital funding for the Liveable Streets programme within the council's approved capital programme. So, to remove the Liveable Streets schemes "the capital governance process will need to be completed to secure funding".
The council's chief finance officer suggests that costs could be covered by the Parking Control reserve. "Unallocated funds forecast to the end of 2026/27 are sufficient to meet this cost," it estimates.
Emergency and some council services have been split about the use of Low Traffic Neighbourhoods (LTNs), "for example London Ambulance Service opposes hard physical closures", said the council.
School Streets to stay
At the cabinet meeting, Rahman pointed out that improvements made to accessible walking routes and pedestrian space will be retained, along with the 33 School Streets.
He said the road closure on Canrobert Street will be retained, adding he had already decided to keep the bus gate restriction in Wapping due to "exceptional support" in a consultation last autumn.
The mayor said that though he had pledged to remove the Liveable Streets, he launched the consultation to discover the views of Tower Hamlets residents in the areas with schemes.
The consultation received more than 4,300 responses, with over 1,800 from respondents within the scheme areas.
In the Old Bethnal Green Road area, 41% (332) of residents from within the area supported removal while 59% (442) supported retention.
For the Arnold Circus and Colombia Road areas, 42% (332) of residents from within the area supported removal and 58% (454) supported retention.
The Liveable Streets scheme for Old Bethnal Green Road area was introduced as an Experimental Traffic Order (ETO) in June 2020 and was made permanent in December 2021.
The scheme for Arnold Circus and Colombia Road areas was introduced as an ETO in February 2021, amended in July 2021 and made permanent in April 2022.
The council said it will now set a timetable for when the road closures will be removed. Transport for London (TfL) has criticised the decision. It said the mayor's plan to remove existing TfL-funded improvements would waste "£880k of investment in successful road danger reduction projects".
A TfL spokesperson said: "A local consultation found that the majority of residents supported the measures. TfL will continue to withhold future funding while we work to understand the borough's policies to enable safer, cleaner and healthier streets."
Although the majority were in favour of retaining the schemes, Rahman said: "People on both sides try to skew the results of our consultation. Ultimately, I am interested in the views of Tower Hamlets residents in the affected areas.
"We need to find better solutions to improve air quality that can unite our residents and businesses. I pledge to work with our residents and businesses on new schemes that bring more people together to achieve cleaner air."
Low Traffic Neighbourhoods (LTNs) have been one of London's most contentious issues, "a one-size-fits-all solution that has divided boroughs, communities, and even political parties", said Rahman. "The repercussions have been more severe in Tower Hamlets as an inner-city borough with little space to move around.
"While LTNs improve air quality in their immediate vicinity, they push traffic down surrounding arterial roads, typically lived on by less affluent residents. They are also a barrier for families to get around in what is the most densely populated place in the country."
Emergency services
The council said it had received feedback that shows there Liveable Street schemes have had adverse impacts, including access problems for people reliant on vehicle use for services such as medical appointments, childcare and other support networks.
"Access has also been hindered for emergency access vehicles particularly around Arnold Circus and Bethnal Green," said the council. Data also shows that there has been an impact on some local bus services, and of displaced traffic on surrounding roads and streets.
The council estimates it will cost £2.5m to remove the schemes. "It is anticipated that some of this expenditure will result in new assets and therefore will be capital in nature, with the investment falling in 2023/24 and 2024/25," said the council.
Simon Munk, head of campaigns at the London Cycling Campaign, said: "The future of Tower Hamlets, London, the planet is not enabling drivers to shave 30 seconds off their journey by cutting down residential streets, or to use residential streets as an overspill for main roads. The data shows clearly that not only are these schemes popular, but broadly, they work - and could easily be tweaked to work even better.
"If we are serious about climate emissions, road danger, congestion, pollution, inactivity and other issues caused by unnecessary car use, and disproportionately impacting our poorest, we need more action, not less. The decision in Tower Hamlets risks putting cut-through driving above kids lungs and safety and certainly will cost a cash-strapped council dear, financially. We urge the council to find another, better way."