A new EV is registered every 60 seconds
Auto industry calls for chargepoint mandate to accelerate uptake
04 August 2023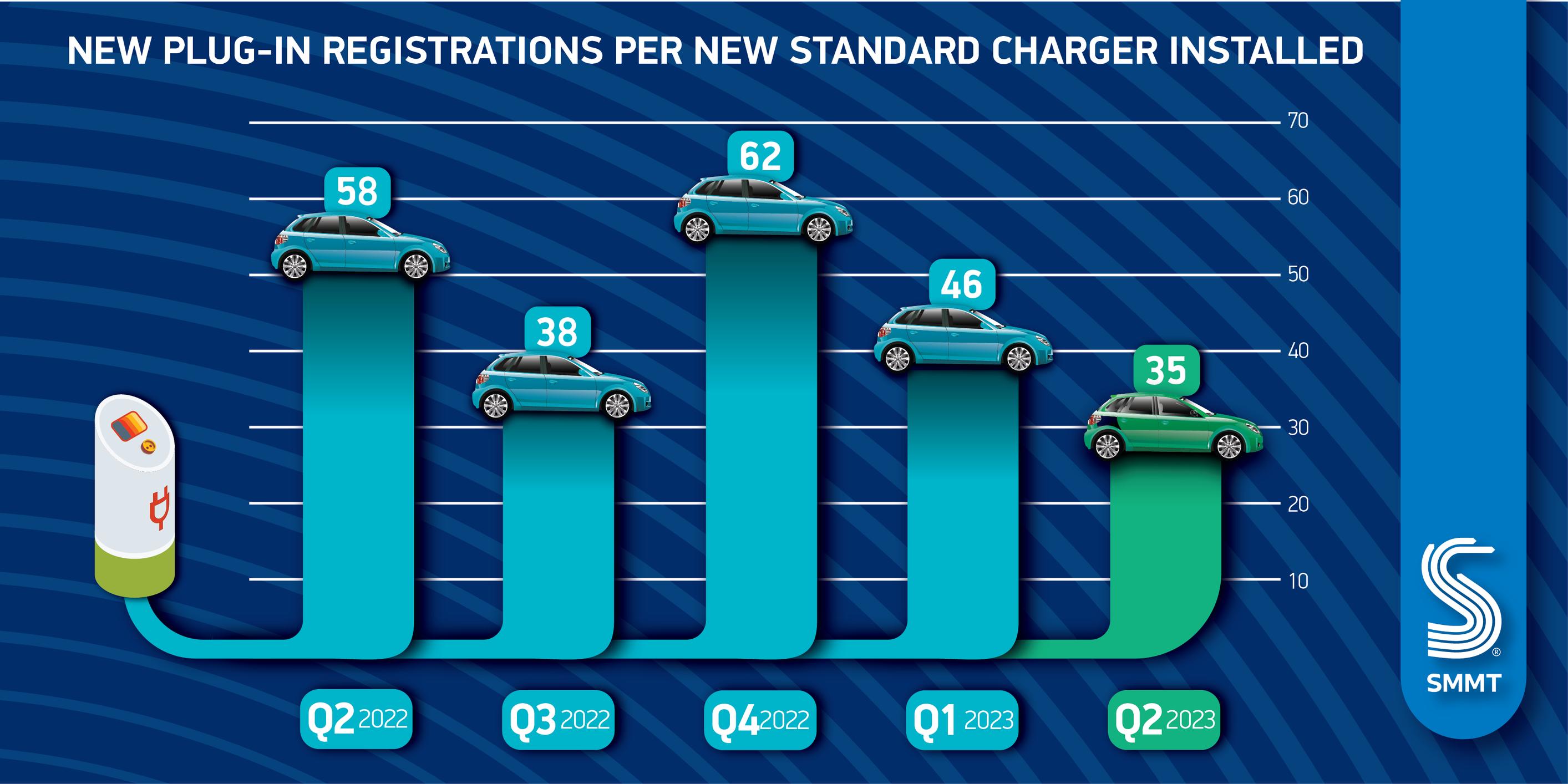 The new car market grew 28.3% in July with 143,921 new vehicles registered, according to the Society of Motor Manufacturers and Traders (SMMT). This was the best July performance since 2020, when pent-up demand for new cars was unleashed following three months of lockdown during the pandemic. However, the overall market year to date remains behind pre-pandemic levels.
Company registrations drove the growth, as uptake by large fleets increased 61.9% to 80,961 units and business registrations rose 28.7% to 2,915 new vehicles. Private demand remained stable at 60,045 units (up 0.3%).
The demand for battery electric cars was such that a new one was registered every 60 seconds in the month, the SMMF calculates.
Electrified vehicles accounted for more than a third (35.4% of the market). Hybrid (HEV) volumes grew, although their overall market share fell to 11.3%.
Plug-in hybrid (PHEV) registrations saw a significant uplift for the second month in a row as uptake rose 79.1% to account for 8.1% of the market.
The biggest increase was for battery electric vehicles (BEVs), which recorded an 87.9% increase to account for 16.0% of all new registrations for the month, a market share broadly consistent with that seen so far this year.
While the growth in electric vehicles hitting UK roads is significant, it must move even faster if it is to outpace the rest of the market and enable the UK to meet ambitious environmental targets. Mike Hawes, SMMT chief executive, said: "The industry remains committed to meeting the UK's zero-emission deadlines and continues to make the investments to get us there. Choice and innovation in the market are growing, so it's encouraging to see more people switching on to the benefits of driving electric.
"With inflation, rising costs of living and a zero-emission vehicle mandate that will dictate the market coming next year, however, consumers must be given every possible incentive to buy. Government must pull every lever, therefore, to make buying, running and, especially, charging an EV affordable and practical for every driver in every part of the country.
"To get even more consumers to make the switch, every means of support must be provided, from fiscal incentives to purchase reassurance – and, most obviously, in ensuring drivers have full confidence that they will be able to charge wherever and whenever required, sustainably and affordably.
"There were positive signs on this over the last quarter, as a record high of 3,056 new standard public chargers were installed. This was equal to one new charger for every 35 new plug-in vehicles registered, a significant improvement on the same quarter last year, when the ratio was one for every 58 cars.
"To reach the government's minimum target of 300,000 chargepoints by 2030, the installation rate must treble to almost 10,000 chargers per quarter, every quarter. The SMMT said this can only be achieved if the obstacles to installation so commonly cited – arcane planning regulations, competing pressures on local authorities and delays to grid connections – are overcome. An overarching strategy, including a chargepoint mandate, is necessary to create the reliable, accessible and affordable charging network consumers deserve."
The latest market outlook now anticipates overall new car registrations to reach 1.847 million by the end of the year, a 0.9% rise on expectations in April. Of these, BEVs are expected to take a 17.8% market share or 330,000 units, a slight decrease on April's outlook, while PHEVs are set to achieve 7.2% of the market with 134,000 units.
Looking further ahead, the outlook for 2024 has been downgraded marginally by -0.7% to 1.951 million units, reflecting wider concerns about the cost of living. BEVs are expected to achieve an overall 22.6% market share next year reaching 440,000 units. With a further 155,000 PHEVs anticipated to be registered, commanding 7.9% of the market, plug-in vehicles are likely to account for three in every 10 new cars registered in 2024.