Islington introduces UK's first multi-band parking permit scheme for EVs
15 June 2023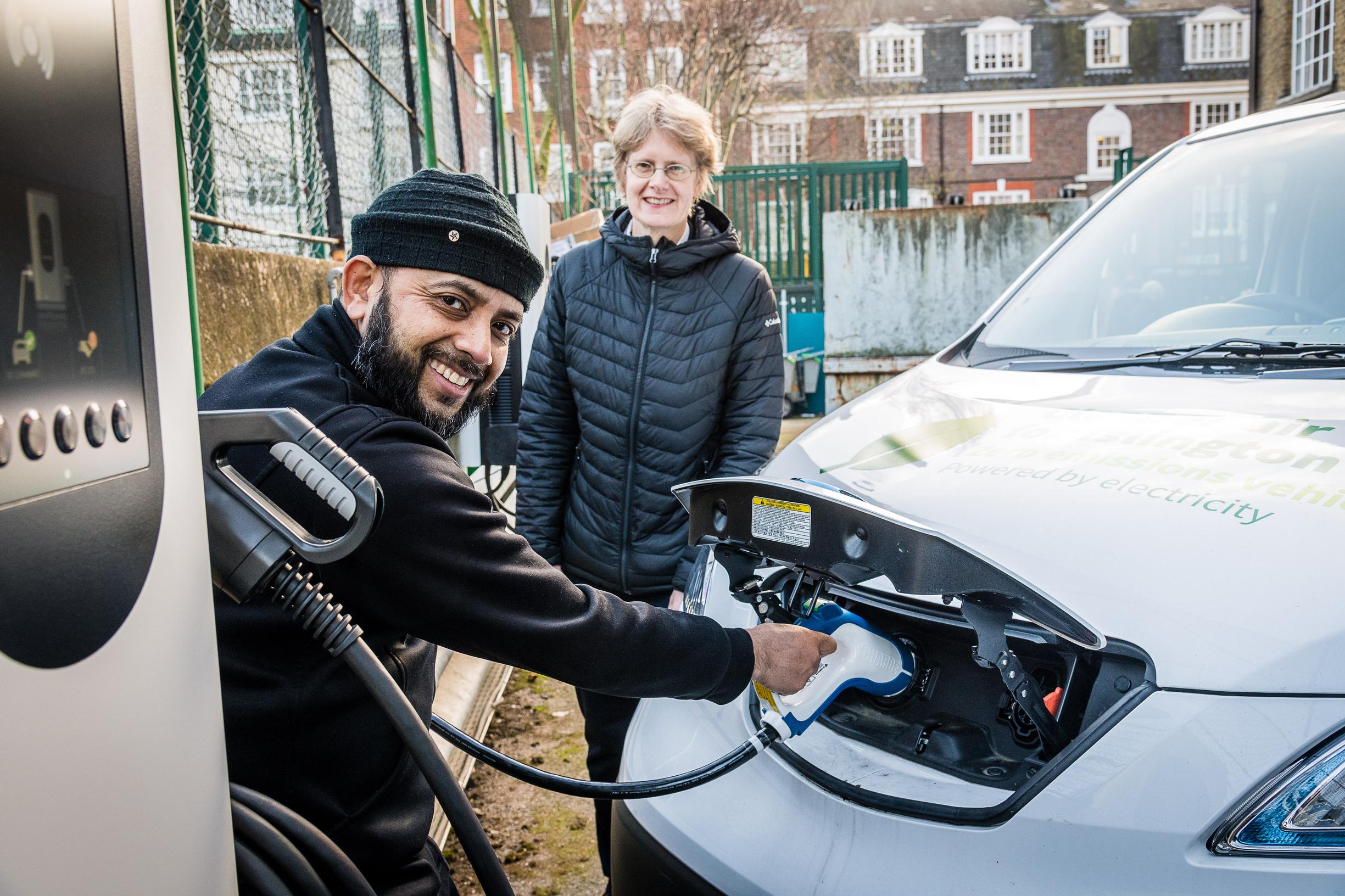 A seven-band parking permit scheme has been introduced by Islington Council with the aim of cutting private car ownership and encouraging active travel.
This is the first system in the UK that sets different parking permit levels based on the size of an electric vehicle (EV), said the council.
For a 12-month permit, the new scale for EVs ranges from £50 for a battery size of 1-39kwh in band one through to £140 for EVs with batteries of 90kwh and above in band seven.
Meanwhile, a 12-month permit for petrol vehicles range from £100 for 1-110cc (vehicles before 2001) and 1-120 CO2 (g/km) (vehicles from 2001) in band one through to £700 for 2751cc and above (vehicles before 2001) and 256 CO2 (g/km) (vehicles from 2001) in band seven.
Residents who want permits for additional vehicles must pay a fee on top of an extra permit's price. The extra fee is £100 for a second vehicle, £200 for a third vehicle, up to £500 for a sixth vehicle and above.
Islington has introduced pay & display charges for motorbikes in designated motorbike bays, and also built on the existing motorbike parking permit, currently set at £62.50 for a 12-month permit, by adding a 50% reduction for electric motorbikes. The council is also set to introduce non-resident motorbike permits for dedicated motorcycle bays, which will be about £110 a year and £55 a year for electric motorbikes.
The new permit system was created and implemented by Islington's assistant director of parking services Rubena Hafizi and parking consultant Sara Bailey.
Director of environment and commercial services Tony Ralph, who has led the project, said that Islington is a driving force in promoting active travel. "This is one of many schemes we have introduced to achieve our ambitions to become a net zero carbon borough and create a cleaner and safer environment for our residents," he said.
Independent research carried out for the council clearly showed that different EVs produce different emissions, said Rubena Hafizi. "Battery technology has improved so significantly since the introduction of EVs around 2010, and there are now very large electric SUVs and sports cars, where there is significant carbon imprint from the production and recycling of the battery, as well as the overall emissions."
She told LTT: "Tackling the climate emergency brings huge benefits to all of us – including more pleasant, less polluted streets – and we all have a role to play in achieving this.
"While electric vehicles mostly have less environmental impact than petrol or diesel vehicles, they nevertheless do create emissions. Opting to switch from driving to more sustainable modes of transport – such as walking, cycling or wheeling in and around our Low Traffic Neighbourhoods, or utilising London's fantastic public transport system – will save you money, is kinder to the planet, and brings health and wellbeing benefits."
The new pricing structure will cut private car ownership and boost active travel, along with the use of car clubs and public transport, believes Rubena Hafizi.
"Through our network of LTNs, School Streets and cycleways, and the upcoming introduction of Liveable Neighbourhoods, we're making it easier than ever for local people to enjoy the huge mental, physical, and environmental benefits of active travel," she said. "The changes we've made to parking permits are designed to directly address this."
According to data from the 2021 Census, 33% of households in Islington own a private vehicle. This is the second lowest of any London borough, the highest being City of London, according to Islington Council.
The impact of the new permit pricing structure is being monitored by the council, which includes looking at permit sales, compliance, and vehicle movements. Islington also plans to liaise with other agencies such as Transport for London to monitor increases in public transport usage.
It currently costs £107 a year to hire a space in one of Islington's bike hangars. Of the borough's 500 hangars, 481 have been installed in what were previously parking bays, with the others on yellow lines and one on the pavement.
Rowena Champion, Islington Council's executive member for environment, air quality, and transport, said the council was helping to improve air quality through the rolling out of seven Low Traffic Neighbourhoods, 35 School Streets and electrifying its fleet, she said.
"But there's more that we all can and must do to tackle this emergency, especially following the World Health Organisation's decision to set tougher global air pollution targets."
She told LTT: "That's why we've made significant changes to our current parking system, which encourage the switch to sustainable transport. The changes that we've made – including our bold, pioneering decision to introduce a hierarchical charging system for electric vehicles – ensure that parking charges more accurately reflect the pollution they create.
"While electric vehicles mostly have less environmental impact than petrol and diesel vehicles, they nevertheless cause pollution through the release of tiny particulates from the brakes and tyres, which can be breathed in and cause harm.
"Electric vehicles also contribute to congestion and take up road space, making roads less safe for people who are walking or cycling. Like petrol and diesel vehicles, they also take up valuable parking space, which could instead be devoted to environmentally-friendly measures like greening or tree planting."
In 2007 Islington became one of the first local authorities in the UK to introduce emissions-based parking permits, with a diesel-surcharge introduced in 2015.
Mark Frost, director at Fern Consulting and Hounslow's former assistant director of parking, transport and environmental strategy, described Islington's multi-band tariff scheme as "significant". He told LTT: "Clearly, Islington officers are right that the larger EVs have a far bigger footprint - literally and in terms of carbon and this should be recognised in policy in some way. This innovative variable tariff, still rewarding the most efficient EVs, whilst highlighting the impact of larger EVs, is potentially an elegant way forward - and I suspect this will be the first of many such schemes."
Islington's permit scheme illustrates the "growing gap" in London between progressive authorities and those that have yet to use parking policy to influence car ownership and use, said Frost, who recently completed a two-year term as chair of the Transport Planning Society (TPS).
"For London to achieve its ambitious goals for net zero by 2030, it will be vital for all boroughs to engage in this discussion to some extent - recognising though that what's right for central and inner London won't necessarily wash in the outer boroughs."
Islington Parking Permits Cost Table
To view the research into the EV charging hierarchy model see Smart Transport Hub's report