Include buses in your plans for people-friendly streets, says TfL's Huston
07 June 2023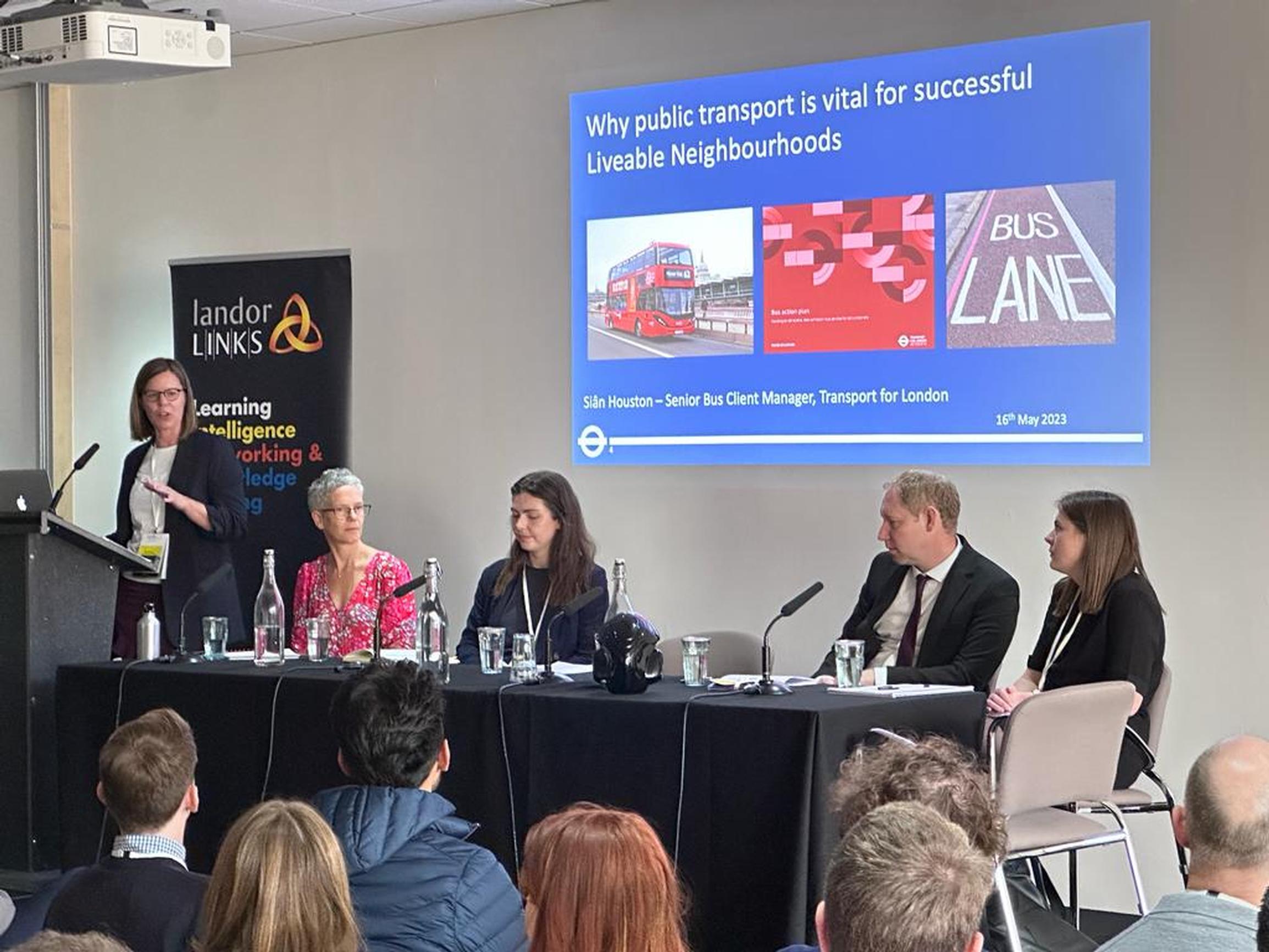 Reliable bus services should be seen as a crucial component of plans to create people-friendly places, believes Sian Huston, senior bus client manager at Transport for London (TfL).
Speaking at Liveable Neighbourhoods 2023, she said: "This should not be about buses against walking and cycling. What it should be about is buses and all these other modes against private car use. Buses have to be seen as part of the bigger picture – no one mode will deliver the changes you need."
She warned local authorities against excluding buses when introducing Low Traffic Neighbourhood and Liveable Neighbourhood schemes. "The conflict between buses and cycles is a legacy challenge, but it is the wrong challenge. We should be able to work together to balance the benefits and ensure that buses maintain a reliable service when you implement an LTN."
Buses and other sustainable modes should be seen as complementary, she argued. "The conflict is when you deliver a Liveable Neighbourhood that completely decimates bus services. When that happens things are no longer complementary."
Holistic projects
Sometimes it only requires "small engineering tweaks" to incorporate buses within a low traffic scheme, Huston suggested. "Sometimes there are enormous problems that are almost impossible to solve." But boroughs in the capital should talk to TfL to discuss ways of including public transport.
"I have colleagues across TfL covering traffic signals, managing the network and engineering in a number of different teams that can give you access to that information needed to pull together a holistic project."
Councils should carefully consider the impact on bus services before trialling low traffic schemes, said Huston. "I know we have to trial these schemes as quickly as we can but just putting things on the ground and seeing if has an impact can be really damaging for buses."
Include bus lanes and ensure bus access through Liveable Neighbourhoods wherever possible, she urged councils.
"When you are closing off certain streets to buses please bear in mind the challenges of putting buses on diversions." It may be some corners are hard for buses to negotiate or stops cannot be installed on some roads, she pointed out.
Bus priority guidance
A 10% increase in bus journey time can lead to a 6% fall in bus demand, Huston said. "So, if we are trying to get more people travelling sustainably then part of that is to do with reliable bus services."
TfL will be publishing its new Bus Priority Guidance later this year, which will feature a "suite of measures" to develop reliable bus schedules.
Huston also referred to TfL's Network Operating Strategy. "This represents a complete shift in how we do things – looking
a routes from end to end and
the fact they traverse borough boundaries. Looking at end to end and sometimes the co-ordination of scheme delivery so you are manage the impacts.
"There is an immense amount of data at TfL, everything from traffic lights to bus telemetrics
to general counters across the network. All of those things talking in the same place enables you to understand the impacts you are having and looking at what boroughs can do to get people onto buses."
London's boroughs need to talk about buses as a real consideration and "not just something that is always in the background", said Huston. "If they are not used they will eventually get lost as TfL has not got the capacity any more to fund those high frequency routes forever."
Buses are the most accessible public transport option, with 95% of Londoners living within 400m of a bus stop, with accessible buses and bus stops for wheelchair users, said Huston. "The reality is not everyone can walk and cycle the distances they need to travel."
Another benefit of buses is they are an effective mode of transporting people. "A bus can carry roughly 75 people in the space that three private cars will take up on the road space."
TfL is seeking to make the capital's entire bus fleet zero emission by 2030. "This would be game changing environmentally," said Huston. Bus is also one of
the cheapest ways to travel on public transport, with single fares allowing an hour of travel at £1.75 and a daily cap of just over £5, she pointed out.
More must be done to highlight the benefits of travelling by bus, Huston told delegates. "People need to be told about the bus services on their doorstep – we don't do this particularly well.
If you are doing a Liveable Neighbourhood as part of a package build in some active promotion of public transport alongside walking and cycling. Build in that extra thread as there will be some people who need buses to facilitate their trip where walking and cycling are not a feasible option."
Talking to bus users
Consultations on the implementation of people-friendly streets should attract feedback from bus customers, Huston said. "When we look at responses we are getting, and we know what proportion that should be bus passengers, it is very rare to get a representative split within that public consultation. Certain groups are very well mobilised to respond to consultations.
The people who respond to consultations are a set group in society – they are not necessarily the people travelling through the area. A lot of bus customers won't be residents where your Liveable Neighbourhood is."