Plan to boost cargo bike deliveries in the capital unveiled
31 March 2023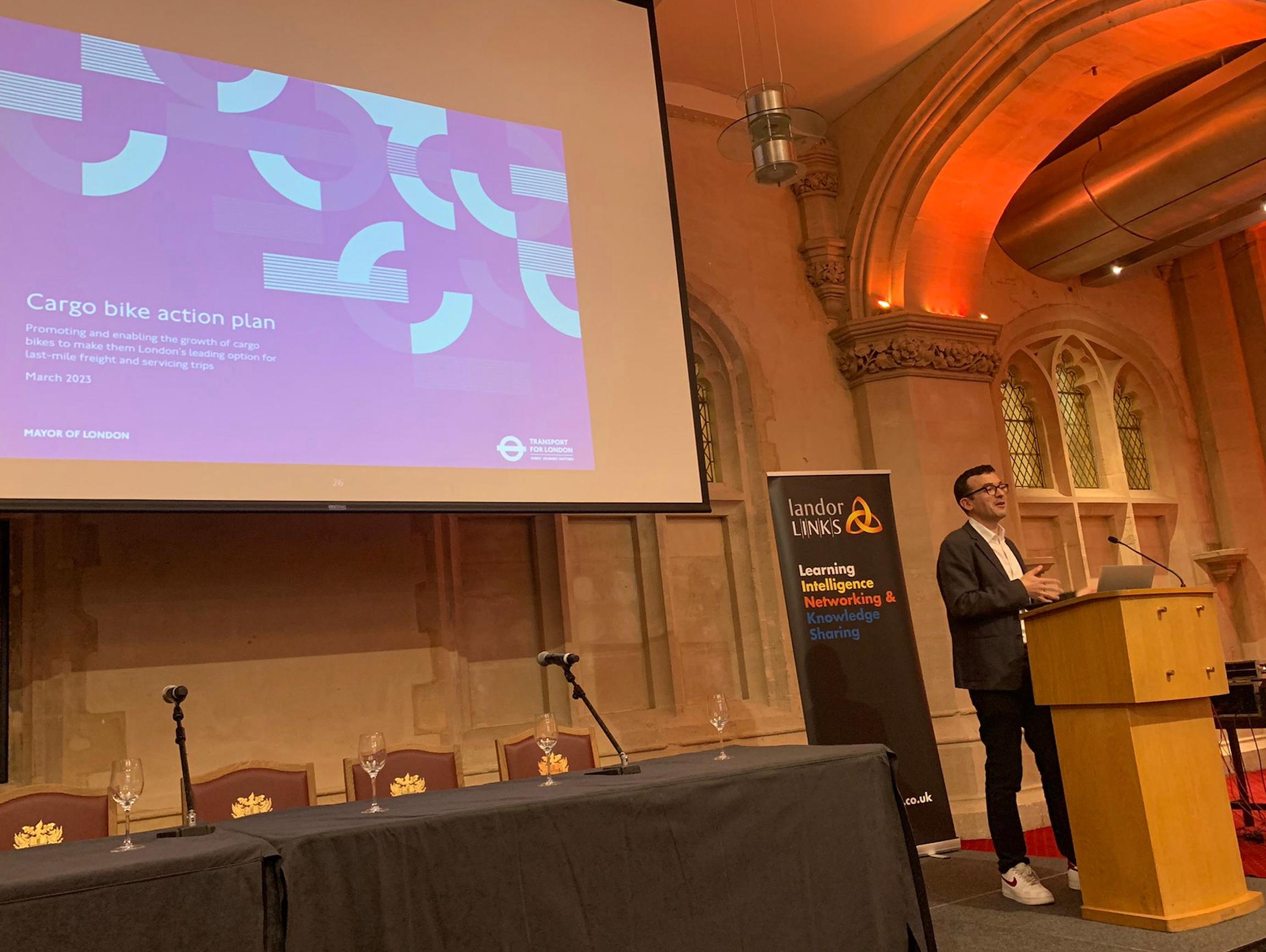 A plan to help councils, businesses and the freight and servicing industry switch to cargo bikes for deliveries has been unveiled by London's walking and cycling commissioner Will Norman today.
Norman launched the plan this morning at the National Cargo Bike Summit in central London, organised by Landor LINKS and hosted by the City of London Corporation.
"Cargo bikes are no longer a niche concept, and they can be real game changers when it comes to delivering freight and servicing trips," Norman said. "Not only do they provide environmental benefits by not contributing to air pollution, they also make journeys more efficient, and present a much lower risk of danger to people walking and cycling than vans and HGVs."
By 2030 cargo bikes could replace up to 4% of van kilometres across Greater London, and as much as 17% of van kilometres in central London, Transport for London (TfL) estimates. It calculates that the carbon savings resulting from cargo bike growth across Greater London will be up to 30,000 tonnes of CO2 a year by 2030.
In London, 90% of all goods are transported by road while around half of the value of household expenditure in London relies on freight, said TfL. Road freight is a major source of nitrogen dioxide emissions, a key contributor to London's toxic air, it points out, adding that cargo bikes offer a "much cleaner way to deliver freight and services and deliver considerable air pollution savings, contributing to healthier and safer streets and enabling better use of urban space".
The use of cargo bikes for freight and servicing trips is becoming more widespread, with major businesses including Amazon and DHL, according to TfL.
Cargo bikes also present a lower risk to people walking and cycling than vans and heavy goods vehicles (HGVs), helping to make London's streets safer and more attractive for people using public transport, walking and cycling, says TfL.
Key actions within the plan include:
• Developing a London safety standard for cargo bikes that adopts best practice, publishing guidance for both riders and operators
• Exploring opportunities to provide space, such as micro-hubs and parking to support last mile cargo bike operations
• Monitoring where key cargo bike routes are across the city to identify usage patterns and project future growth
• Using procurement policy to support further cargo bike uptake
• Ensuring adequate and suitable capacity for cargo bikes when designing future TfL cycling schemes
• Promoting cargo bikes when planning TfL, or supporting borough schemes - including Low Traffic Neighbourhoods and borough-led vehicle emissions-based schemes
• Providing businesses with the tools and information they need to feel able to make the switch to cargo bikes
Christina Calderato, TfL's Director of Strategy and Policy, said: "Freight and servicing are the lifeblood of London's economy but also contribute to air pollution, carbon emissions and traffic congestion.
"We are determined to provide a green, healthy and sustainable future for all Londoners and cargo bikes can play a vital role in cutting carbon emissions, air pollution and road danger. We will continue to work closely with our industry partners, businesses and boroughs across the capital to make our vision for cleaner and safer freight a reality."
Rob King, co-founder and CEO of Zedify, said: "Our research shows that cargo bikes can save over 90% CO2 emissions per km compared to electric vehicles.
"Cargo bike logistics has hit a vital stage of growth but it's still a young sector and we need to invest in the ecosystem with things like product development as well as finance and insurance options. This is why businesses like Zedify need to scale rapidly and deliver amazing co-benefits from better air quality, carbon reduction, and fair employment to safer, healthier cities that are better for everyone."