Waters says politicians need to be 'prepared to lose' in climate battle
Local Transport Summit 2022
20 December 2022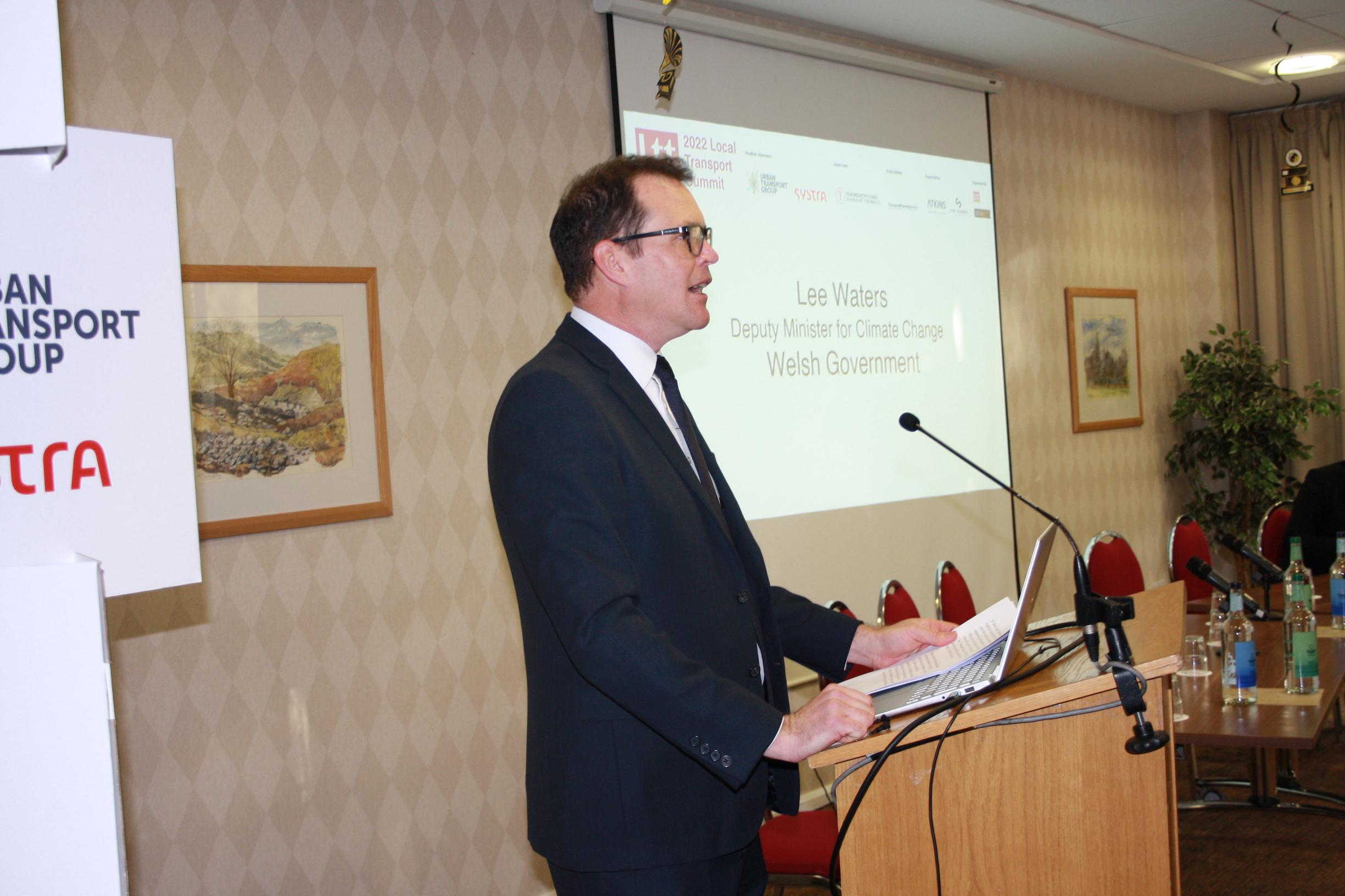 Lee Waters, the Welsh Government's deputy climate change minister, told the Local Transport Summit that transport's contribution to climate change would only be tackled if politicians were brave enough to lead, at the risk of losing office.
Unusually for ministerial attendances at events, Waters stayed after delivering his speech to hear subsequent speakers and to take part in a question and answer session. He returned to the summit venue in Cardiff Bay in the evening to socialise and network with transport professionals.
During his summit speech, he highlighted the minimal progress on reducing greenhouse gas emissions from transport compared with other sectors. He recalled a senior transport official telling him 15 years ago that there are three pillars to sustainable development, and the economic one could not be traded off for the environmental one. "That thinking is still alive and well in the world of economic development and transport right across the UK, and it needs to be challenged."
There were multiple examples where the system had been fixed to see off the "here today, gone tomorrow" reformers. Waters said he himself could be seen off, but it would be a pyrrhic victory because the climate crisis was real, and transport could not continue to get a free pass.
Changing the transport system required leadership, not from a vainglorious politician but the "quiet, day to day. distributive leadership of each of us".
During the question session, he said politicians should provide leadership. "I think that's what they're for, and politicians are too scared of losing. They need to face up to this and recognise their role as leaders and be prepared to lose, frankly, because the consequences are too great."
On the subject of achieving public buy-in for changes to transport, he drew a comparison with Sustainable Urban Drainage Schemes. SUDS were introduced by the last Labour government to ensure new developments did not exacerbate flood risk.
"There's clearly a big push towards sustainable drainage that's happening. I don't remember a public debate about that. I don't hear debates on the Today programme where you get an anti-SUDS scientist on. It's just done, because technically it's the right thing to do – the science is very clear.
"So why are we having that debate with climate change? It's not up for debate, is it? It's bloody happening." He said there had to be a political debate in parallel, but professionals shouldn't wait for that to happen before defining what they had to work towards. "There's a professional responsibility there, for recognising your professional leadership role and just getting on with it."
Although he spent most of his time on transport, his job title was not transport minister but deputy climate change minister, because the Welsh Government was making a deliberate statement of intent that transport should be viewed through the lens of climate change.
The government had an ambitious programme of change, including this year's review of all road schemes where construction had not yet commenced. Investment in attractive alternatives was vital, as recommended by the South East Wales Transport Commission following the cancellation of the M4 Relief Road around Newport.
"We can't just say no to schemes – we have to show what else we're going to do," said Waters, a former national director of Sustrans Cymru. "We have to make the right thing to do the easiest thing to do. For 70 years we've made it easy to get around by car and more difficult and more expensive to get around by public transport."
Last year's Wales Transport Strategy had put modal shift at the heart of the government's policies for the first time, with a target of increasing trips by sustainable modes of transport from 32% now to 45% by 2040. "But the Design Manual for Roads and Bridges prioritises traffic flow," he continued. "The Treasury Green Book insists on monetising notional journey time savings when it comes to transport investments.
"Rather than reduce speeds to save lives, orthodoxy suggests we upgrade highway design to increase capacity and allow faster speeds. The policy says one thing. The manuals and practice dictate something else."
Answering a question from a Welsh local authority officer about the future of Welsh bus services, Waters admitted he was worried. His government had spent over a year modelling and predicting what a cheap bus fare would look like, its impact on modal shift and how it could be achieved with the bus operators.
"We've done a pile of work on it," he said. "It's come up with a figure which is large but not impossible, and then Liz Truss went and blew up the economy. So it doesn't look like we're going to be able to do it, which is heart-breaking because it's one of the few things on modal shift that will actually achieve something in the short term, as well as having a massive social justice and cost of living benefit. We're not giving up on it, but it doesn't look rosy."