Green innovation powers Aberdeenshire P&R operation
15 December 2022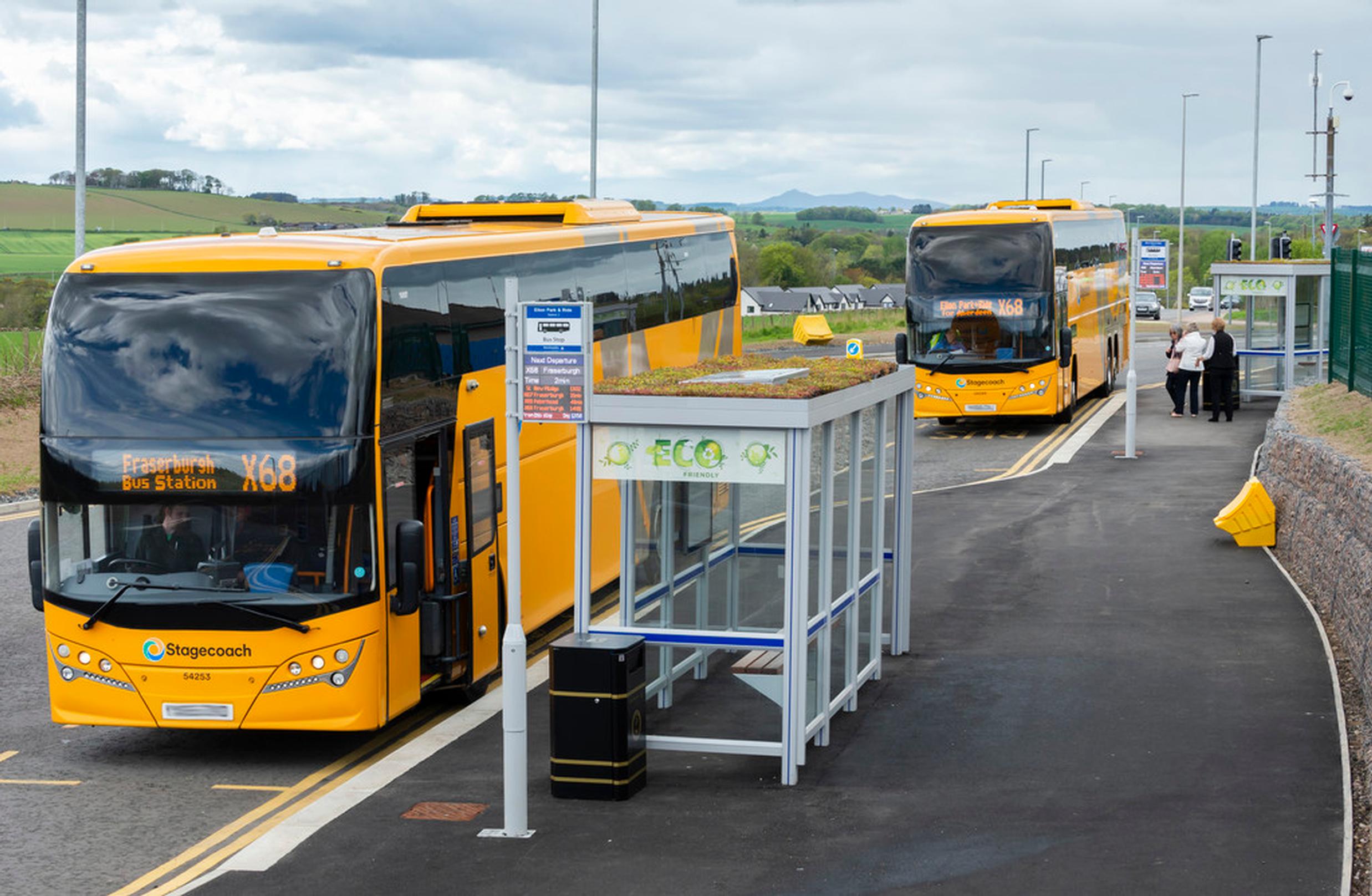 New off-grid bus shelters at an upgraded park and ride site will result in annual savings of more than £1m in electricity, estimates Aberdeenshire Council.
Green innovation was at the heart of £1.4m improvements at Ellon Park and Ride, said the council. "We've calculated that we're saving a total of 1,077,480 Wh (watt hours) of electricity per annum," a council spokesperson told LTT.
"This is based on installing a combination of solar powered LED lighting and battery powered e-paper Real Time Passenger Information (RTPI) displays. The saving is achieved by not installing mains powered LED lighting and our standard mains powered RTPI digital display."
The improvements were paid for by council capital and Nestrans, the transport partnership for Aberdeen city and Aberdeenshire councils.
The renovated and extended site features ultra-bright passenger information displays, which were designed and installed by Journeo, while the three colour digital bus stop flags show live, 'real-time' travel information.
Six Papercast displays were installed by Pindar Creative just days before Storm Arwen hit leaving large swathes of north-east Scotland without power, said the spokesperson.
"The council's choice of this 'off-grid' power in the form of long-life batteries will enable the screens to continue operating during future outages."
The site's three new bus shelters, installed by Commutaports, feature sedum vegetation roofing and solar-powered LED lighting. The system uses modern battery storage methods to efficiently charge the batteries "resulting in green energy that provides greater light output with lower power requirements".
Iain Taylor, chair of Aberdeenshire Council's Formartine Area Committee, said: "The green technology incorporated in the new Ellon Park and Ride is hugely-impressive and I congratulate both our services and contractors for designing and constructing this wonderful facility in what continue to be very challenging times.
"There is absolutely no doubt that through our close partnership working with Nestrans and Stagecoach, Aberdeenshire continues to lead the way in developing and promoting Park and Ride as an effective and affordable transport option enabling passengers to combine car, bus and rail journeys."