Temporary active travel schemes in Scotland have 'permanent impact'
18 October 2022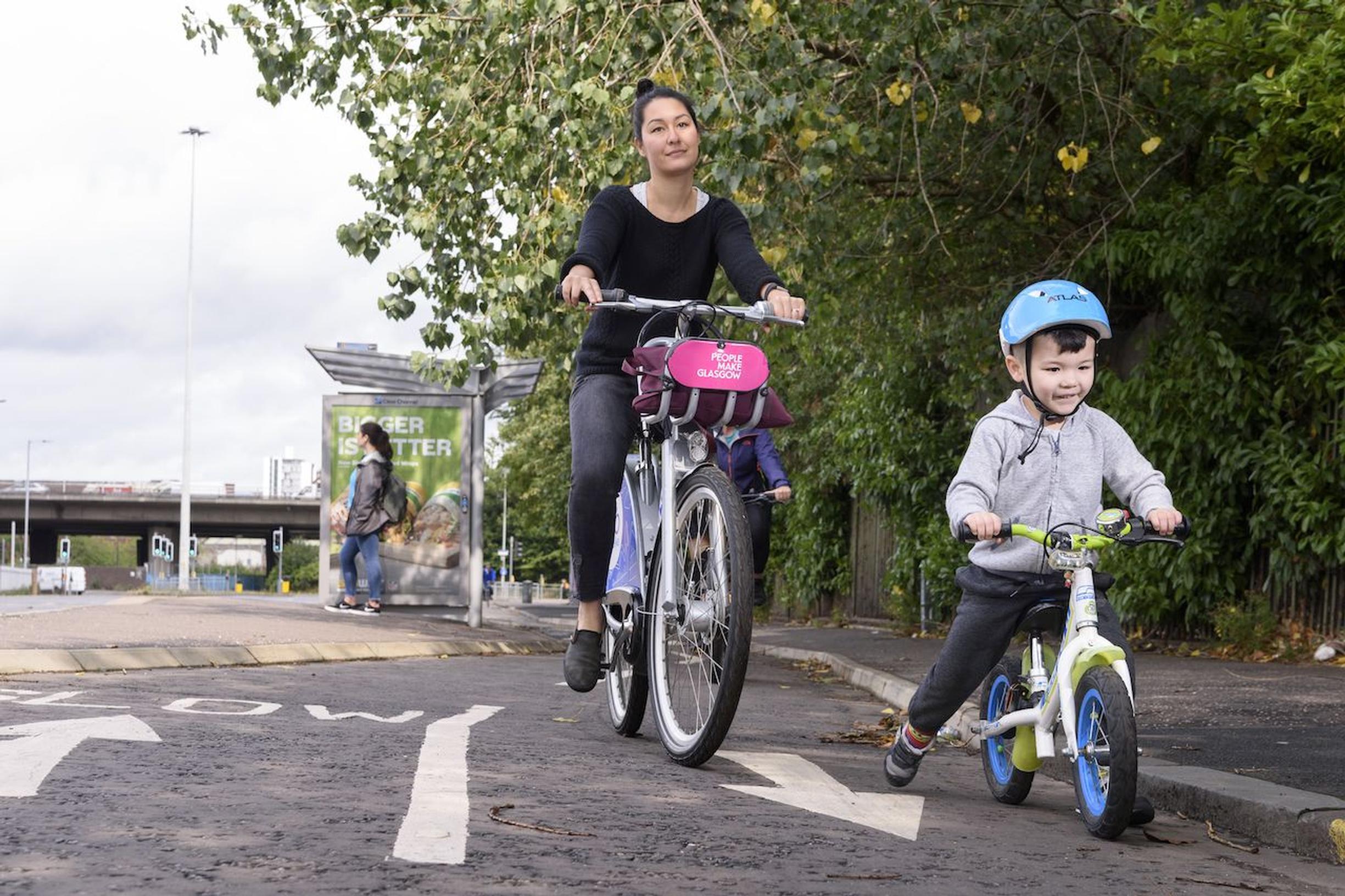 Some of the active travel temporary infrastructure schemes introduced across Scotland during the Covid-19 pandemic are to become permanent after winning public support, says a report by Sustrans.
"One of the key successes of the programme is the large number of temporary Spaces for People measures which have contributed to longer-term plans or new active travel projects locally," said the charity.
"This includes the closure of the Kelvin Way in Glasgow to motor traffic, and the people-first pedestrianisation of Union Street in Dundee that has benefitted many local businesses."
The Scottish Government's Spaces for People programme ran between May 2020 and March 2022 in response to the pandemic. Administered by Sustrans Scotland, the programme allocated £33m to 35 partners for a range of projects to enable safe active travel during the pandemic. Thirty local authorities, three NHS boards, one public body and one regional transport partnership were awarded funding.
This resulted in:
• Cycle lane interventions included 72 segregated and 18 non- segregated lanes which stretched over 104.7km in total.
• More than 41km of footpath widening
• More than 209km of vegetation cutback.
• Speed limit measures were introduced in 338 locations – most commonly a reduction from 30mph to 20mph in built up areas
• Cycle parking at 228 locations
• 83 streets closed to motorised vehicles, including 24 School Streets.
Other interventions included: cycle repair stands, cycle hire schemes, installation of lighting and planters and the removal of street clutter and barriers.
Spaces for People schemes saw a 17% rise in people walking and a 15% rise in people cycling.
A survey carried out by Sustrans asked people if they felt safer when walking or cycling because of Spaces for People measures. Nearly half (48%) of survey respondents reported feeling safer, while fewer than a quarter (22%) felt less safe. Younger respondents were more likely to report feeling safer (85%) than older respondents (36%), the survey found. Feeling safer was also less common among those with limited mobility (35%).
Half of respondents said that the measures had made it easier for them to physically distance. The report found that measures that physical distancing measures gave people safe access to essential services such as healthcare, food and education, without the need for public transport.
However, lack of availability of materials early in the pandemic meant that councils often had to rely on poorer quality and "visually unappealing materials", such as traffic cones, to deliver temporary measures, said Sustrans.
This was later rectified in some areas through the use of "more welcoming fixtures", such as wooden community planters.
Feedback also highlighted that improved engagement with disability groups to address their concerns, could have increased the overall success of the scheme.
Patrick Harvie, minister for active travel said: "Spaces for People was an emergency response to the global pandemic – across the world, in places like New York, Paris and Berlin, streets were reshaped to meet the big shift in public demand for safer walking, wheeling and cycling.
"These welcome reports from Sustrans Scotland show that many of the Scottish schemes have been successful and local authorities are choosing to make them permanent.
"At the same time, delivering schemes swiftly and at scale, raised issues that we can all learn and build on as we consider new permanent infrastructure.
"The active travel landscape has improved much since Spaces for People was first announced.
"Funding for active travel is now at record levels and set to increase further in future years, and we will work with partner organisations to ensure that inclusive design and accessibility is embedded in designs from the outset."
https://www.sustrans.org.uk/our-blog/news/2022/september/sustrans-publishes-evaluation-of-temporary-active-travel-programme/